B2B Sales Leads are qualified leads for salespeople to contact and sell to. It is challenging to produce high-quality leads that will turn into customers. However, it might help your business outperform the competitors and expand tremendously if done effectively.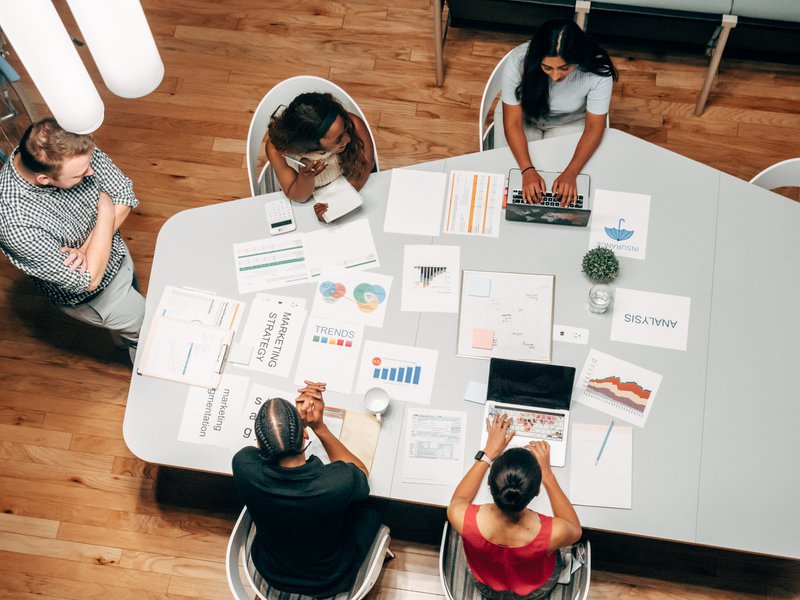 The quality of your leads is the most significant thing to take care of. Because an extensive database of leads will be futile if they are not your business's target audience. But if you increase your database to 20% of what it was before, with good quality leads, it means you make 20% more sales.
Lead generation is a nightmare for many salespeople. Yet, according to 85% of marketers, lead generation is their 1st challenge.
To make matters worse, you're inundated with a deluge of false information like-
Conflicting ways of generating leads
Case studies from leading businesses can generate leads by posting a random picture on social media.
This can make it difficult to distinguish fact from fiction.
Every expert is convinced that their lead generating strategy or method is the most significant way to acquire new customers. But the "ugly" reality is:
You need to personalize your approach to your business, industry, product/service, and target audience.
Often, this requires disregarding your self-congratulatory horns and experimenting with new techniques to produce leads.
Driving growth is impossible without more leads.
But before we get into the details of lead generating strategy, let's get through the basics.
Jump To Content:
TLDR:
Lead generation implies collecting information about your potential leads.
B2B lead generation is a rigorous procedure.
Lead generation for B2B and B2C companies is different and requires separate techniques.
Experimenting with your website or, to put it simply, A/B Testing your website is a fantastic way to generate more leads.
Building credibility is a great way to generate more leads.
Free tools are an efficient method of pushing leads into the sales funnel.
Case studies are a tried-and-tested technique for attracting new leads.
Being responsive to Q & A websites can significantly help B2B marketing.
Even long-tail keywords matter if you use them correctly.
Researching your competitor's keyword can help you do more in less time.
You can generate a large community out of your already existing content by making them visual.
Lead magnets will help you go a long way in B2B lead generation.
B2B lead generation: What Is It & Why Is It Different?
The term "B2B lead generation" refers to generating leads for companies that primarily sell to other companies.
A single step is all it takes to begin a thousand miles trips. And in a conventional marketing funnel or sales process, B2B lead generation is the first stage.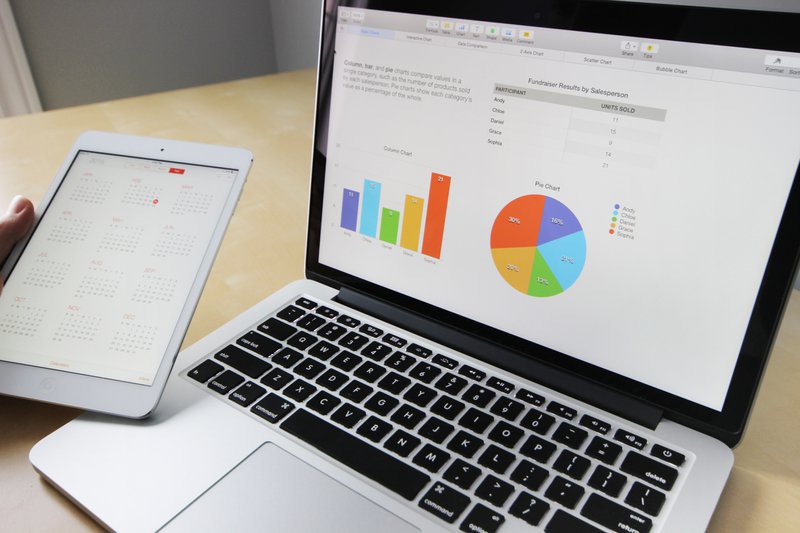 Lead generation is the process of collecting information about a possible client, such as their name, email address, company name, and job description, and then utilizing those details to approach them with personalized sales pitches or ad campaigns.
B2B lead generation requires different approaches than B2C lead generation. This implies that the strategies that are a surefire way to get leads in B2C will not work in B2C.
Hubspot identifies SEO, email, and marketing as the three best lead generation sources for B2B companies.
Contrarily, B2C requires conventional advertising, email marketing, and social media marketing.
B2B and B2C lead generation and nurturing are entirely different processes, which is why salespeople need to get off to a good start.
B2B Lead Generation Technique
A rigorous lead generating procedure is required if your goal is to boost sales significantly. Processes unify the sales and marketing teams and provide sales representatives with a tried-and-true framework.
B2B lead generation refers to the strategy employed by sales and marketing departments to convert leads into actual customers. However, what exactly are we committing to when we take these actions?
Step 1: Finding B2B Leads
This is the first and most essential step of B2B lead generation. However, finding the contact information of your B2B potential leads can be challenging.
We will discuss some killing strategies of gathering contact information of B2B leads later in this article.
Step 2: Contacting Leads
With the database of potential target leads, representatives contact them through social media, replying to their queries, or cold outreach.
Step 3: Identifying Super Potential Leads
When representatives reach out to potential leads, they measure their potential by measuring which stage the leads are at. The stages include-
Research & Awareness:
The customer realizes that they have a problem or need a solution, and they begin to research it.
Aware customers will devour content like blogs and whitepapers when they're at this stage.
Consideration
The leads are sure about their requirements regarding a service or product. So, before doing any investigation or "opening up" to potential vendors, they'll go over their precise needs in great detail.
Decision:
To make a purchase, a buyer will have to meet with many vendors and other decision-makers to narrow their options.
Lead nurturing campaigns or a focus on encouraging prospects to book a call or demo will be initiated by sales professionals depending on the lead's current stage.
Step 4: Closing Leads By Making a Sale
Congratulations! The prospect selects you after meeting with various vendors, and the sale is complete. Consequently, they'll be onboarded by customer success. Boom!
Killing Strategies For B2B Lead Generation
Giving just one or two strategies and calling it quits will never work in B2B lead generation because your strategy should revolve around your product, customer, and, most importantly, your industry.
It would help if you had spontaneous sales and marketing people striving to learn through experimenting with new ways in your B2B strategies.
Let's go through some strategies that will work for most B2B businesses.
A/B Testing On Key Pages
The most effective way to improve the effectiveness of a marketing effort is to do A/B tests. It aids you in determining what changes you should make to your website to attract more visitors.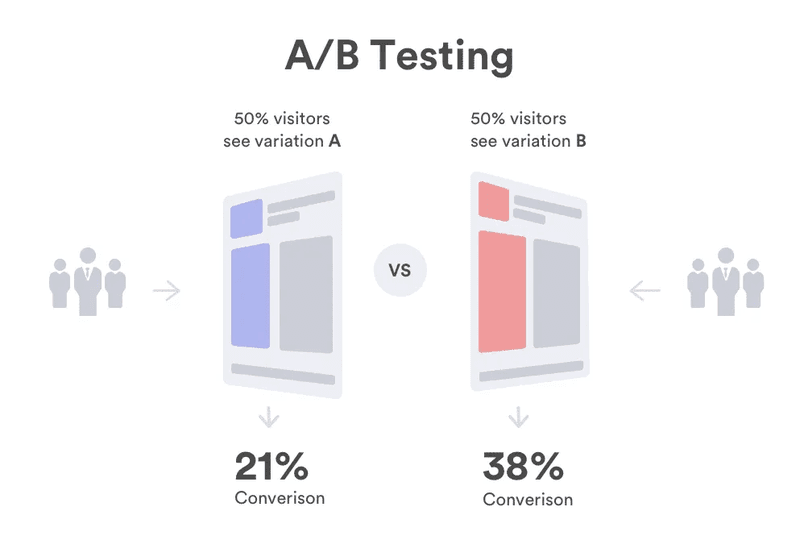 However, A/B testing does not mean turning the table. It implies slight tweaks. You can use different fonts or colours on the critical page and see if it increases your websites' visitors.
Creating Epic Content
Elevate your website to the top of Google's search result pages using search engine optimization (SEO). The keywords people use to describe your business or product are essential to target. In addition, SEO sales leads can be increased by implementing lead capture on a page.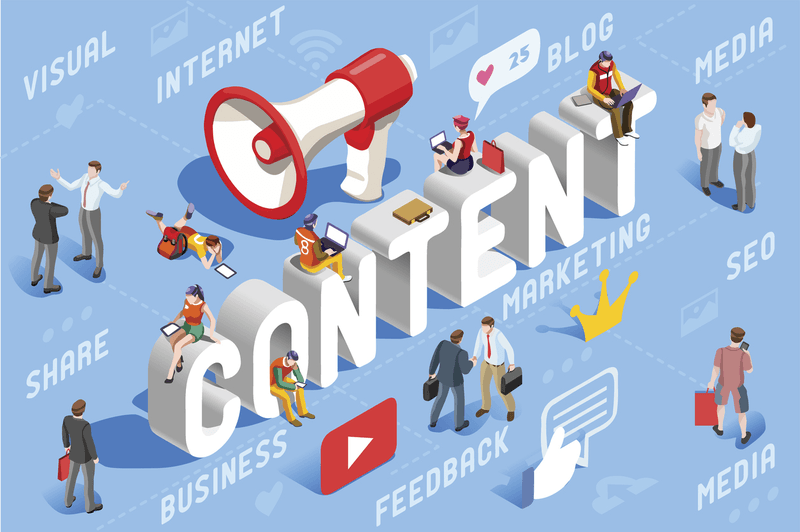 Hacking Google's algorithms to rank well with poor content is a bad idea. Instead, to keep up with Google's dynamic search algorithm, you should focus on creating quality content.
To improve your website's search engine rankings, focus on gaining high-quality backlinks through guest blogging or other techniques. Knowing what keywords to target with your content is also a good idea.
Building Credibility With Social Proof
Whenever you search for a new product, what do you check first? Their reviews, right? Because it lets you decide whether you should trust it or not.
The same goes for your leads as well. Reviews, referrals, and recommendations work like social proof for your leads.
You can build social proof by gathering a large social media community, publishing reviews of your customers, and conducting case studies.
Offering Free Service
Free tools are a great bait to attract quality leads. Everyone wants to try out a product or service before making a purchase. Keeping that in mind, if you offer some free tools, you can easily attract customers. Once they are opt-in, pushing them to your sales funnel is a matter of time.
Generating and Promoting Case Studies
Purchasing decisions in the B2B market are frequently influenced by a combination of factors, including a buyer's ability to demonstrate a return on investment (ROI) and the input of many stakeholders.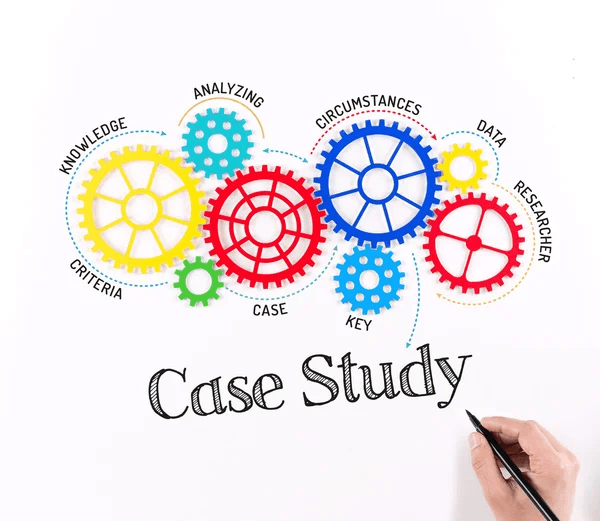 Hence, many buyers have admitted that that's the reason why they rely on case studies so much.
Never let case studies gather dust on your website. Instead, promote them with no qualms to raise your stature in the eyes of others.
Integrating Dynamic Web Pages On The Website
Website personalization is a necessity in B2B lead generation strategy. You should integrate dynamic pages and content to your site that adapts to your website visitors-
Their Name
Present Address
The industry they are involved in
The company they are working for
Integrating hard-hitting lead-magnets
Lead magnets work as a great incentive to attract leads. However, many marketers mistake offering some generic content as lead magnets.
Let go of any high-level content and instead focus on sharing your real-world experience in the following format:
Detailed manuals
How-to guides that cover all the bases.
Case studies that go into great detail
Libraries of data
Checklists and workbooks
Templates
Generating Visual Audience
Videos let you build a warm connection with your customers. If done correctly, you can achieve many clients implementing this strategy. There's no need for big-budget movies. Likewise, you don't need to start from scratch when creating videos that generate leads. Instead, turn your existing content into videos and publish them to your YouTube channel.
Setting Up A Live Chat On Your Website
Engage with your consumers in real-time using live chat software. To produce more B2B leads, you need to be able to gather email IDs along with phone numbers.
Updating Your Email Signature With Embedded Promotion
Including links to promotions in your email signature is a great way to gather more leads. The more links you have on your landing page, the more free sales leads you will receive.
Answering Q&A On Renowned Websites
Quora and other question-and-answer websites can be excellent sources of new customers. When you ask the appropriate questions, you can connect with potential consumers.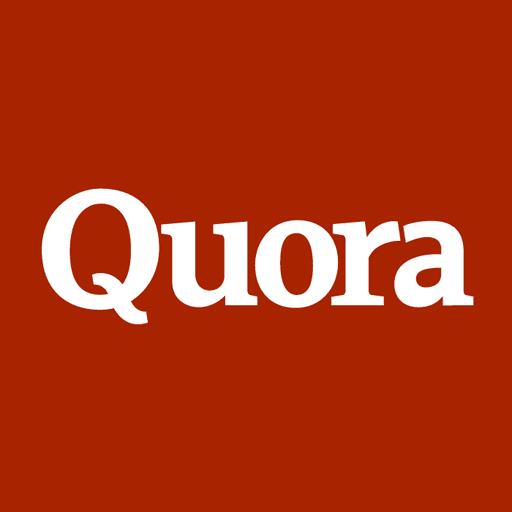 These clients should be looking for a solution to a problem that your service can help with. Start by looking into questions that are already being asked about your industry.
Increasing Website's Traffic With Google Adwords
Boosting your website's traffic with a paid advertisement is not rocket science. However, it can get complicated and steep depending on your industry and competitors. It would help if you zeroed in on user intern and keyword search volume to target potential sales leads.
Optimizing Long-Tail Keywords
Keywords with three or more words are known as long-tail keywords. But, honestly, they get shallow search volumes on Google.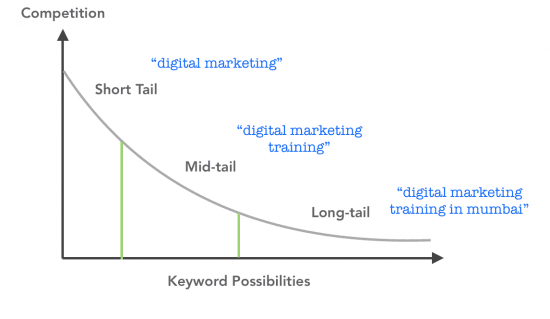 It is possible to improve sales with little SEO effort by targeting the proper long-term.
Running Campaigns Depending On Competitor's Keyword
You need to keep an eye on your competition's backlinks and keywords to see if they appear to be favoured over the others. If they do, it means your competitors have found out the winning keywords. Ahrefs and SEMrush can help you in this case by focusing on keywords and sites that are already generating sales-ready traffic.
Find More Leads With OneMoreLead!
Achieving success in B2B lead generation and sales growth is difficult but not impossible. However, in the maze of many lead generating strategies and tactics, isn't it simple to get swamped?
You're frequently faced with dilemmas such as:
What is the most acceptable B2B lead generation approach?
Is this strategy going to help my business?
What are the most significant ways to get the most out of this?
My advice would be to replace these questions with-
What your potential customers like;
Where they do their research most of the time;
How they decide to purchase; and
What are their biggest concerns regarding that particular product or service relevant to your business?
However, setting up an organized process may be too much for you to do independently. Gathering information is the most challenging component of B2B sales prospecting. However, OneMoreLead handles this for you.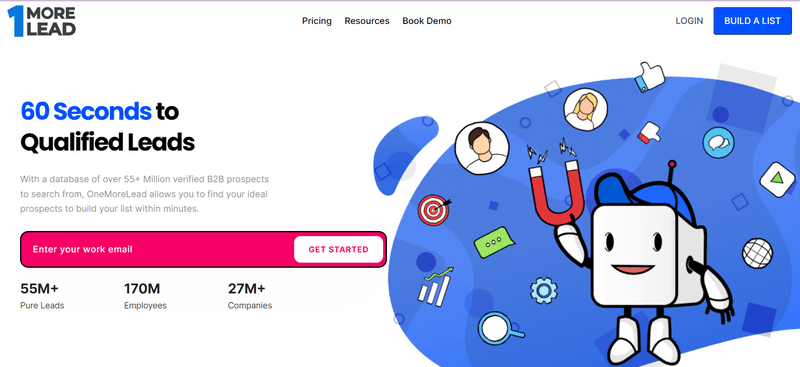 To top it all off, they provide you access to a massive database that you can use for marketing purposes. Your sales team will now segment visitors and nurture leads with ease.
Aside from making the procedure more efficient, they'll help you stay one step ahead of the competition using market information. Not to mention, you'll have the support of a team of experts at your disposal.
Are you excited to try? Book a demo today!