Lead generation is the fuel of B2B business and there is no two way about it. The process of lead generation can be baffling, particularly in this unprecedented time. While every aspect of life is going through a transitional phase in the new normal, B2B lead generation is posing more challenges than ever.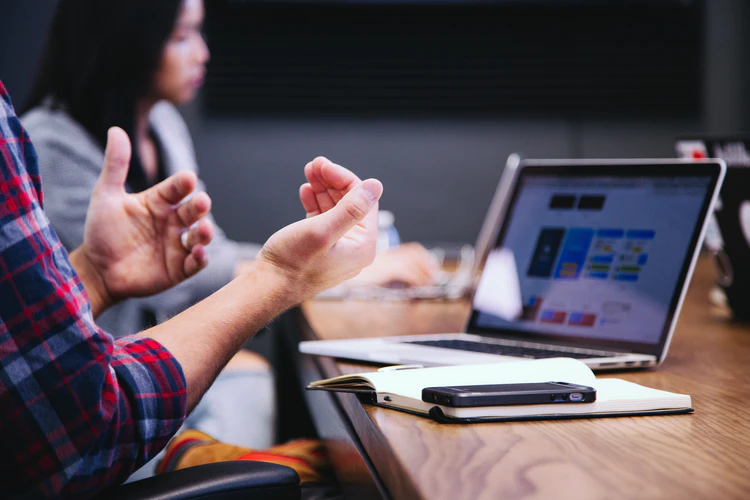 Before moving towards the challenges in B2B lead generation, let's run through the basic idea of lead generation in B2B marketing.
Lead Generation In B2B Marketing
Prior to the rage of digital marketing, lead generation involved few tools and has been classified as advertising, traditionally. At present, it is a concept beyond just advertising and has become the soul of business, especially B2B.
B2B lead generation has progressed to the point where you knock on the right door rather than the ones which won't open, get them to come to you, and convert other businesses into potential customers in the form of sales leads.
Lead generation is not as simple as it used to be. A Hubspot report says, 61% of marketers consider generating traffic and leads to be their biggest pressure point.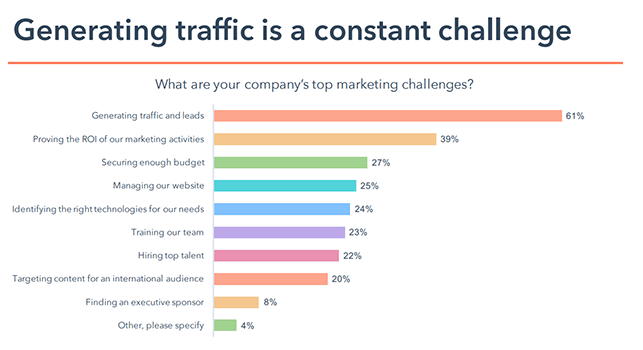 B2B marketers don't have prospects until they have leads. Your firm will be unable to increase its client base if it does not have prospects. You can't make money or expand your brand unless you have a large and increasing client base.
Before movi toda and keep your lead generation wheel running! he challenges you have on your way. We have tried to point out the key challenges B2B marketers are facing all over the world.
8 B2B Lead Generation Challenges To Prepare For
B2B Lead Generation Challenge #1: Stagnant marketing strategy
Marketing strategy in B2B marketing has to be continuously evolving. A strategy should be a road map where the marketer can visualize prospects entering into the funnel, what they are looking for, and converting into a customer.
This requires an ample amount of time and effort to figure out. The painstaking part is, once you find out a strategy that works, you are not done.
You are in trouble if you keep doing what you have been doing. Since, building up a setup that can modify and adapt the strategies calls for the bulk share of the budget, most of the marketers hold on to a stagnant marketing strategy.
As per the B2B technology marketing community, B2B marketers have identified the lack of resources in staffing, budgeting, and time as the greatest barrier to lead generation.
A large portion of the B2B marketing strategy is based on paid search or advertising. The growing costs for ads are directly related to the impacts of the pandemic. Because people have shifted their workplaces online that has intensified the crowd. The offline vendors have also entered the market and relying on digital advertising at large.
It is difficult to be heard above the constant hissing of your competitors' and even non-competitors marketing. This has not just lead to an added cost on advertising. Along with that, content creation has become challenging. The lead magnets are not working anymore and the traffic from a targeted platform is not converting like before.
These challenges are more relatable to organizations that were not working remotely before the pandemic. Finding out the ideal remote tools that fit your marketing strategy may take months to years.
Overall, the circumstances and inclined costs have put many B2B marketers' strategies to generate lead in a stagnant position.
B2B Lead Generation Challenge #2: Identifying the market demands
The process of identifying the market demands gets more frustrating as so many companies in the B2B space serve very niche markets of sub-markets.
There's a strong possibility that your target market isn't large enough for the product or service you're attempting to sell. Because there are only so many prospective possibilities out there, it's critical to locate them all.
The marketing process also gets high stakes because you can't afford to squander your chances with a prospect who has a limited number of high-potential contacts.
B2B Lead Generation Challenge #3: Failing to draw a balance between "Quality Leads" and "More Leads"
"Quality vs. Quantity" appears to be a constant perplexity in our life, especially for B2B marketers. There it is, whether we're talking about content, customers, or leads.
Clients or consumers who have indicated an interest in your brand, product, or service are known as leads. High-quality leads are those that have a greater chance of becoming paying clients. Your leads will be more likely to purchase your product or service if they are of higher quality.
As per a survey of Ascend2, seven out of ten marketers have said that the most important part of their lead generation strategy is to get better quality leads. On the other hand, in the same survey, 54% of those marketers wanted to increase the number of leads generated.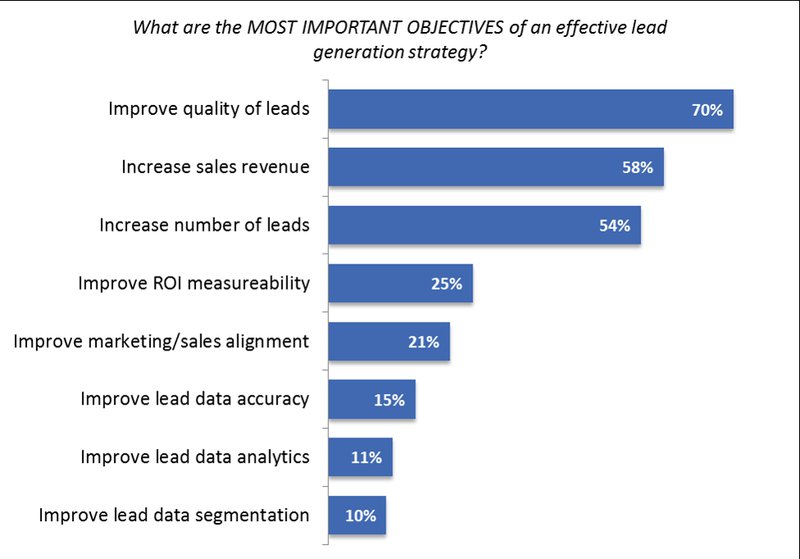 Having an investment strategy to build up quality leads often results in missing out on the probable revenue.
At one stage, marketers struggle to strike a balance while formulating strategies. This challenge arises from the linear lead generation model that is based on simple numbers rather than in-depth data.
B2B Lead Generation Challenge #4: Lack of coordination between the Sales and Marketing team
A sales development team exists to engage prospects and establish a connection with them even before they make a purchase decision. If the sales team can engage buyers before those buyers need to contact a seller, they have a 56% greater chance to convert the lead.
The crucial role the SDT plays in generating leads needs to be emphasized. Though the portrayal of the lead generation process is strongly associated with inbound marketing practices, it is only one side of the lead generation coin.
Marketers write the majority of Google's "lead generation process" results such as blogs and articles focused entirely on content marketing, SEO, social media, newsletters, and so on. So these strategies mostly lack the SDT team's perception for generating the lead.
A study has shown that companies with closely aligned sales and marketing have a 35 percent higher customer retention rate and a 38 percent higher sales win rate. Furthermore, aligned organizations see a 32 percent revenue increase on average, whereas less aligned organizations experience a 7 percent revenue decrease.
B2B Lead Generation Challenge #5: Going with the crowd
With so much research about the best ways to generate leads, marketers get confused. Trying to follow overhyped case studies which worked for XYZ Corporation makes it more challenging.
Adapting strategies of the companies which go above and beyond to generate leads prevent the follower marketers from standing out in the crowd.
You may feel tempted to follow others because that's what everyone else is doing in the crowd. This results in overall collapse. This hampers the whole industry because other marketer's efforts get devalued as well.
With the increase of crowd and competitors, it is getting difficult to maintain the integrity of the strategies to generate leads.
B2B Lead Generation Challenge #6: Desperately trying to be a salesperson
The growing trend in the B2B market is to be an advisor more than a salesperson. While the key decision-makers are open for consultancy, most businesses lose prospects because they try too hard to sell the service or product.
Relying on one direction lead generation tools make it more difficult. A website or blog post makes the prospect feel you are talking at them rather than talking to them. This doesn't help them to solve their pain points.
Building a relationship is the key challenge and the right time to build one is long before you need them. The evolving environmental factors in the B2B market can be challenging if you are not leveraging the terms.
B2B Lead Generation Challenge #7: Growing concerns about data privacy
The data security and privacy landscape have changed significantly in recent years. The General Data Protection Regulation (GDPR), which went into effect in May 2018, had a negative impact on 42 percent of firms, decreasing their lead database. Furthermore, 44% say GDPR has made capturing new leads and marketing to them extremely difficult.
The study, conducted by Gartner, also mentioned that almost one out of five marketers report privacy compliance as their main hurdle across marketing channels. A marketer's capacity to gather and extract data at a rapid rate is being harmed, and some of their past marketing technology investments are becoming obsolete.
This increasing privacy concern is giving marketers a difficult time analyzing the data.
Analytics, on the other hand, is only half of the equation. Marketers are the custodians and keepers of a company's brand image, and neglecting privacy concerns, whether by choice or necessity, might harm the company's brand value.
As we get closer to a future without cookies, many businesses must decide how to continue gathering important data while remaining compliant with new rules.
B2B Lead Generation Challenge #8: Finding out the right Lead Generation tool
The growing usage of automation tools is one of the greatest trends we're witnessing in lead generation. According to recent studies, 80 percent of marketers that utilize automation tools generate more leads (up to 451% more), and 77 percent convert more prospects than those who don't.
Whatever tool or automation process you are following, must be based on an in-depth database. The right B2B database software will keep your marketing strategies up-to-date and help you to derive leads. An outdated B2B database will only waste time and resources with no result yielding.
The most tiring part of the process is reviewing and updating the database periodically. But, the more frequently it is done, the easier it becomes each time.
B2B database also contains a clear picture of different types of leads and can guide you to balance quality leads and prospects in your marketing strategies.
Having data is not enough to generate lead sales. A report of MarketingSherpa says that only 56% of B2B companies verify the business leads before passing them to the sales team. Unverified data is of no use to your sales team and eventually increases the workload for no good reason.
With so many automation tools out there, finding the right one can help you to feel relieved. Oh yes, finding the right one can get troublesome too sometimes. At this point, it may seem too much work to do.
With OneMoreLead, you can't simply go wrong. OneMoreLead offers a database of over 40 Million verified B2B prospects to search from. With OneMoreLead you will be able to create and manage curated customized lists. You'll have 100% pre-verified data of CEOs, managers, and key decision-makers.
With customized reports and dashboards from OneMoreLeads, you'll be able to track your work in real-time as well. Overall, it simplifies the sales process for your marketing team and closes more leads.
Final Thoughts
Lead generation in B2B marketing is the driving force of the business. With the increasing competition, every marketer meets the above challenges more or less. To tackle these common challenges, some inclusive strategies can help you to clear the hurdles.
Focus on finding ways to have conversations and build relationships. Level up your strategies to account-based marketing. Use the same level of attention to detail on prospects that haven't landed yet. Track the position of your leads in the pipeline and cater to their needs accordingly.
And, here once again, we would like to remind you that, your best bet is a data-driven approach. Data-driven strategies keep no room for error and save the company from spending money that won't return.
For startups, the challenges can become too overwhelming and they may not be able to afford to waste time and resources while switching between the strategies. The good news is, OneMoreLead can be the unified space for your sales team to prospect, build lists and qualify leads.
Get started today and keep your lead generation wheel running!