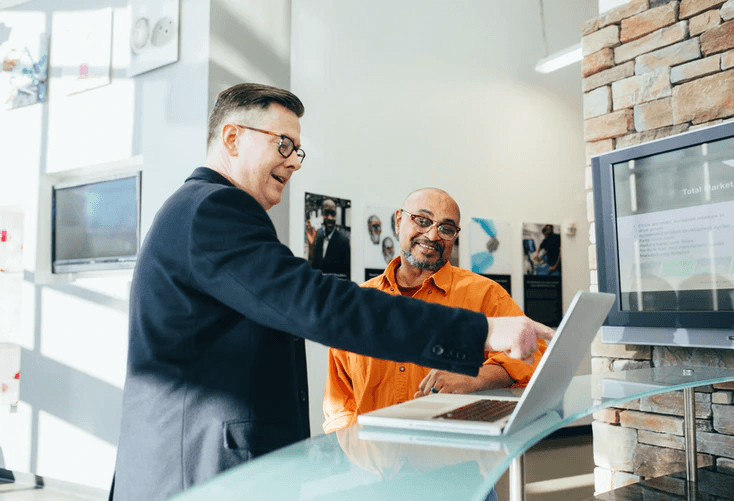 Lead generation has to be one of the most challenging tasks for B2B marketers. With the increased number of tools available to make B2B lead generation easier, marketers are looking for new approaches to cope up with the changing business landscape.
The new challenges demand effective strategic planning and execution, along with in-depth analysis and implementing the right tools. Moreover, building a trustworthy relationship with every client and prospect is also vital. These are the pillars that help a company hit its revenue goal every month or quarter.
In this article, we'll guide you through the process of lead generation and help you craft a lead generation strategy that helps you grow your business in the long term.
Understanding B2B Lead Generation
Lead is a potential customer who seems interested in your provided service, and converting this potential client to an actual one is the process of lead generation.
Therefore, the first task for marketers is to identify the potential customer group.
Finding the target audience and converting their interest to willingness is the key to a successful marketing strategy. Even if you are unable to convert them to your service now, it is vital to collect the relevant information of your potential clients.
Usually, every B2B company has different criteria for generating leads. This depends on the type of product or service your company is offering. Businesses often take an omnichannel approach that covers both online and offline marketing channels.
While paid advertisements are quite effective, organic channels such as email marketing, content marketing, social media marketing, event marketing can be equally efficient. Moreover, a well-developed and organized website can help you to generate interest in people towards your business.
Why B2B Lead Generation Is An Absolute Necessity
B2B lead generation is the key to growing your business. Because the leads are your target audience who are genuinely interested in your product or service. Spending time behind creating content that will attract the attention of your target audience will also help you boost brand awareness.
Without a solid lead generation strategy, it is nearly impossible for any B2B company to grow and expand.
The Internet has made things more accessible than before in every aspect of our lives. Even in the business world, it has a massive impact. B2B lead generation is wholly focused on the Internet, and so is the process of converting them into clientele.
Engaging with people is now easier than ever because of the plethora of options of communication. A nicely designed website also contributes a lot in this aspect. A well-built website not only makes a positive impact on people's minds, but it also makes your service easily accessible to the customers.
B2B Lead Generation: The Type of Leads
While every lead is a potential client, there are different criteria for leads as well. These can be categorized into hot, warm, and cold leads.
Hot Leads
These types of leads are the strongest leads of any company. They show strong interest in your provided service and are ready to invest in your products. They find their way to you from your created content because they actually require the service you are providing.
Content is the bait that hot leads are attracted to. Therefore, it is essential to spend a significant amount of time and money on content creation. Sometimes, hot leads find out about your service through warm leads as well.
Warm Leads
The leads that have interacted with your brand before are considered warm leads. The interaction might happen through visiting your website, signing up for email, or watching and downloading the content you provide online.
These types of activities portray that the lead has a genuine interest in your service, and hence there is a high chance that they would like to make a purchase from your business.
Cold Leads
Cold leads are the type of leads that usually have a lower conversion rate than the other two types described here. These types of leads do not find out about your service. Instead, the service providers connect with them. These leads are usually generated by some third-party lead generator.
A cold lead of a company does not tend to have any knowledge about that particular company. Therefore, they are the hardest to convert into clients.
Getting Started with B2B Lead Generation
Set Up a Website
First things first, set up your website. Then, focus on the website's design and optimization. Hire a good designer.
Websites are like online stores. Offline stores are closed after a certain period and accessible to only a group of people.
In contrast, online stores do not have restrictions as such. Therefore, to drive sales and lead generation, make sure you have an excellent website that runs on every platform.
Identify your Customer Base
Before starting any marketing activity, identifying the ideal customer base is essential. Do some research online on who your potential customer base is. Identify their traits, analyze how you should approach them, create a database containing information of these prospects upon your research.
Create an automated email list
The B2B marketing world still strongly requires email marketing. Setting up an automated email list with an efficient email marketing tool can make you stand out. Automated email lists help to gain a good relationship with existing clientele and create a positive impact on prospective leads.
Create Engaging Content
Content creation is a way to showcase your knowledge to your clientele and gain the attention of prospective leads. In-depth content focusing on your field will help you achieve the trust of prospective leads that will convert them into your customer.
Additionally, search engine optimized content will allow your website to rank higher in search engine results that will help your business to gain recognition. This type of marketing will make the leads opt for you over your customers.
Establish A Social Media Presence
Social media is the perfect place to start branding and promoting your services. Marketing on social media is free of cost, and it's still one of the most efficient marketing channels you'll find.
People generally spend most of their time using FaceBook, Instagram, Twitter. Therefore, making an effort to establish your social media presence will help you increase your audience organically, and make it easier to boost engagement with prospective leads.
B2B Lead Generation Strategies To Consider
Picking the right approach to generating B2B leads depends on a few factors, such as company size, product or service type, industry, and more. While Inbound and outbound marketing is two of the most talked-about concepts in B2B lead generation, you might want to consider other strategies like paid lists, PR campaigns, and more.
Inbound Marketing
Inbound marketing largely depends on the type of content you are providing. Your content needs to speak for your brand. Web design, webinars, social media marketing, email marketing are the baits to capture warm and hot leads.
Outbound Marketing
Outbound marketing helps you convert cold leads into warm or hot leads. This is also known as "interruption marketing" as it pushes your brand's message to people who were not searching for it.
Activities involved in this type of marketing include email marketing, telemarketing, prospecting, appointment, call guide, etc. These efforts will nurture leads that might turn into your clients.
Paid Lead Lists
You can also hire a third-party lead generation company to provide you a lead list. However, while going for this approach, make sure the agency you are hiring is trustworthy because inaccurate and insufficient information can have a massive impact on your B2B lead generation efforts.
Events
Attending shows, doing webinars, and campaigns can help you generate leads for your B2B company. Organizing events promotes your service and creates hype about your products. Moreover, it helps you to get attendees information that you can add to your lead list.
Reviews
A company's greatest achievement is when the customer speaks for their service. It grasps attention and creates trust among potential customers.
When potential customers visit your social media page or website, they are highly likely to look for reviews from previous buyers.
Gathering reviews will help you spread word-of-mouth and boost your credibility. To maximize your chances to attract positive word of mouth, you have to ensure that your customers have an amazing experience with you that is worth referring to others.
PR Campaigns
PR is usually done to attract media attention. Charity events, press releases are the best to gain the limelight. Sponsoring events can also help to create brand awareness.
Although direct emails are a bit old-fashioned, they can also be quite effective in generating B2B leads.
B2B Lead Generation Tips To Get Quality Leads
B2B Lead Generation Tip #1 - Create High-Quality Visual Content
Visual content on your websites or platforms like YouTube works like a charm when it comes to lead generation.
Why? Well, think of it - most of the time, when you are unaware of something, what do you do? Google it, right?
Keyword optimized, in-depth written and visual content will help you create a positive impact on your customers' minds. Besides, it will also help you rank your website higher on the search result.
B2B Lead Generation Tip #2 - Host Giveaways
Free giveaways are a brilliant way to create brand awareness, along with gathering information about your prospects.
Giveaways not only help you create a massive list of leads but also helps you to understand who your target audience is. Giveaways are easy to run on multiple platforms simultaneously, creating massive brand awareness and driving lead generation.
B2B Lead Generation Tip #3 - Add a relevant Call to Action
Call to Action is more important for B2B lead generation than you realize. Phrases like 'Visit us today', 'Click here to know more', creates an urgency among potential customers, which triggers a response from them.
Call to Action not only effectively generates leads, but also boosts your chances to convert these leads into customers. Make sure you're making the right placement of CTAs in your emails, websites, and social media posts.
Social media platforms like Facebook and Instagram allow you to add CTAs using a widget or button in "Stories" that redirect the leads to your landing pages.
B2B Lead Generation Tip #4 - Conduct Review Campaigns
Review campaigns such as "15% discount on next purchase upon providing review" will work as an incentive for customers to provide feedback on your service. Furthermore, offering discounts using Promo Code or Referral Codes can also boost your chances to get more leads.
B2B Lead Generation Tip #5 - Use the right Lead Generation Tool
Using the right tools for your lead generation efforts not only saves your time but also makes B2B marketing easier for you. You can find a lot of marketing tools that offer a range of features, and come with multiple pricing tiers.
We recommend our powerful lead generation platform OneMoreLead. With OneMoreLead, you can get access to a database of more than 40 Million verified B2B prospects. It provides data with key metrics that help your sales teams create more detailed and qualified lists.
Final Words:
While B2B lead generation is easier than ever, it has also become more competitive than ever. This makes having a robust lead generation strategy for your B2B company more important than ever.
Get your B2B lead generation efforts up and running with OneMoreLead. You can set your parameters and OneMoreLead will build the list for you, saving you time, effort, and resources. Sign up today and start building lists that convert!