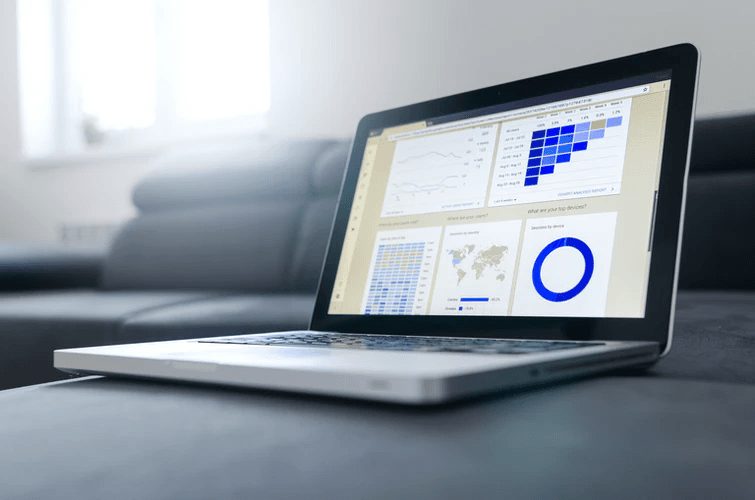 Data is a big investment- and as a marketer, you never want your investment to go in vain. Data can only be valuable to your company when it's accurate and up-to-date. This where B2B database providers prove their worth.
After all, data is the fuel that enables your revenue engine to run smoothly.
The right B2B database provider can be a lifesaver for your marketing and sales team. Without accurate data, these teams won't be able to identify, target, and connect with your target prospects, and drive results.
But in a market full of B2B Database providers which one should you choose?
In this article, we've compiled a list of 10 excellent B2B database-provider services that can help you boost your marketing efforts effectively.
What Is A B2B Data Provider?
The term Data Provider covers a wide array of services including sales intelligence, data hygiene, pipeline prediction, CRM management, and many more.
Let's face it, most businesses are irrelevant in B2B commerce. This is why the B2B industry is rapidly transforming to provide data that really matters.
These data providers are equipped with end-to-end solutions that ensure functionality and allow entire sales teams to identify, engage with, and sell products or services to qualified purchasers.
Companies must rely on a wide range of data sources to maintain an accurate and diversified database. Before you make a decision, we recommend you explore and assess a variety of data providers.
Types Of B2B Database
Paid B2B database
A paid B2B database is a ready-to-use database of lead contacts purchased from an external provider.
Consensual database
The data in the consensual database is mostly derived through business interactions and connections.
Other companies give contact information via sign-ups, which can later be obtained through data providers. This sort of B2B database has a low degree of engagement and a low conversion rate.
In-house database
An in-house database is built and managed by the company rather than purchasing from another source.
The data augmentation and data enrichment for cleaned data must be handled by the business itself, using various web technologies. When compared to a paid B2B database, an in-house database is time-consuming and labor-intensive to build and maintain.
Why B2B Database Is Valuable To Marketers
Sales and marketing professionals use B2B data to precisely target and connect with active ideal buyers. This intent data is a fail-safe method for effective ABM campaigns.
Although data gathering and administration are essential functions in virtually all modern organizations, in-house data maintenance is an antiquated practice.
Let's take a look at some of the reasons why a company would opt to engage with an outside vendor:
Gathers new contacts of future customers and prospects.
Maintains usability and freshness of data automatically.
Ensures industry standards and keeps business compliant and within the law.
Saves time and resources.
10 Best B2B Database providers
If you are bombarded with a pile of information and still at the sea about what service provider you want to choose, you are at the right place.
We've compared data vendors and companies and finally curated a list of the top 10 B2B data provider tools.
1. OneMoreLead
OneMoreLead is a data broker tool that offers dynamic data lists. It gives your sales and marketing team valid and accurate data that will allow you to reach the right contacts and beat your competitors to the sale.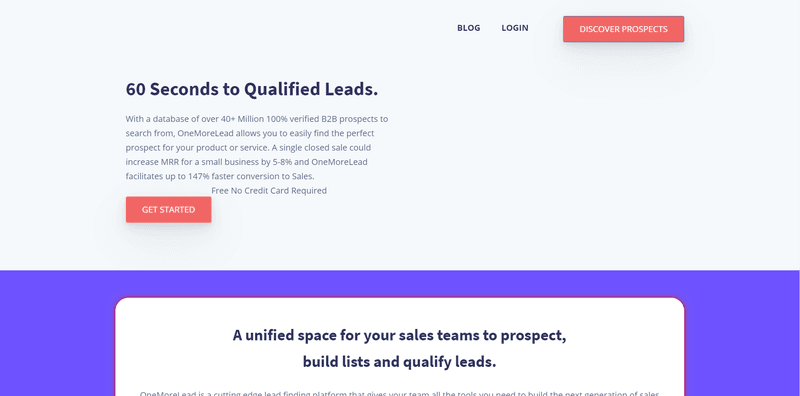 OneMoreLead offers 100% verified prospects, which allows you to easily choose the right database for your business.
It keeps track of each contact in your database and updates it when people change jobs or businesses. This helps you to have actionable business intelligence and allows you to increase your lead list, boost your marketing efforts, and win more accounts.
Get Started on OneMoreLead today for free!
2. Span Global Services
Span Global Services specialize in boosting sales through B2B sales and data-driven marketing insights. The company provides unique data consultation services through their data solution specialists to conduct an email campaign.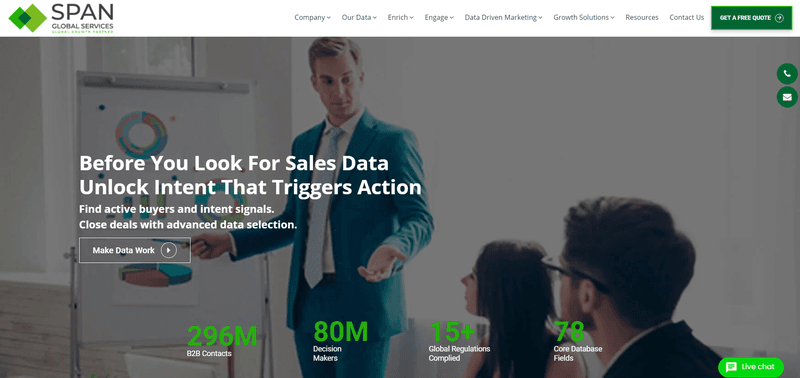 Span Global Services offer a database management system that incorporates insights into each campaign to give precise, refined, updated, and validated data of your target consumers.
They also offer B2B email marketing lists including technology, healthcare, geo-targeted emails lists, professional and industry-wise mailing addresses.
Pricing
The pricing tiers of Span Global Services are only accessible by getting in contact with their sales team.
3. Ampliz Salesbuddy
Ampliz Salesbuddy delivers B2B contact information for key decision-makers all around the world. They collect data and statistics for businesses and customers based on information obtained from a variety of trustworthy sources, including, publicly available information, B2B directories, and more.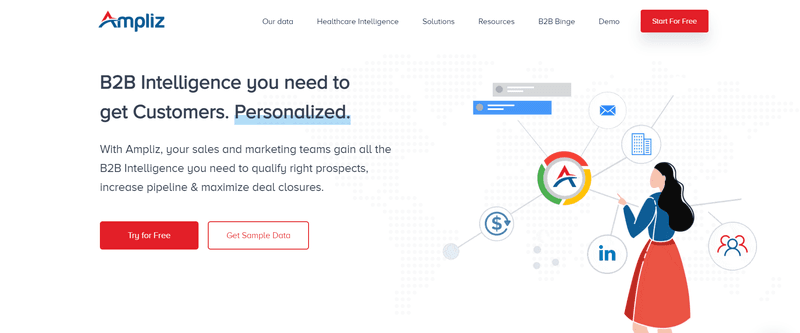 Ampliz assures that the acquired data remains the property of the clients by storing it in a carrier-class secure facility secured by firewalls and other security mechanisms. To count web page accesses, statistical data is obtained using single-pixel pictures.
It also provides a secure marketing platform free from solicited commercial emails.
Pricing
Ampliz Salesbuddy has a free demo option and a basic pricing plan only at $1. But they do not publish a detailed pricing chart.
4. PureB2B
PureB2B is a data-driven marketing tool that uses a growing B2B client database. They track campaigns and behavioral patterns to monitor millions of online interactions and account-based content engagements.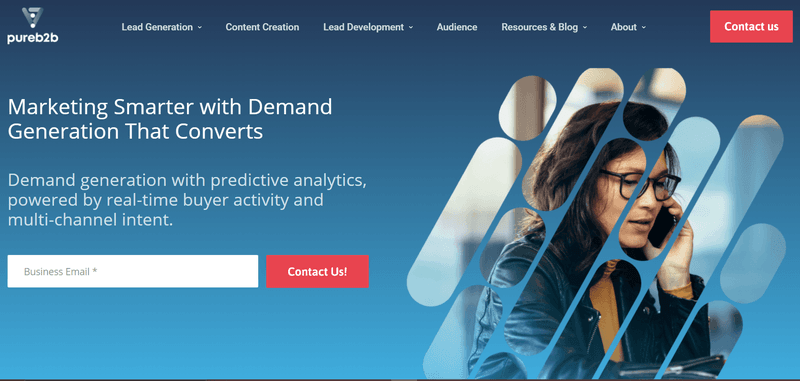 It offers a combination of demand generation technologies and predictive analytics. PureB2B's multi-layered purpose, when combined with lead data, assures optimum ROI. It automatically gathers data via website cookies, web beacons, visited web pages, domain name, and referring URL.
PureB2B has a policy on exchanging personal information. If a customer leaves a remark on a blog or any public part of the site, their identity can be revealed, information may be given to third-party vendors, contractors, or other service providers.
Moreover, if PureB2B merges with another company, all assets will be transferred to them, and the information gathered may be shared in response to legal proceedings to comply with the law.
Pricing
PureB2B does not offer a free version or free trial. Potential buyers have to contact the sales team for a price quote.
5. ZoomInfo
Zoominfo is a market intelligence solutions provider that specializes in sales intelligence, marketing intelligence, contact data, lead creation, enhanced prospecting, business connections, and Account-Based Marketing.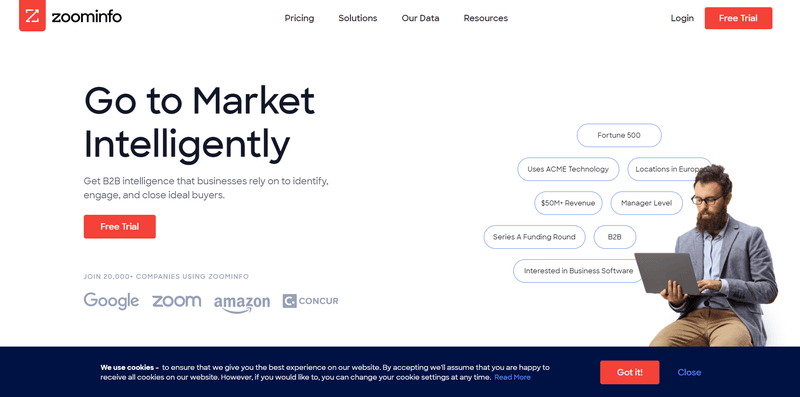 They construct profiles of business people and firms, collect business information, and aggregate various company references. They also facilitate B2B transactions, sales, and marketing and are an important tool for determining a company's hierarchy.
Pricing
Zoominfo offers 3 pricing plans- Professional, Advanced and Elite. However, they don't disclose their pricing information publicly.
6. Salesify
Salesify, now commonly known as Ziff Davis Performance Marketing, provides lead generation, integration or enrichment, strategic account management service, CRM cleaning, and appending services, as well as a custom-built B2B email database.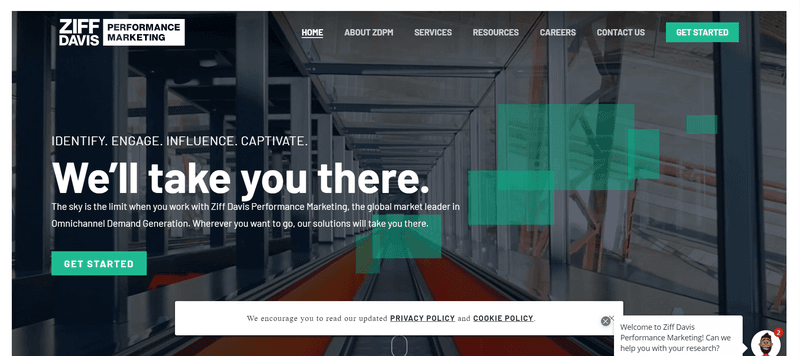 They also offer crucial B2B consumer intelligence services to data-driven marketers. They have assisted numerous customers in locating their target audience and achieving their business objectives.
They collect vital data to improve the customer service experience. Its impressive client portfolio includes Aqua Security, Adaptive Insights, Bloomberg, and Datawatch.
Pricing
Salesify does not disclose pricing information for its data services publicly.
7. Leadspace
Leadspace assists in the development of demand-generating technologies and processes. They offer intelligence solutions for data management, inbound and outbound lead generation, and account-based marketing (ABM).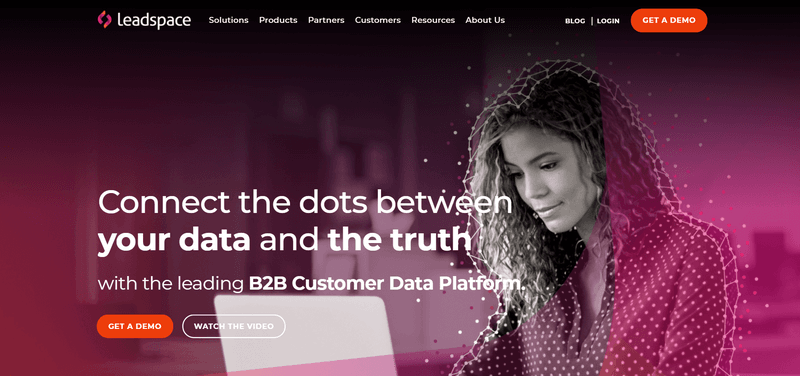 With its leading B2B customer data platform, it concentrates on successful sales and marketing methods. The software assists in attracting ideal consumers by utilizing an accurate and tailored interaction method.
Pricing
Leadspace does not have a free version and also does not offer a free trial. Its pricing starts at $25,000 per year.
8. Matrix Marketing
Matrix Marketing enables easy and cost-effective access to sales lead data. They provide digital marketing services to start-ups and other small companies.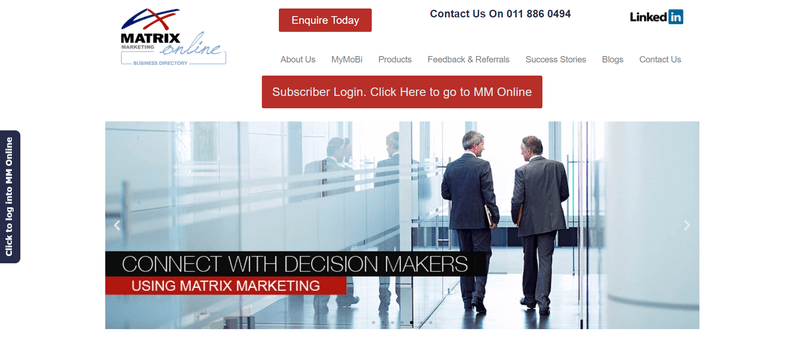 The software assists in generating leads for the most engaging forms of content to increase sales income. Matrix marketing also has a group of specialists that assist them to promote their sales using their B2B customer data.
They identify and locate clients, as well as leverage the sales team's capabilities. They also offer exact consumer profiling based on extensive research and analysis.
It saves time by using ready-to-use lead data, contacts accurate and usable, uses sales management tools to increase sales by focusing on the correct demographic, connect with global decision-makers, and gets essential information about leading companies.
Pricing
Matrix Marketing's datasets and APIs start at $4,500 per month. It also offers free samples for individual data requirements.
9. LeadSift
LeadSift is one of the most useful solutions when it comes to complete intent data. They provide a daily summary of relevant leads gleaned from publicly available data.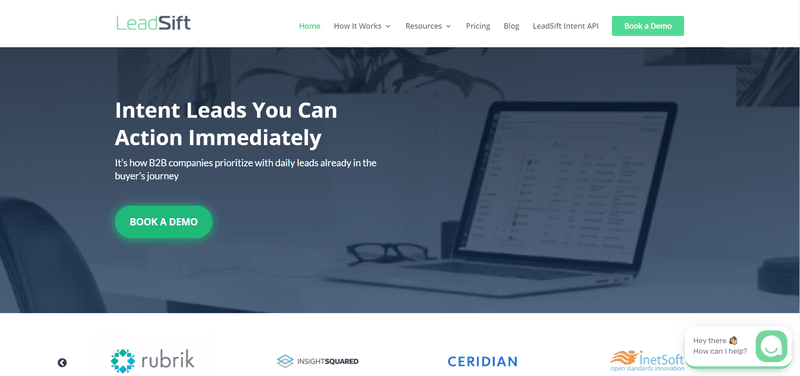 It operates a sales intelligence platform that produces leads from the public internet. LeadSift chooses the best alternatives based on 28350 verified user evaluations and monitors public reviews of rivals' content and keywords.
They give prospects as well as intent data, allowing you to follow those who indicate interest in other rivals. This tool also uncovers personal-level insights and integrates data mining, machine learning, and artificial intelligence (AI).
They also determine who the proper individuals are with actionable intent, and ensure prioritization and customization of email nurturing.
Pricing
LeadSift is comparatively more expensive than other tools on this list. They offer three packages - Startup, Premium, and Enterprise. The price of Startup starts at $750 per month, Premium at $1500 per month, and Enterprise at $2500 per month.
10. EasyLeadz
EasyLeadz uses company data to assist you to fuel your business sales growth. With competitive tools, they create extremely precise and tailored B2B databases and sales intelligence.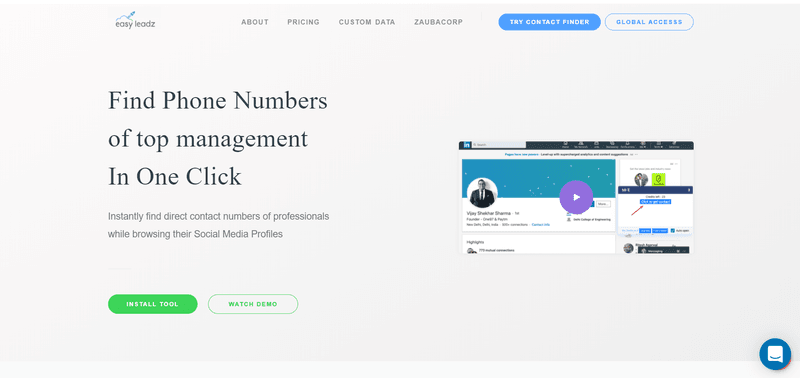 They assist in identifying the proper prospects, reaching out to decision-makers, and tracking sales signals. They also enable you to enhance and validate business profiles and interact with leads, contacts, and other applicants.
Their product comprises ideal customer firmographic and demographic profiles. They claim to have more than a 95% accuracy rate along with high-quality delivery.
Pricing
EasyLeadz offers 3 different pricing packages- Startup, Scaleup, and Growth. The pricing of the Startup plan starts from $29 per month. You will get Scaleup at $69 per month and Growth at $139 per month.
Final Words
No B2B data providers on this list are a one-size-fits-all answer. This is because different organizations have different data needs. A data-provider service that meets the demands of one sales organization may be a poor fit for another.
Whether or not they meet your company's demands is determined by the sort of data you want, the industry you operate in, the feature set of each provider, your pricing point, and a variety of other factors.
If all these factors are too much for you to consider, you can always put your trust in OneMoreLead to deliver the right data, thanks to its database of over 40 Million verified B2B prospects.
You can also see what's working in real-time with customized reports and dashboards, making OneMoreLead an ideal solution for you.
What are you waiting for? Get started for free and see for yourself!