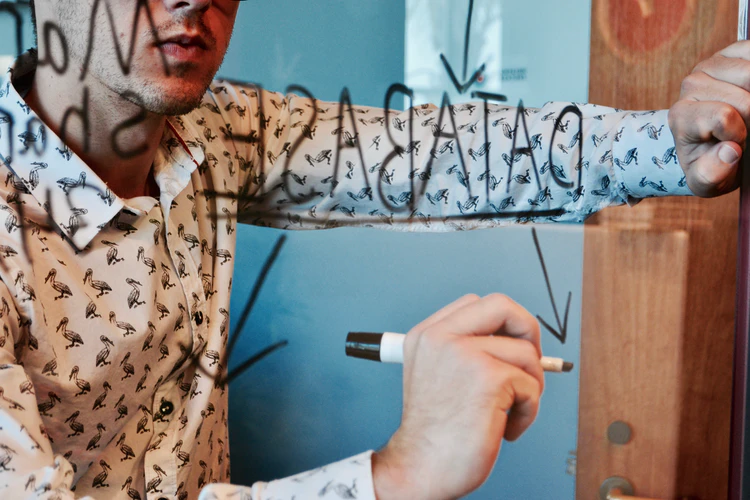 Collecting data is one of the most crucial aspects of successful B2B marketing. A well-crafted B2B database will help you learn more about the companies and contacts you target, giving you a better chance of engaging them.
Engaging with targeted leads makes it easier to drive them to conversion, which helps you boost your revenue effectively.
Many businesses are letting opportunities slip due to the lack of a standard database. A state-of-the-art marketing tool would not be helpful without a systematic and updated database. An enriched and accurate B2B database can add substantial value to the day-to-day data an organization builds, stores and processes.
In this article, we'll help you understand what a B2B database is, how to set up a B2B database, along with some bonus tips on effectively managing a B2B database.
What Is A B2B Database
A B2B database compiles all the data acquired by a marketing team of a company regarding the potential customers. This database should not only be accurate but also be specific about relevant details of the target segments within a company.
Along with the contact number and email addresses of potential leads, an efficient B2B database or B2B contact list may also include the geographic address, performance details, and company size of the targeted leads.
Although data is a key to drive sales of any company, many businesses often fail to maintain a consistent flow of it. Consequently, they lose their place in the market due to the lack of contacts and information. Studies show that 54% of companies are struggling due to the lack of data.
Why You Need An Accurate B2B Database
Having a B2B database is not enough. If the database is inaccurate, then it might cause additional problems resulting in ineffective B2B marketing efforts. Incorrect contact information or lack of sufficient information might result in losing potential clients.
In a highly competitive landscape, a database may not be an accurate image of a customer or lead. In situations like employee turnovers, the existing contact list becomes outdated.
Targeting specific customers becomes quite difficult if your database lacks important information in the first place.
Step-By-Step Guide To Setting up a B2B Database
If you are new to creating a B2B database, don't worry. We have got you covered. Here is how to create a B2B database in 4 steps:
Step 1 - Determining Customer Base
Determining the ideal customer is a crucial first step to create a B2B contact list. This can be done by analyzing the customer, analyzing the behavioral patterns of the customer, and identifying distinct features of the target group.
Besides, a new prospect list sharing the same traits as the existing customer leads is more likely to generate more customers. To get new clientele, research and analysis on potential audiences can help a lot.
Step 2 - Getting an effective lead source
Building your own lead list or buying one - both can be viable options. You just have to pick the one that'll suit your needs.
To build your own lead list, you can rely upon your marketing database or CRM. However, before buying a lead list, evaluate and analyze the efficacy of the list. More on this in later sections.
Step 3 - Segmenting Your Prospects
Segmenting your prospect list will allow you to target your ideal segments effectively. Identifying the potentially profitable group of prospects will also allow you to gain more prospects who are similar to the target group.
Segmenting them will help you make more targeted experiences, which are more effective in drawing attention to your product or service, thus leading to more conversion rates.
Step 4 - Organizing Data of Leads
Spreadsheets are a blessing when it comes to compiling large sets of data. Your spreadsheet template should contain information such as title, name, contact number, email address, location, lead source, and remarks.
Compiling the data in an organized way will be helpful to deal with a huge pile of lead lists. You can also import large spreadsheets into CRMs to make the process seamless.
B2B Data Management Best Practices
A detailed, updated database is undoubtedly what makes B2B marketing more efficient. It allows B2B marketers to concentrate on what they do best - crafting marketing strategies, establishing strong relationships, and driving sales.
To ensure the efficacy of your B2B database, you should keep a few things in mind.
Build a Standard
Every person in your marketing team should know what type of data is used in building a B2B database. As you might have realized already, names and email addresses will not be of much help.
A database should possess information like the information about buyer persona, relevant contact info, and active email IDs of your clientele. A quality standard for databases will help you to make the most of your marketing efforts.
Set up a Monitoring Process
The B2B database requires to be updated periodically. Without maintaining the data each month, the contact list's effectiveness will fade away due to data decay. This makes it more important for your marketing team to build their own way to update and monitor the clientele information.
Disconnected phone numbers, inactive email addresses are some of the factors that contribute negatively to data health.
Grow your Contact List
Growing a data list does not only mean having new prospects; it also means updating the existing data of your data list when a major change takes place.
For example, in times of employee turnovers or when a decision-maker of a respective company leaves, you need to update your database accordingly to include the new potential leads.
Tips to Create A B2B Email List That Converts
For B2B businesses, email marketing is one of the most cost-effective tools. However, growing a B2B marketing list is not a cakewalk at all.
Here are some tips to take note of to create an effective B2B email list.
Pushing pop-ups to sign up when a website visitor attempts to exit your website will help you capture the email address of that respective visitor who may convert into a client later.
Providing a quiz on your website is an engaging way of getting the email of a visitor.
The sign-up field of your website will not go unnoticed by visitors if your website owns quality content. People like to stay updated; therefore, this option would be helpful to get their email addresses.
A subscribe option at the end of every content is likely to get users' attention. If your contents are informative, then users will sign up.
Another effective method is by offering whitepapers, hidden content, books, and case studies through e-mail. The users get their desired content, and you get their email addresses.
Arranging webinars will not only allow you to engage with your audience but also help you to get a massive list of email addresses.
Creating as many touchpoints as possible will help you get the email addresses of the prospects. Live Chat, Subscribe options in mail signature, contact forms, Newsletter sign-up will help you get the leads' email addresses.
How to streamline your marketing efforts with a B2B Database
Provide Quality Customer Experience
Nowadays, the expectations of B2B clientele have reached a new peak. Receiving emails containing offers that are not relevant to their industry or interests might be quite annoying to them. This makes personalization an absolute must.
Use the data on your B2B database to tailor your marketing communications to individual customers. You can create your personalization strategy beforehand to make sure you are collecting the data required to achieve that goal.
Focus on Content
While reaching new customers as well as the existing ones, it is necessary that your content speaks for you. Most buyers nowadays focus on what value the service will add in the long run.
Strong and informative content is a must if you want to grab the attention of your existing and potential client.
Remember to Follow Up
A personal relationship with clientele always proves to be beneficial. The digital landscape has allowed us to reach a large number of people in a short time. But nothing emulates the impact of building personal relationships with customers.
While meeting and calling might not always be possible, a simple personalized text can add a lot of value to your marketing efforts.
Buying Data from 3rd Party Providers
As we mentioned previously, you can consider buying a data list from 3rd party providers instead of creating your own B2B database list.
However, not all the 3rd party providers are reliable in terms of buying a B2B database. Some of these providers provide data that only includes contact information along with detailed information about the decision-makers only. These types of data are known as "Scrubbed Data."
Other services rely upon information gathered from their social media accounts. This can result in inaccurate and conflicting information or, worse, worthless leads.
Instead of buying data from dodgy providers, you can reach out to vendors who aim to provide you a standard and upgraded database.
Here are some of the things you should consider before buying data from 3rd party providers.
Research about the Vendor:
Doing your research is important when you are aiming to buy a database from a data supplier. You can search for positive mentions and reviews. Make sure you've considered the balance between price and offered services before you pick a vendor, don't just go for the cheapest one.
Making a Conversation:
Before buying a list, ask the provider some questions, like the time of building the list, the last time of updating, included information, and more.
While checking the included information, make sure the completion percentage of each field is maximum, i.e., buyer persona, demographic information should have accurate information instead of white space.
This should be done to ensure that you are not buying random email addresses and contact numbers. The answer to these questions will let you judge if this is the right provider for you.
Extra Features:
A quality database will include more than just information. Unique features such as live updating of data and geo-targeting are always a bonus.
Last but not least, focus on quality more than quantity. A list containing 100 contacts with accurate and detailed information is always better than a list containing 1000 contact lists with numerous missing fields.
Frequently Asked Questions
What are the Laws and Regulations regarding B2B Database?
Depending on your location, buying and using a B2B database might require you to maintain some regulations. European Union's General Data Protection Regulation or GDPR, is one of the most important regulations when it comes to B2B Data protection. The GDPR bears ties with Privacy and Electronic Communications (2003) and Data Protection Act (1998), safeguarding the personal information of individual users.
What is data decay?
Data decay occurs when you experience a gradual loss of data within your database. Data decay is often a continuous process and can be challenging to identify.
For example, when a contact switches their email address or contact number, there is a 50/50 probability of keeping the old ones or getting rid of them. This is why spotting outdated information and updating them is essential. Without their updated information, you'll be wasting your resources on inactive leads.
How can automate building B2B contact lists?
If you want to automate the B2B list building process, OneMoreLead is the solution you're looking for. You can simply set your parameters and let OneMoreLead build the list for you.
OneMoreLead boasts a database with over 40+ Million verified B2B prospects to search from and allows you to easily find the perfect prospect for your product or service.
So what are you waiting for? Sign up today and start building B2B lists that convert!