Communication in B2B markets is now easier than ever, thanks to the internet. Collaboration and outreach among companies are a few clicks away. However, finding company email addresses is not a cakewalk.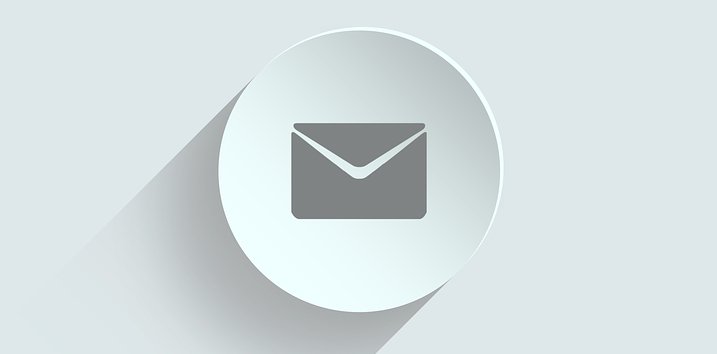 Bots are constantly scrubbing email addresses to protect the users from spam. But, we are here to ease your hassle. A simple tool and a little creativity will get you rid of this headache.
By the end of the article, you will get an insight into the techniques of finding company email addresses.
Hence, without any more delay, let's begin.
Table of Contents:
TL;DR
Finding company email addresses is an absolute necessity in the B2B market to generate leads and engage with prospects.
Before sending your prospects' email, it is crucial to get their consent. Otherwise, you can face a financial penalty.
If not done properly, cold outreach can get controversial.
An email lookup tool is a savior when it comes to finding accurate email addresses.
You can find the email addresses of your prospects on their respective websites.
A quick Google search on prospects can help you to get their email addresses and other necessary information about your prospects.
You can engage in conversations with professionals via social media platforms.
Signing up for their monthly newsletters or promotional emails is another way to get their mail addresses.
The Live Chat section can help you to get the email addresses of respective personas.
Except for email look-up tools, other options are not very productive and are absolute time killers.
Finding Company Email Addresses: Why Is It Necessary?
As a marketer, you know what it could cost you to mail someone without their consent.
However, sometimes, in the B2B market, you might need to directly contact your leads and prospects. Perhaps, you need the email address of a blog or website owner for link reclamation. Or maybe, you are in quest of an expert for consultancy.
Your ultimate aim is to boost sales by engaging with them. It could be for researching and connecting with your prospects. Or probably, you are searching for an opportunity to collaborate or get feedback.
While spammers can use emails for their vile purposes, there are legitimate reasons for using those in the B2B market.
Instead of waiting for the prospects to knock at your door, you present yourself to drive your sales.
Unfortunately, most marketers do not know the proper way of cold outreach. Consequently, an efficient strategy like this becomes controversial at times.
If you do not want to be among them, then keep reading.
Finding Company Email Addresses: How to do it?
1. Use A Professional Email Look-Up Tool
The fastest, convenient, and most efficient way of finding company email addresses is to take help from an email look-up tool. They have a compilation of massive databases, which they update regularly.
Your only work is to look for the data.
However, make sure that the look-up tool you are approaching is reliable. Further, it should provide accurate and valid information. Therefore, the best option to look out for is an authentic source.
OneMoreLead has more than 40 million verified B2B contacts in its database to search from, making it easier for you to generate converting B2B leads in no time.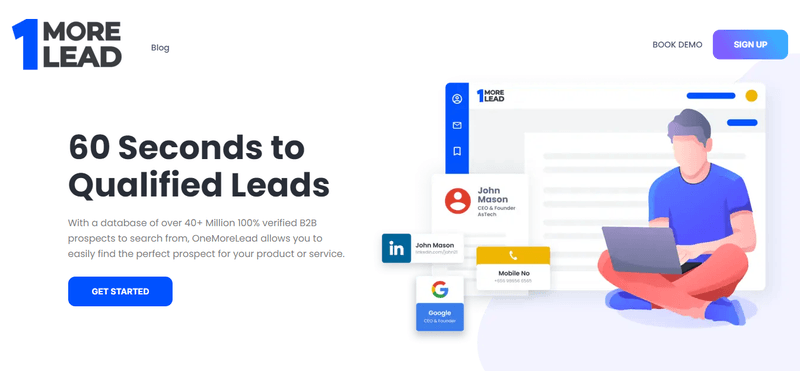 Email lists collected from data brokers have the chance of being static. But OneMoreLead does not provide static email lists. Instead, the database updates if a professional switches their job or company.
The benefit of using an email look-up tool is that the process does not require much time and effort. Moreover, it is the most efficient method to opt for conducting the bulk search to generate emails. You get contact information and get the necessary data you need to engage with a prospect.
Get started for free with OneMoreLead today and get rid of the exhausting process of finding email addresses.
2. Check Out The Company Website
The company's website is the place where you will get company email addresses.
The "About Us" or "Meet the Team" page will not only give you contact information. But also you can get vital information about each person's name, designation, and other helpful information.
If you don't find the email addresses there, you can check the "Contact Us" page. You can find the company's Customer Service Team's email ID.
On most companies' websites, there is a list of email addresses for the media department.
If these don't help, you can check the blog section of the company. The authors of the articles usually attach their email addresses in the "About the Author" section.
The benefit of searching through this medium is that the information will be highly accurate. Placing the company name on the search box is everything you need to do.
Before reaching out to any professional, you need to research them a bit. Through this technique, not only will you find email addresses, but also you will gather important information about them.
Moreover, while browsing through their website, you will notice their difficulties and approach them with your service by addressing those issues.
The only setback of this method is, it is a time-consuming process which makes it less efficient. Also, you might not find all the mail addresses you need.
3. Do A Quick Google Search
The next thing you can do to find the company's email address is to run a quick Google search. Just put the company's name and add the keyword "email."
For example, if you are searching Prada's email addresses, then type Prada email in Google's search box or any other search engine you use.
If you are using Google, it will present Prada's contact information. Moreover, if you notice the meta description, you will see the email there.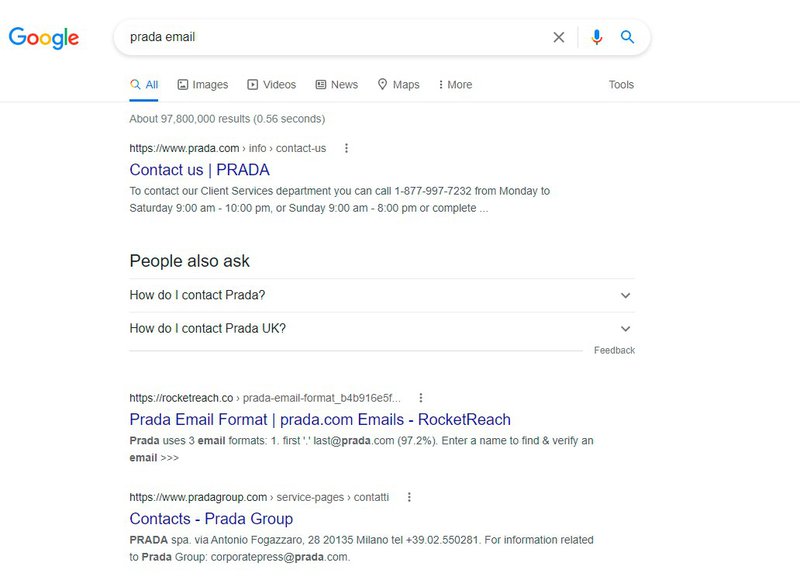 If this fails, we have a solution for that too. Add "email site:prada.com."
It is an advanced search method. Instead of searching every page of a website to find the email addresses, you can make Google do it for you.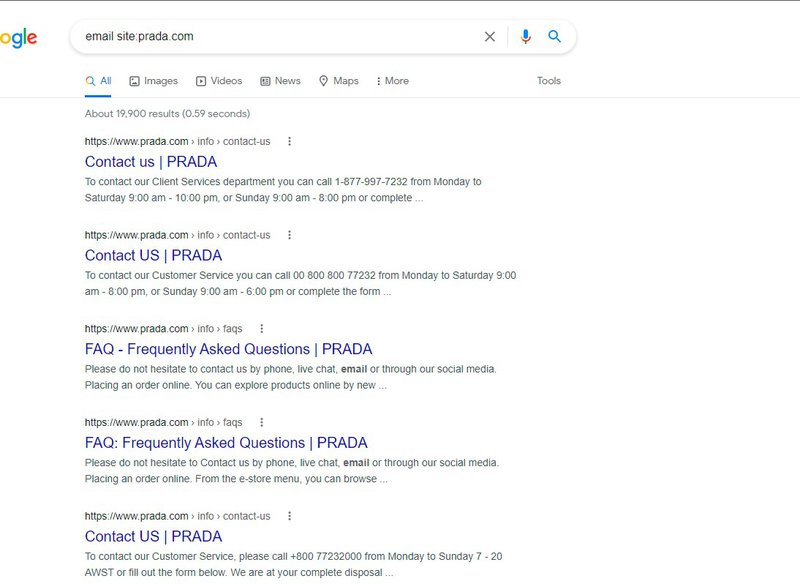 It is crucial to note that this technique will only be fruitful if your respective lead is listed on Google. Moreover, if the lead does not attach their company mail IDs to their website, it is not going to be useful.
The benefits this method provides are that it is free of cost and seamless. Additionally, you don't need to worry about the authenticity of the information you gather. Furthermore, except emails, you will collect many other essential data about the lead.
This method is weary if you are trying to generate tons of leads. Besides, it is not an automated service, so you need to run the search manually.
4. Make Use Of Social Networks
Social media is all about getting social, isn't it?
Don't have a prospect's email address? Don't worry. Just connect with them on Facebook or LinkedIn, and you are allowed to send them a direct text.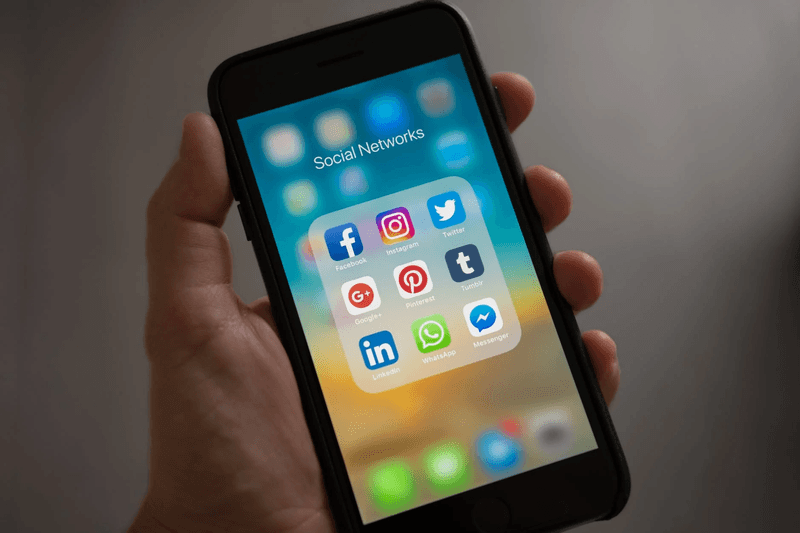 However, do not make the inbox a sales pitch. That would be highly unprofessional. Rather engage with them by appreciating a recent achievement of their company or talk about any current issue about their industry.
When you form a connection with them, it allows you to nurture the relationship between you two and find their email addresses.
Twitter is another excellent social media platform to find emails. If you search for a company's Twitter handle, you can find their email addresses and the links of sites they are engaged with.
If none of these work, text them about their work and eventually take permission politely to move the conversation via email.
These methods are free of charge. Not only that, it is an ideal method to generate contact information and learn about your leads.
However, the only drawback is that it is a time-killing and laborious process to execute and often not an easy one.
5. Subscribe To Their Mailing List
It's a common marketing practice to send newsletters via email, informing about any promotional activity or a product/service launch.
Signing up for their email is an excellent way to engage in conversation with them. You have the opportunity to mail them, and most of the time, they reply to their subscribers.
Although you will not approach the person you are looking for in the first place, you will eventually get your prospect's contact details as well.
6. Contact Via Live Chat or Support Chat
If none of these seem to works for you, you can go to their "Live Chat" section, for asking their company email addresses.
Many companies choose not to publicly disclose their email IDs to protect their inboxes from spammers. Starting a conversation in their chat box is a perfect way to get their mail addresses in situations like this.
The customer service representative can give you the email addresses you need. You can do it more efficiently if you research the name and job designations of the personas you need to contact and ask for their mail IDs directly.
The representative can help you in getting a proper and positive response. This depends on how you represent yourself as well. A good introduction about you and your business will help you to get the information you require.
The upsides of this method are that it is easy and free. All you need to do is ask a question. As the company representative per se meets your queries, you will not have any confusion.
However, it is a very inefficient method to opt for generating many leads because the process kills time.
7. Trial and Error
Some companies follow the conventional email format. The format goes as follows:
A professional's first or last name (or both) and the company website's domain name. We have listed a few examples below
Although the process is effective, it is time-consuming. Therefore, we recommend you to choose this one only if you have tried other options and found nothing.
Frequently Asked Questions
What is an email checker?
Email checkers verify the authenticity and validation of your email list. Lack of accurate email addresses will increase the bounce rates affecting your domain reputation.
Is there any free email checker tool?
Yes, there are a plethora of free email verification tools. However, they are not that reliable. Rather we recommend you use Verifybee for the authenticity and accuracy of your email verification process.
What is the correct way to address someone in the mail?
The correct way to address starts with a proper salutation. After salutation, you should add the job designation with the last name of the professional. Make sure to spell their name correctly.
You should capitalize and adequately use punctuation. Consider using informal greetings in the follow-up emails. Take a note of the salutation they are following.
How can I check the validity of an email address?
You can do this by mailing it to the respective person. If you face a hard bounce, that means the email is not valid. However, if you are trying to check the validity of all the email addresses on your list, you can choose Verifybee, which is a brilliant email verification tool.
Bottom Line
Prospects of B2B markets are potential customers. Hence, building a relationship of faith is more crucial. Instead of immediately getting into business, creating a rapport with them will help you to create a profound relationship and gain a new lead.
You will find numerous ways of finding leads on the internet. But if you're looking for the most efficient solution that provides reliable results, try OneMoreLead.
What are you waiting for? Book a demo today!