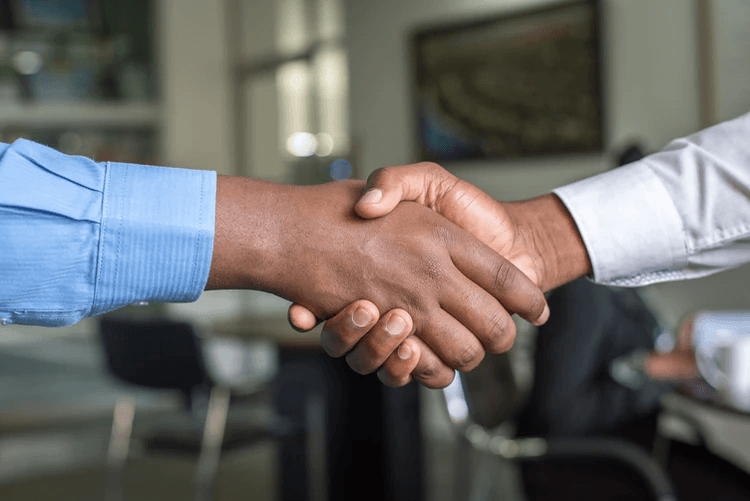 B2B sales prospecting aims to discover potential clients and convert them to customers. You have to qualify leads, initiate discussions, and nurture connections to move prospects through the sales pipeline and finally close deals.
B2B sales prospecting aided by sales technology can help you optimize prospecting activities quickly. It will allow you to channel your resources to other areas of your business that need them the most.
In this article, we're focusing on prospecting strategies, recommendations for enhancing the efficacy of the lead generation process of your team. We've also compiled expert tips on how to identify ideal prospects and explore ways to interact with your prospective clients.
What is B2B Sales Prospecting?
"Prospect" and "lead" are sometimes used interchangeably, confusing. Many believe that B2B sales prospecting is simply another way to describe B2B lead generation.
But that's not true.
Lead generation starts with prospecting. Customers or clients who demonstrate an interest in your brand and your provided service are called leads. On the other hand, prospects are the potential clients who have not shown interest in your brand.
Generally, prospects fit your target customer profile. They are just yet to know about the existence of your brand. Investing in prospecting will open doors to new business opportunities.
Lead Prospecting vs. Sales Prospecting
There are just two kinds of B2B prospecting. Sales prospecting and lead prospecting. These two terms are not synonymous; hence, using them interchangeably is incorrect.
Lead prospecting
Identifying potential customers who are not interested yet in your service is the first step of lead prospecting. Appealing to these customers may result in a sale.
First, conduct research, initiate contact, and start creating a relationship.
The pre-screening process of lead prospecting lets you assess the potentials of companies.
Sales Prospecting
Conversely, sales prospecting refers to mitigating the existing leads. It is all about identifying the highest potential prospects from the existing ones.
Even after passing the qualification process, a company might fall out from the high potential criterion.
Existing contracts of a company might restrict it from taking your service. Or the business can prioritize other financial activities rather than buying your products.
Why Sales Prospecting Is Important For Your B2B Business
Sales Prospecting undoubtedly, adds a significant amount of value to your B2B business. Here is why-
Consistently generates sales pipeline leads
With your company's growth, you will find clients that will help you reach your revenue goal. However, you can not rest on these laurels because newer organizations are always stepping into your geographic area.
The number of startups is increasing each day. Therefore, the thought some B2B marketers held that they had approached all the potential clients is nothing but a fallacy.
Clients who might have been indicated interested in your service might be looking out for your solutions. When prospecting, you're gathering new revenue streams and inserting them into your sales funnel.
Enhances Your Lead's Quality
Marketing to business-to-business enterprises is complicated because you have numerous businesses to choose from.
Better sales prospecting consists of only bringing in higher-potential clients. Some of these customers may turn out to be non-converting ones.
However, by giving your marketers and sales personnel quality prospects to work with, you'll bolster your pipeline with niche-appropriate and buyer persona-specific organizations.
Grows New Businesses
Every firm is seeking the next leap, client, or breakthrough. This fixation on "next" can be overwhelming. Sales prospecting is a low-stress, systematic strategy to track your company's future while remaining focused on current activities.
Regardless of whether your possibilities pan out or not, you're guaranteed to have fresh new opportunities to work with.
Getting Started with B2B Sales Prospecting
Jamming your sales funnel with pre-qualified leads is easy. The immense confusion arises when you need to apply strategies to your marketing activities. Moreover, taking theoretical practice and using it practically is harder.
You can consider a few high-performing B2B sales prospecting strategies to get started.
Consumer Referrals
After you develop a relationship of satisfaction with your clients, ask for recommendations from them. The way your clients perceive your organization is essential to drive leads.
The organizations you are collaborating with are working with thousands of other organizations each day. Their recommendation will help you to capture these prospects.
Occasionally, You might obtain a list of businesses to contact. Your client may reach out to a few different companies to link you directly. Either way, these recommendations are a great way to build your funnel.
Social Media Platforms
You can use social media platforms both as a tool and as a sales prospecting technique. Either way, they are a great source of benefits in many circumstances.
These platforms allow you to define new prospects, beget inbound leads, or make your company widely known to other organizations.
LinkedIn is an ideal social media platform for the B2B marketing arena. Your activity on LinkedIn will allow you to attract inbound prospects and leads towards. It helps gather information about lead qualification to pitch strategy.
Following your prospects will let you understand their needs and queries better. Besides, it will help you to gain an insight into them through observation.
Research
While starting in a new market, any B2B marketer should begin with researching their prospects.
Look for insights about your target market and industry. Research about the buyer persona. Relate these with your geographic radius.
Learning more will help you to weed out lower-potential prospects while allowing you to identify higher-potential ones. Consider demographics and firmographics when selecting a company that meets your expertise.
You might have prospects from different market areas. But we recommend you to be familiar with one market compared to the others. This market is easier to pitch and convert. Therefore you should concentrate on the prospects here.
Researching will help you to find tons of potential clients. Moreover, when you have information about them before you contact them, it will be helpful to make a first impression.
However, specific details about them can only be perceived after the first contact. These include organizational aim, budget, intent to purchase, pain points. Your sales team can apply these tidbits to qualify or eliminate prospects from your database.
Email Prospecting
Emails are one of the advantageous communication methods. Therefore, B2B marketers are heavily dependent on it.
It is possible to outline the necessary details via mail that phone calls cannot provide. Besides, email offers a record that prospects can check at any time according to their convenience.
Emails should be personalized and relevant for the audience as much as possible. It helps to capture the attention of your prospect, enhancing the chances of further communications.
For example, to personalize email communications, you can add the prospect's name in the subject line. Moreover, short paragraphs enhance the readability of email. The inclusion of CTAs is beneficial to encourage the prospects to make a purchase.
Lead generating software like OneMoreLead can efficiently automate this process. It also allows you to maintain international regulations when it comes to data protection.
OneMoreLead collects relevant data after conducting security and privacy assessments. Failing to comply with these regulations might lead to loss of client trust and financial penalty.
Cold Calling
Cold calling may be stressful, but is still an efficient way to capture a prospect. Where emails have the chance to remain unopened by your prospects, through phone calls, you can build a deeper connection with them.
Besides, this allows you to define the prospect and segment them to make your marketing efforts more efficient.
Additionally, phone calls are a great way to build the first impression to convince the prospect to enter the sales pipeline. Therefore, make sure your representatives are well trained and well qualified to tackle any situation and answer every question.
Webinars
Informational webinars are a great chance to drive engagement with your potential prospects. It allows you to present yourself as a savior to your client's problems.
For instance, demonstrating case studies in webinars can help you create a great impression by cultivating the trust that you have the solution to their problems.
Apart from details regarding prospects such as name, information, job titles, webinars also provide behavioral data to support the sales prospecting process. By analyzing the engagement a prospect had with you during the webinar, segmenting and prioritizing would be easier.
If done efficiently, webinars are a great help to let your prospects define their problems and generate interest in your service. But this requires time and effort. Following up with the attendees via calls or emails will pitch sales in the long run.
Automation Tools
Along with the outlined quintessential strategies, verified lead generation and B2B prospecting tools can be a great source of help to catch sales prospects.
For example, OneMoreLead provides authentic B2B prospects to fit your service irrespective of the industry you belong to. With the right strategies and an efficient tool like OneMoreLead, you are sure to hit the revenue goal every month.
Why It's Important To Follow Up With Your B2B Sales Prospects
The efforts behind a good presentation, meeting customer queries, and nurturing a relationship will go in vain if you don't follow up with your clients.
The reason behind this is, they are trying to reach their aim by using your product. Plenty of other companies provide services like yours. Therefore, even after a good presentation, you will eventually lose them if you do not follow up promptly.
Follow-ups are the necessary occurrence of every stage of the sales process. Therefore, please do not wait to follow up till you get to encounter them. Instead, consider following up after initial prospecting also.
For instance, after sending prospecting emails, flyers, and letters, check up on them over email or phone calls.
How Often Should You Follow Up With Your Prospects?
You should send your prospect a thank you mail, where you give a brief introduction of your service within 24-hours of your meeting. This also allows you to answer questions that remained unanswered in the presentation.
The second follow-up should be a call that you should schedule during your first meeting with your prospect. Rather than asking for a time to call, set a time and let them know that you will call them. Send an email to remind them about the scheduled call.
The third and essential communication is a follow-up call to know their decision regarding your service.
Why is defining the ideal B2B sales prospect so important?
Before you begin prospecting, you must identify the target audience and target market.
The patterns of your ideal customer can be identified by figuring out the following:
Conversion rates of leads
Common attributes among leads
Customers with the highest order values
Personas or businesses with shortest sale cycles
Similarities between these will allow you to draw a picture of your target customer. Moreover, it will help you to understand their priorities, pain points, and buying habits. These details can be used to shape your prospecting strategies.
Bottom Line
B2B sales prospecting is one of the most challenging stages of the B2B sales process. So you need to experiment, analyze, and research to decipher which works best for your team.
If you're looking for a unified space for your sales teams to prospect, build lists, and qualify leads, OneMoreLead is the ideal solution for you. It offers a database of more than 40 Million verified B2B prospects, allowing you to easily find the perfect prospect for your product or service.
Get started for free today and save time, effort, and money on B2B sales prospecting!