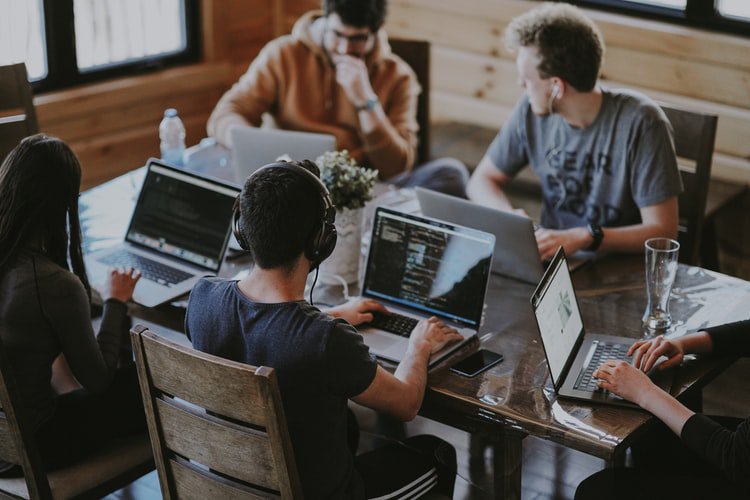 The success of your B2B marketing campaigns largely depends on a good database. This is especially important for startups, where the margin of error is too narrow. The right B2B database software will help your startup to engage your target audience and drive growth.
When you have a clear picture of the contacts of your target audience, combined with relevant information about your clients, you have a better chance of engaging them.
And when you successfully engage your leads, you have a better chance of converting them, and this essentially means more customers, more sales, and ultimately more growth!
A marketing campaign running with an outdated B2B database incurs a huge risk of wasting time and resources, which startups cannot afford.
In this article, we've compiled a list of three B2B database software that are affordable and offer great functionality to fuel the B2B database needs for your startup.
What Is B2B Database Software?
B2B database software allows you to access and collect vital B2B data in a database. A B2B database acts as a logbook of all necessary data your marketing team has about your potential clients, customers, and companies.
While it should contain contact information, it should be more than just a list of email addresses. A quality database includes actionable datasets, specific details, and firmographics.
Why Startups Need Reliable B2B Databases?
Simply put, it is an important part of your marketing campaign as it depicts a complete and clear view of your customers and prospects.
If you have an inaccurate and unreliable database there can be some potential problems that can wreak havoc on your marketing team's success. For instance, inaccurate email addresses in a database essentially mean that you are sending emails to inboxes that no longer exist.
Besides, B2B databases lacking firmographics and information of key decision-makers of organizations can easily cause your marketing efforts to fail.
On the contrary, a quality database makes everything easier. It avoids sending messages to deleted email addresses and calling disconnected telephone lines. It also gives you abundant information about your prospects to target them and facilitates the process of meeting their wants and needs.
It increases your turnover and multiplies your Return On Investment (ROI) tenfold if you take time to analyze your clients and collect the right data. This analysis helps you better understand the value of each customer and their behavior.
In essence, it puts your marketers on the right track and makes them ready to help your company acquire more clients, make more money, and grow rapidly.
Top 3 B2B Database Software For Startups
First up on the list is our own solution - OneMoreLead. Yes, we might be a little biased here, but we assure you there's good reason to be.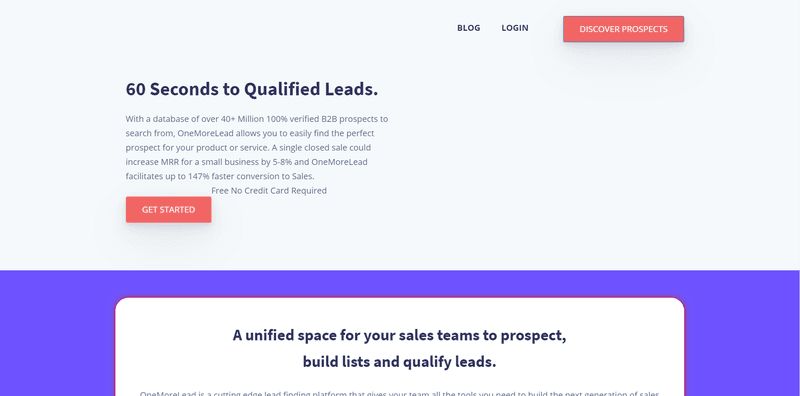 Every single visitor to your website is important to your sales team, and OneMoreLead treats them no different. This is because people who visit your website at least once are more likely to purchase your products than those people who never even heard about your startup.
It gives your sales team valid data that will allow you to reach the right contacts and beat your competitors to the sale. OneMoreLead owns a database with over 40 million B2B prospects to search from. Its verified prospects allow you to easily choose the right one for your business.
OneMoreLead, unlike several data brokers, does not offer static data lists. Instead, it keeps track of each contact in your database and updates it when people change jobs or businesses.
As a result, you'll have actionable business intelligence to help you increase your lead list, boost your marketing efforts, and win more accounts.
What OneMoreLead Offers
OneMoreLead finds the right contact by reaching qualified C-level executives and prioritize your prospecting.
It creates and manages curated customized lists.
It provides dynamic data access with detailed business intelligence.
It simplifies the sales process for your marketing team and closes more leads.
It integrates with your CRM to gather business data, sales insight, and everything in one place.
It provides 100% pre-verified and vetted data on CEOs, managers, and decision-makers.
OneMoreLead also offers customized reports and dashboards to help you track your work in real-time. Get started for free and start creating more detailed and qualified lists!
2. ZoomInfo
ZoomInfo is a common name in the world of B2B database software. It has made a name by selling access to its growing comprehensive B2B database of contacts.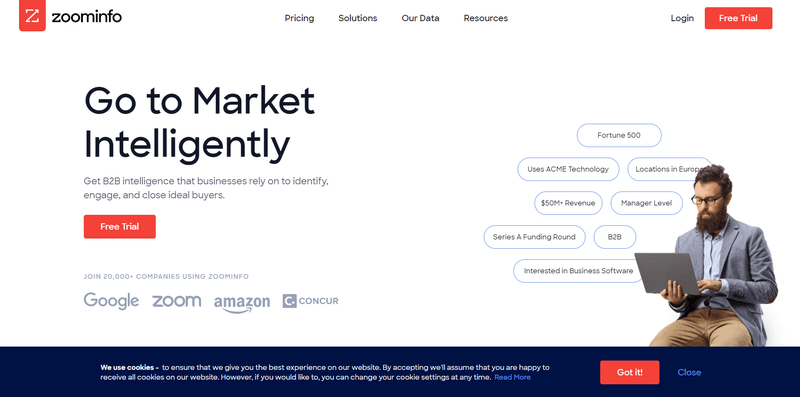 It enables marketing and sales professionals to identify, connect and engage with their potential customers or qualified prospects. The software makes it easy to prospect at scale.
Zoominfo offers features like org charts and projects, pulling intent signals from across a variety of sources directly into the platform. Though it is mostly used for prospecting and lead generating, it is also vastly used for gathering information regarding finance and accountancy.
What ZoomInfo Offers
ZoomInfo offers features like the lead builder, integration to CRM or marketing automation, data enrichment, data filtering, search, news alert, reporting, and many more!
ZoomInfo gathers data on international businesses and professionals.
The data is gathered using web crawlers and email plugins. This data contains information, in particular, name, title, company, direct dial, and business email addresses.
Customers can build targeted lists using the software. You can further filter or segmentize your list using data filtering. You can filter as per several domains including customer service, finance, or many more.
The customers can enhance the database as they want.
The data collected by the software generally focuses on insights about the prospects and companies such as their revenue, number of employees, and others.
Where ZoomInfo Falls Short
If you want to collect information about customers or credit, ZoomInfo can be of little help. Because it strictly focuses on professional persona, not on regular information such as age, family details, personal emails, mobile phone numbers, or other personal data.
ZoomInfo only offers integration with Salesforce and lacks integration to other email platforms. This makes the software a bit elusive for a lot of customers.
How Much Does ZoomInfo Cost
ZoomInfo's pricing information isn't disclosed on its website. You can contact its sales team to get a price quote.
This offers 3 pricing plans- Professional, Advanced, and Elite.
Professional plan features:
Comprehensive professional and company profiles
Direct phone and verified email addresses
Tailored prospect lists and alerts
Advanced plan features:
Location and corporate hierarchy data
Department org charts
Mobile phone and personal email addresses
Elite plan features:
Purchasing intent data
Company attributes
Dynamic data-driven workflows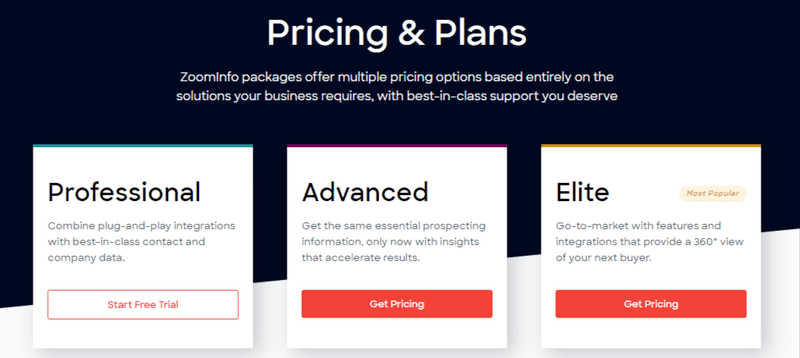 3. DiscoverOrg
DiscoverOrg is a sales and marketing intelligence platform providing access to the most accurate data, org charts, and real-time projects. The database covers information based on decision-makers in IT, marketing, Finance, Sales, and more.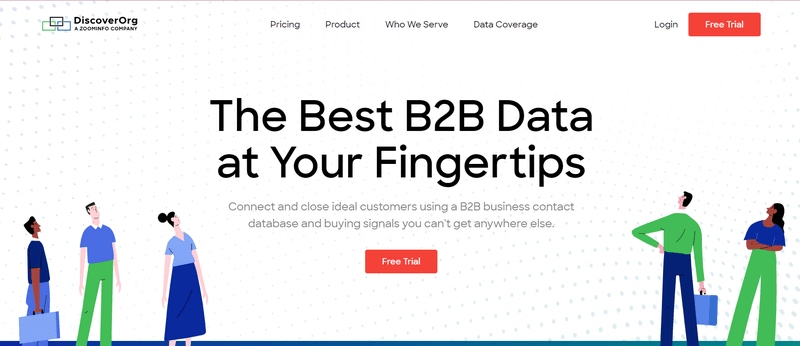 The main drawback of this software is that it only covers vast and expensive territories. But this can still be a great option for startups with a bit of leeway in terms of finances.
Top DiscoverOrg Features
DiscoverOrg offers features including data refresh, detailed org charts, verified direct dials, buying insights and scoops, granular segmentation and targeting, quick list matching and appending, target account and contact prioritization, geotargeting, workflow alignment, and integrations.
DiscoverOrg's system is constantly up to date, and they always provide just current information about phone numbers, email addresses, leadership changes, and project specifics.
DiscoverOrg's large staff ensures that all of the data they provide is up to date by validating it at least once every 90 days.
At least 95% of the data provided by DiscoverOrg is reliable, as evidenced by their thorough and consistent testing procedure.
It also integrates with a variety of CRM solutions, including Act-on, Eloqua, HubSpot, Marketo, Microsoft Dynamics, NetSuite, Salesforce, SalesLoft, Sugar CRM, Talent Rover, Bullhorn, Outreach, and Zoho.
The sales and marketing team may create a list of the prospects and their contact information based on whatever criterion they choose.
It has an intriguing function called "OppAlert." This tool allows sales and marketing professionals to establish alerts based on their target audience and other criteria.
DiscoverOrg also includes topics like as project-related improvement ideas, leadership changes, and more.
Where DiscoverOrg Falls Short
DiscoverOrg, as previously said, spans a large geographical area. As a result, it is better suited to big-scale enterprises or firms interested in expanding vast areas for their leads.
A newbie would find it tough to browse because the functionality is fairly sophisticated, particularly when it comes to their Alert option. As a result, for people who are unfamiliar with the method, the entire system may still be perplexing.
Despite the team members' careful testing, the information can still be irrelevant at times.
How Much Does DiscoverOrg Cost
DiscoverOrg offers a quote-based system. However, according to online reviews, their service cost around $24,000+ per year.
The company offers a customizable package to suit the needs of each individual or business. Though they don't give out final pricing before contacting, they offer a demo package so the prospect can get familiar with the software.
Where To Keep Your B2B Data Securely
You can get your B2B data from anywhere. But what is more important is to have a centralized location where you can store those data securely and have easy access to them.
Storing data on spreadsheets will not only possess risk from cyber attacks, but this rigorous process will also cause you headaches.
In these circumstances, the best place to store your B2B data securely in a GDPR compliant way is through B2B CRM. This tracks your deals, ensures you are following up effectively, and ultimately ensures the latest data security.
Besides, you will be able to rest assured that your data will not get lost or become unused, with its wide range of available features.
B2B Database Laws and Regulations
It is not free to create, buy and use B2B databases. You are required to follow specific laws and regulations, depending on your business location. These regulations ensure that companies are putting in measures to protect the data that they store and use.
The most recent and significant piece of B2B data protection law is the General Data Protection Regulation (GDPR) implemented by the European Union. It outlines when and how companies could contact their customers. For B2B businesses, it requires contacts to opt-in before starting to receive marketing communications.
Furthermore, remember that your consumers or clients also have the right to ask you to delete all their information. Before you choose a B2B database software, make sure it's compliant with the legislation in effect.
Final Words
Finding a B2B database solution is no easy task, especially for startups. The list we've compiled includes 3 tools that have the most potential to cater to the unique needs of startups.
As the world of B2B marketing is becoming increasingly competitive, delivering the right message to the right people will ensure your sales pipeline is filled and sales revenue up.
If you're looking to make a targeted B2B database, OneMoreLead offers you a brilliant solution that makes this process simpler, faster, and more efficient for your startup.
Get Started for free today, and fuel your startup growth using OneMoreLeads!