Email marketing is nothing new and more or less every business's marketing and sales strategy is based on it. Though the concept of email marketing has been existing for a long, the trends have evolved over the years.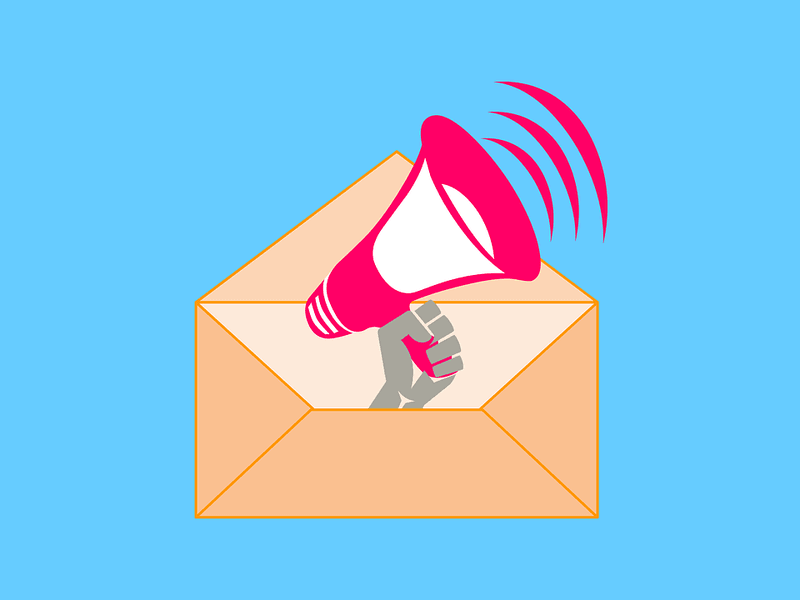 At present, the key indicator of success in marketing is having quality leads. And your quality leads are in your email list. So, ensuring a healthy, verified email list should be at the heart of your marketing strategy.
Often, marketers like to take things into their own hands such as designing emails and interpreting analytics. When one struggles to put things all together, email list providers lend a helping hand. With their contact database, they work as the liaison between your company and your quality leads.
Table Of Contents
TL; DR
The best email list providers are committed to providing you segmented and verified email lists. Other than these two features, consider email list providers' integration, pricing, and successful history.
OneMoreLead is not just an email list provider, it'll ensure the conversion of your list and give you the full picture from the get-go. We focus on the verified email lists and offer Credit Back Guarantee.
Among all other email list providers featured in this article, Visitor Queue offers the widest range of pricing plans. They provide email lists of warm leads along with the information of key decisions maker and user data of the companies.
Cognism's pricing plan is not open, so we couldn't guide you through that. However, their key feature is they provide email lists in compliance with GDPR.
CloudLeads feature custom leads research, lead enrichment, lead cleansing, and lead scoring to manage your sales pipeline. Before you start with a new email list, you can use their data decay calculator to measure the worth of the current email list.
Lusha is a good solution for building a laser-targeted list. As it doesn't allow unlimited users, Lusha is suitable for small teams.
Another B2B lead-generating service is ZoomInfo, which connects companies to their extensive contact database. Their email lists aren't cheap, but if you can discover one that fits your industry, they're a good option.
Pure B2B brings to you a wide range of solutions to choose from. They feature particular solutions for particular concerns. PureFunnel and PureConversion can help you to get an email list and many more.
Lead411 was named the Leader in Sales Intelligence in G2Crowd reviews. But, in terms of price, it can be an expensive option for providing an email list.
What To Look For While Choosing An Email List Provider
Some email list providers are actually in business by scrapping the web and providing a list of random emails. These are bizarre, unreliable, and can ruin your sender's reputation beyond comprehension.
So, among so many such email list providers, how do you choose the reliable ones?
Before we name the best email list providers, let us guide you through some basic features you need to consider in an email list provider.
List segmentation
An email list provider should be able to give you a list of contacts of your targeted audience. They should be able to segment the list precisely based on factors such as demographics, interests, or previous purchase behavior. The more precisely segmented your email list is, the easier it is to assess the list's worth.
Verified Email List
This goes without saying, that the email list should be accurate and easy to access. A good email list provider, hands over you the contact list free of clutter. You'll have a list of genuine people's emails increasing the rate of email open rate.
Around one-fourth of an email list is likely to become obsolete and risky within one year. So before your email list goes bad, you may need to clean the email list. Although this article focuses on email list providers, you can check out Verifybee to clean up your email list once you get it.
Integration with other tools
The best email list providers easily integrate with all other marketing tools you are using. A powerful email list provider builds data-driven quality email lists in coordination with all other software.
Price
A low-cost but limited features email list provider may not perform well, whereas a feature-rich email list provider at a comparatively more price can perform better. It all comes down to what you receive for your money. While comparing the prices, consider it from more dimensions instead of just the price tag.
Current market performance
Read reviews, check out the social proof and testimonials before choosing an email list provider. Look for a company that has a strong database and knows what works and what doesn't.
Having said all this, finding out a good email list provider can be a baffling task. To make it easier for you, we have highlighted the best 8 email list providers below with their features, price, and current market performance.
8 Best Email List Providers To Get Quality Leads
1. OneMoreLead
First up is our one solution OneMoreLead. We may be biased, but for good reasons. Our database includes over 40+million 100% verified B2B prospects. With this powerful prospect database to search from, you can't miss your targeted audience.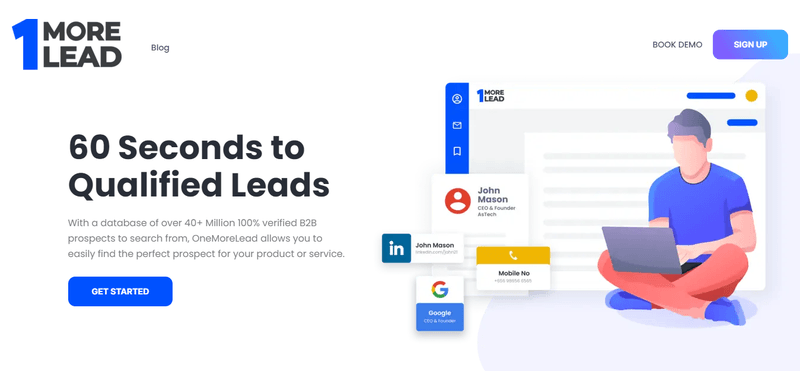 We'll help to find the right lead for you from our robust database, which makes it easy to search and filter contacts. Almost every email list provider claims to verify data in real-time. But we give you a Credit Back Guarantee on data verification.
OneMoreLead's key features include:
A database of 40+million verified prospects.
Data verification in real-time.
Easy integration and connects to CRM in no time.
Conducts automated search for gathering information.
Supports 24/7 live customer service.
Trusted by companies committed to sales.
Pricing:
OneMoreLead's professional package starts from $49/month.
2. Visitor Queue
Visitor Queue acquires data from visitors who have already visited your website. It is a good choice if you want a top-of-the-line lead-generating email list. It collects data from warm leads and provides you a solid list of quality leads to make your email marketing game strong.
Visitor Queue is one of the highest-rated website visitor tracking software. So, if you are struggling to hit your business revenue goals, it will help you to feed your team hot leads. Just get into contact with them, close the deal and grow your business.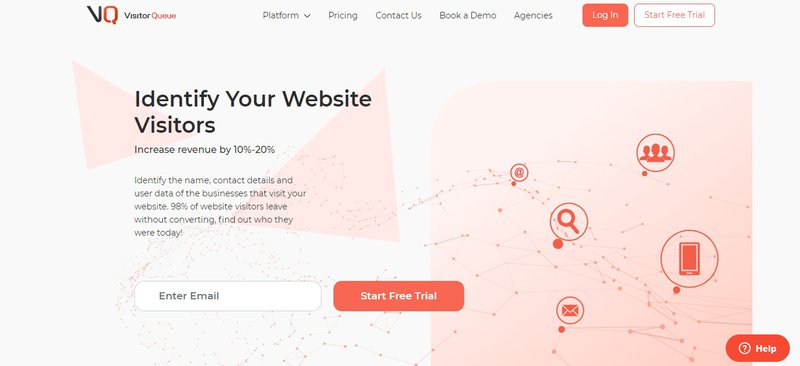 With an easy to activate and install tracking script, Visitor Queue allows you to get set up in minutes.
It provides key people information that is you are getting an email list of people who are decision-makers in the company.
You don't have to worry about cutting down the team short, as it features unlimited users, the large team can work together. It has admin features to make team management simple and efficient.
Along with name and contact details, Visitor Queue also provides the user data of the business that visited your website.
One can integrate Salesforce, Slack, REST API, Zapier, Google sheets, and Pipedrive with Visitor Queue.
For agencies, it features exclusive discounts and a 25% recurring commission on referring Visitor Queue to their clients.
Pricing:
Visitor Queue has 5 pricing plans to choose from.
A free trial is available for all five plans.
The most popular plan starts from $79/month.
3. Cognism
Cognism's B2B data pool is vast, with access to 400 million company profiles and 10 million companies. It features Sales Intelligence for complete, intelligent, actionable, compliant data to source more prospects, create high-performing campaigns, and close more deals.
Cognism allows you to create leads based on pre-defined criteria, ensuring that the email list you get is relevant to your complete value proposition. Your outbound platform uses this information resulting in a seamless B2B prospecting experience from start to finish.
Furthermore, significant care is taken to guarantee that the data provided is GDPR compliant, ensuring that Cognism is both safe and effective.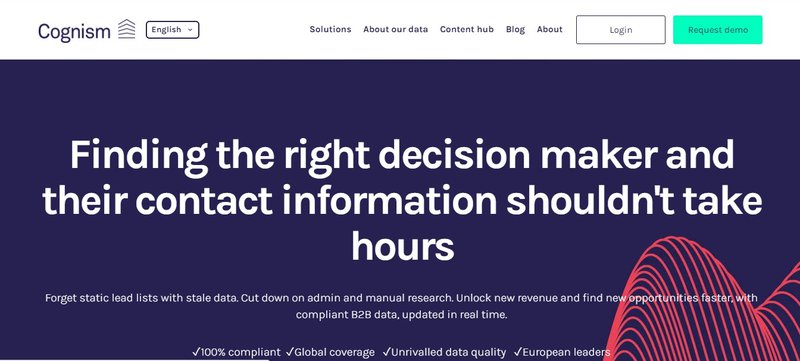 You can find verified emails and direct-dial phone numbers for decision-makers in accounts that match your criteria.
ln every list you generate, it features an evaluation process of the number of unique records, geographies, seniority, and more.
It features a chrome extension to extract fully compliant B2B data from LinkedIn.
With the Cognism chrome Extension, one can easily enrich individual profiles or sales navigator account lists and export the data in CSV, Cognism, or to preferred CRM.
Cognism provides email lists based on intent data. So you can identify in-market accounts and sales-ready prospects.
For better prospecting, it allows you to work with a current, enriched database to improve segmentation and reduce bounce rates.
Pricing:
Available upon request.
4. CloudLead
CloudLead uses machine data to improve the marketing and sales operations of B2B companies. One can use the tool to find new leads, as well as email addresses and other important contact information.
Leads are targeted, ensuring that they are relevant to your company. CloudLead is all about customizing your lead generation and outreach strategy to your specific needs. As all of the data is 100% authenticated human leads, you won't end up with any invalid email addresses or contact information.
Lead enrichment and lead cleansing are also available in CloudLead. This keeps your contact list precise and robust, which is important because they tend to stagnate with time.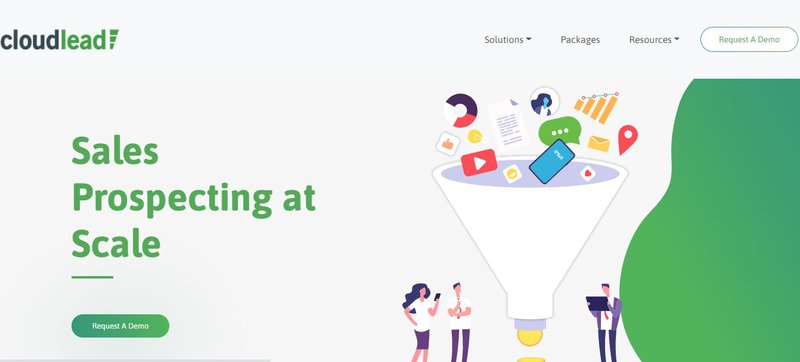 Features lead prospecting providing customized B2B contact and account data based on ideal customer profile.
CloudLead offers verified leads at scale and helps to capture the Total Addressable Market (TAM) easily.
To combat data decay, CloudLead has easy integration to score leads in real-time for sales optimization.
CloudLead features a unique data-decay calculator to give you an instant idea of your existing prospects.
Along with building a custom email list, CloudLead helps in managing prospects. Weekly and monthly reports give updates on prospect progress.
Pricing:
3 plans to choose from: starter, growth, and professional.
5. Lusha
Lusha is a B2B sales prospecting platform that gives companies access to a database of over 60 million email contacts. Accurate email lists can be created, resulting in the conversion of more prospects into leads and, eventually, customers.
With this tool, one can break down the data received into smaller parts, categorizing it to create an extremely segmented list. It features Bulk Enhance which allows to search and reveal up to 150 prospects. Store everything you search and all recent search history gets saved automatically.
Lusha also integrates with your customer relationship management (CRM) software without a hitch. Platforms such as HubSpot, ZOHO, Pipedrive, and Salesforce work seamlessly with Lusha.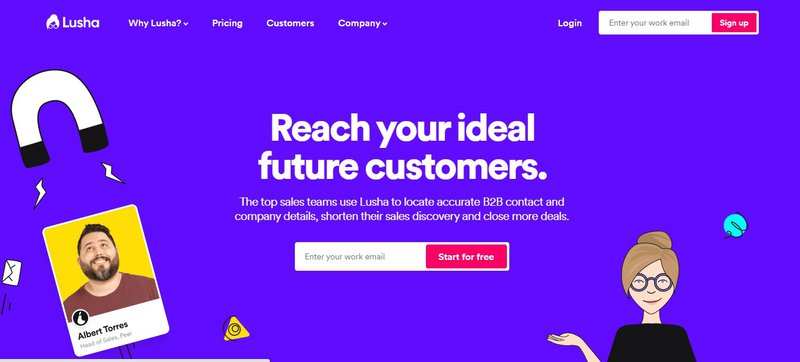 It works in alliance with GDPR and CCPA guidelines. So, no matter which region you are from, Lusha can bring prospects following due protocols.
They have an accuracy rate of 81%, making it one of the highest in the industry.
Lusha offers 5 free contacts every month
For easy team management, admins can easily allocate credits and limit credit usage between team members.
With 1000+ reviews on G2, you can trust Lusha for getting authentic Email lists from across the web.
Pricing:
3 pricing plans available, start from $99/month.
6. ZoomInfo
To accelerate your sales pipeline, ZoomInfo has a portfolio of solutions that combine B2B intelligence & company contact data. They have an enriched database on which renowned businesses rely to identify, connect, and close their next customer.
The contact and company search engine of ZoomInfo is quite distinctive and very unique. Along with up-to-date company contact data, you'll have access to essential prospect details which will help to understand the buyer better.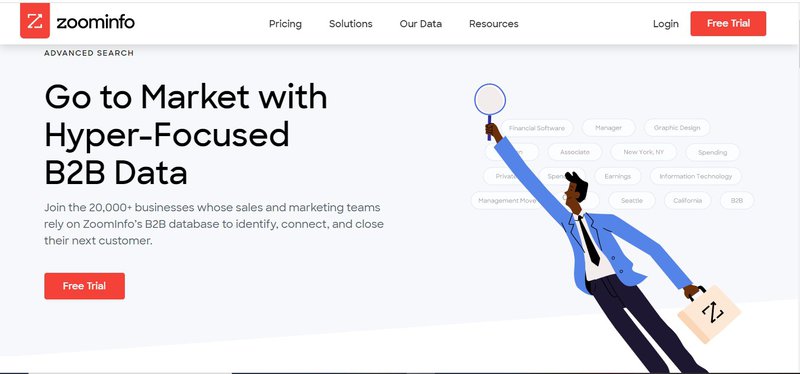 ZoomInfo features ReachOut lead generation Chrome extension, through which you can access the data no matter where your prospect is.
It is designed to save your time and export contact information directly into CRM or sales automation.
With the ability to find similar target accounts it can scale up your campaigns.
For contact accuracy, ZoomInfo has a score of 90-100. Search your prospect from their verified contact database.
They are always upgrading their solutions. "Conversion intelligence" is the latest addition on Zoominfo.
Pricing:
3 pricing plans: Professional, Advanced, and Elite.
7. PureB2B
Pure B2B may be the solution for you if you're trying to increase sales and meet your ROI targets. They provide lead generation services for all stages of the sales process. To acquire the best results for your business, they target potential buyers at the right moment.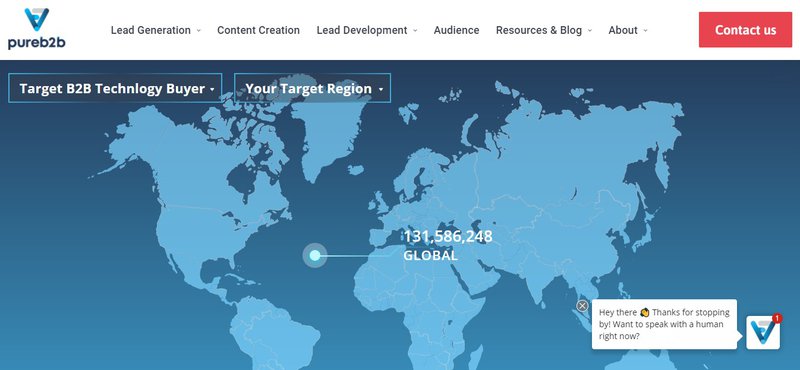 They feature PurePredict, a predictive analysis that combines contact level intent, domain-level trends, and company triggers from social media and other channels.
Pure B2B leverages high volume outreaches, ensuring every contact receives a unique and warm communication.
They offer prospecting at scales without sacrificing quality from their PureFunnel solution.
In Pure B2B, you have to sign up for more than getting email lists.
Pricing:
Available upon request.
8. Lead411
Lead411 is a B2B sales platform that delivers accurate and detailed contact information. Its huge database allows you to build up customized contact lists for your business using filters. You can maintain track of contact data profiles with the help of sales intelligence data points.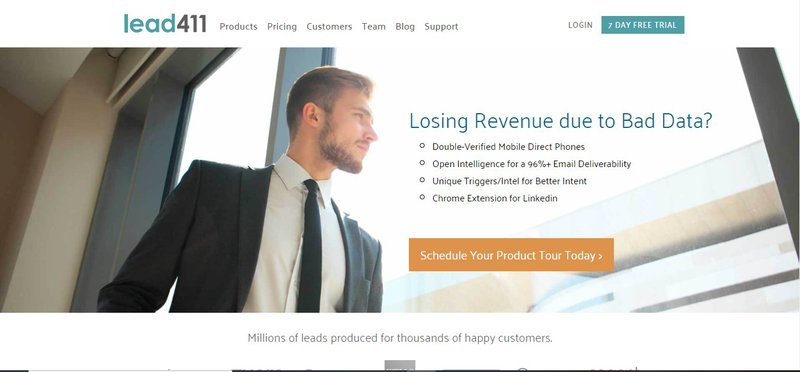 Lead411 features targeted contact lists.
To provide an accurate database they have list cleaning and enrichment services.
It easily integrates with CRM's such as HubSpot and Salesforce.
Lead411 provides a free Gmail extension and an Intelligent Conversion guideline.
It is an award-winning solution and is trusted by many big names in the industry.
Pricing:
The Basic plan starts from $99/month.
Frequently Asked Questions
Is it legal to buy an email list?
No, it's not illegal to buy an email list.
But due to the huge data abuse in recent years, consumers have grown aware of data privacy. And it is their right to have data protection as per regulations like GDPR. It's however illegal for email list providers to collect email contacts without taking permission from customers. So, buying an email list from such parties is not only unlawful but also highly impractical.
Do Email lists generate leads?
Your email lists may include hidden gems. While every company wants to generate B2B leads from their existing email lists, not all endeavors are successful.
Final Word
We have covered the 8 best email list providers including OneMoreLead for you. We have also added the important features to consider in email list providers and frequently asked questions.
But picking the right email list provider can be tricky. We suggest you go with OneMoreLead for building an email list that converts.
Book a demo today and take the first step towards finding the perfect prospects for your business.