Are you struggling to maintain (and build upon) brand awareness, nurture leads by keeping potential customers engaged with your business, and recapture lost leads? If your answer is yes, what your business lacks are most probably effective B2B retargeting strategies.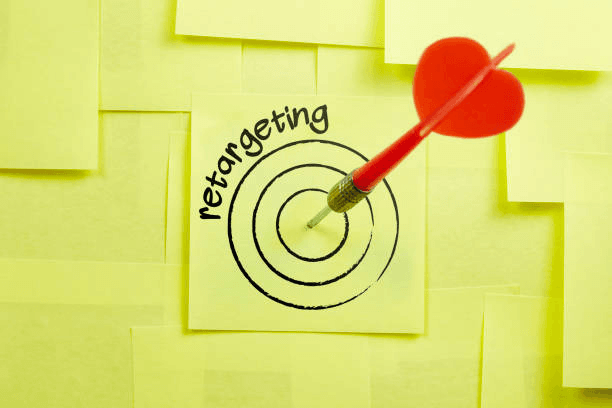 Having effective B2B retargeting strategies can be a great way to raise brand awareness in the digital marketplace, keeping your company at the forefront of consumers' minds. This allows you to focus your advertising spend on clients who already have some degree of interest. This essentially means a much better ROI.
Table of Contents
TL;DR
Retargeting primarily uses paid ads to target audiences who have visited your website or social media profiles.
Retargeting allows you to keep your brand in front of your potential customers after they have left your website — persuading them to reconsider your offer when they need it.
Make the best use of retargeting by doing proper segmentation, using creativity, and considering the traffic and the size of the audience.
Reaching out to past visitors on the sites that they normally visit each day by using best practices in B2B retargeting has proven to be an essential way to bring them back while increasing the opportunity for a sale.
Using freemium models and combining retargeting with email can ensure better conversions and lead generation.
What Is Retargeting And Why Is It Important?
Retargeting is not just a practice that's used for e-commerce sites. In fact, it's a valuable tool for a variety of B2B and B2C companies when it comes to any ad campaigns.
Think of retargeting as a way of positioning yourself in front of potential prospects. These are the visitors who have clicked on your site, your ads, or your content but haven't pulled the trigger. With a great retargeting strategy in place, you can help move them further down the sales funnel.
Retargeting is crucial for your B2B or B2C business. But for now, we're going to focus on B2B retargeting. If you're still on the fence about B2B retargeting, here's what you need to know:
B2B retargeting outperforms B2C retargeting by 147% — so it's not just for B2C.
The average CTR for retargeted ads is about 10X higher than display ads.
Retargeting can increase conversion by as much as 278%.
With the ever-changing landscape of digital advertising, the fight for your audience's attention has to be won with not just quantity but also quality. While you should assume that your customers should experience numerous touchpoints with your brand before they're ready to convert, each digital encounter should feel relevant to them.
Retargeting provides additional points of contact with your product and more largely your brand, increasing the likelihood that those people who know you will convert.
How To Get The Most Out Of Your B2B Retargeting
Retargeting is well known within the e-commerce world, with retailers such as Amazon and many airlines being particularly strong in this area. But how can B2Bs get the most out of it?
Segmentation
To run successful B2B retargeting campaigns, you firstly need to get your segmentation right. B2B retargeting generally works best with larger audiences and in some cases, you'll be required to have a certain size of audience before it will kick in.
The beauty of it is that you can segment not only people who visit your website, but in greater detail – such as by the page they visited, or how long they stayed on the site. When this is matched with data held in your CRM or the insights you gain through your analytics platform, you will be able to pull out very specific lists.
The key is to know your audience and your buyer journey really well, to spot opportunities to reinforce your messages and convert leads with retargeting. Also, don't forget to consider your negative audiences as well, i.e. those audiences you want to exclude.
Creativity
Another huge success factor when using B2B retargeting is to think hard about what you are going to use – from the wording to the imagery, landing pages, and the offer itself.
Selling a product directly is not how B2Bs operate, you need to get into an educational model with your ad campaigns. Teach and pass on information, rather than try to sell.
Do a lot of testing, to check you've chosen your strongest offer. You can put ads together that relate entirely to a specific page on your website.
Overall, through this activity, you will be generating brand awareness, but don't have that as your main objective. Instead, make the aim of any kind of marketing campaign you're doing to be some sort of conversion. At the very least, go for an email address for a subscription.
Make sure you spread your ads across several different channels and use different messaging. Check what works well and what doesn't, so you can keep fine-tuning. Then test again and repeat the process.
Something increasingly important in today's world of smartphones and tablets is to make sure your ads work on mobile devices. Many people visit websites via mobile, so your ads, landing page, offers, and website all need to look good and be user-friendly.
Traffic And Size Of The Audience
If you are very narrow in your targeting and your website traffic levels are small, you may want to consider broadening your reach first. You can use B2B retargeting to run a top-of-funnel campaign that attracts traffic and then retarget those that didn't convert with specific messages.
Whether it's digital ads, retargeting, or any other type of campaign, there is a multitude of tactics you can use to attract people.
What you need to ensure is that you then have a clear conversion path for them to follow and that all departments are on board with it, so you maximize every opportunity. Then, with a little time and effort to ensure you have the strongest possible offer, presented in the right way and to the right people, you'll soon start to reap the rewards.
Top 8 B2B Retargeting Strategies That Can Get You Leads
If you're new to the game, looking for additional opportunities, or would like to revamp your current tactics, follow these best practices for B2B retargeting.
1. Use Funnel Stages To Segment Your Website Visitors
By tracking website visitor metrics, you can easily identify the funnel stage of each website visitor and provide them with content that suits their requirement. That's the key to keeping website visitors engaged.
Here's how to determine the funnel stage of your website visitors:
Top of the Funnel (TOFU): Website visitors who are more inclined toward content-heavy pages rather than products/services.
Middle of the Funnel (MOFU): Website visitors who visit pages related to your products/services but not frequently. Case studies, e-books, and whitepapers can help a great deal in retargeting such potential customers.
Bottom of the Funnel (BOFU): Website visitors in BOFU are highly qualified and should be ready to purchase your B2B products/services. You can retarget such potential customers to take a free trial or register for a demo.
This best practice is based on retargeting the right audience with the right content at the right time.
2. Create Targeted Landing Pages
Another effective B2B retargeting strategy for lead generation is by tailoring specific landing pages and retargeting ads to past visitors. Like blog posts, these pages can also be used to offer more information about what you offer. This is known as a B2B content landing page or a retargeting ad.
Another type of landing page that can effectively retarget your offering is a social proof landing page. These pages include testimonies or case studies from current or past customers who had a successful experience with your business.
For visitors who are further down the sales funnel, a B2B sales funnel is the next step. Once a visitor is at an advanced funnel stage (think multiple visits and have submitted their email address), it's time to make a more direct call-to-action.
These landing pages might be price quotes, free trial offers, or product demos. This comes into the lead nurturing stage in the B2B remarketing process.
3. Customize And Test Different Ads
As you already know, relevant messages are critical to the success of your B2B retargeting initiatives. Make sure you customize ads for different target audiences and test them to evaluate what's working well.
Also, consider recency when designing a B2B retargeting campaign. Retargeting website visitors who visited your website more than two to three months ago will be less effective and costly.
4. Communicate Research
Business owners have built their companies and brands upon research. They put time into each decision and expect solid information to back up any purchases. Cater to this in your B2B retargeting campaign.
Direct retargeted visitors to a page stacked with statistics and studies, with applicable links and source information. Use quotes and information from industry and thought leaders and focus on the interests to which you're marketing. B2B retargeting requires research for success.
5. Leverage Cross-Channel And Email-Based Retargeting
Don't limit your B2B retargeting campaigns to one platform. Consider running different messages on multiple platforms such as Facebook, Instagram, Twitter, and so on, provided your audiences frequent those platforms.
Using Facebook Custom Audiences you can retarget specific website visitors using their email addresses. However, many Facebook users these days do not use their email addresses.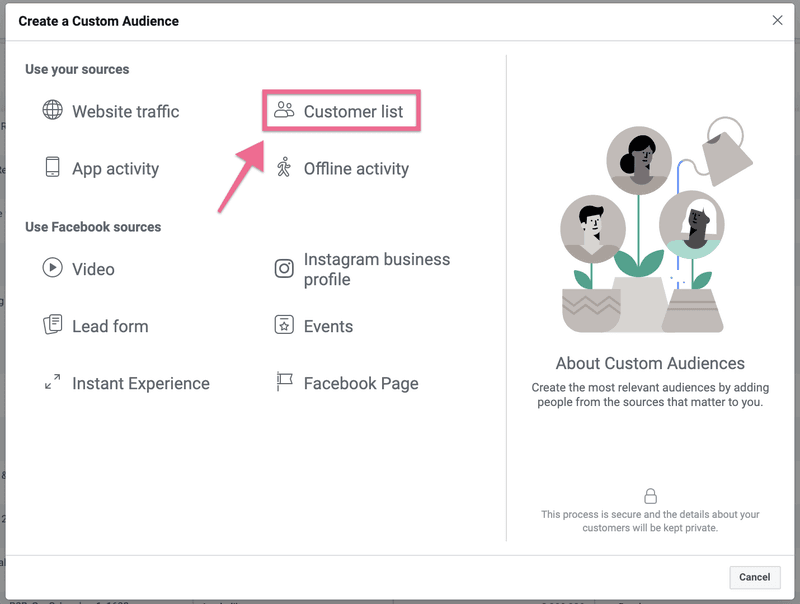 Nevertheless, if you have substantial number of email addresses, you can make the most of Facebook Custom Audiences to run targeted ads.
6. Extend A Lucrative Offer
If a potential customer simply left your page without making a purchase, they likely found a better option elsewhere. When targeting a potential customer, use a frequency cap that allows you to limit the number of times your ad is shown to them.
Exciting offers such as percentage discounts can entice prospects and provide you with an edge over your competitors, who are likely targeting the same people. 47% of customers say that they are ready to sacrifice their privacy for a lucrative deal.
7. Continuously Measure The Impact Of Your Retargeting Campaigns
Running B2B retargeting campaigns is not enough. To ensure you're on the right track, it's essential to measure their impact. You can measure the success of your retargeting efforts by tracking the number of leads and revenue. Click-based data won't help when it comes to retargeting.
8. Analyze the Results
Carefully assess all your B2B retargeting campaigns and find areas where you succeeded or failed. Analyze conversion patterns so you can optimize content, ad frequency, ad timing, and so on.
Retargeting is a marketing technique that will not provide you with the desired results if you don't modify your campaigns as needed.
In fact, B2B companies that have benefited from retargeting are those that have a well-defined B2B retargeting strategy in place that includes continuous testing, optimization, and measurement.
How To Integrate B2B Retargeting Into Your Marketing Mix?
Here are two ways you can integrate retargeting into your B2B marketing mix to improve lead generations, conversions and turn your prospects into customers.
Freemium: Converting Users From Free To Paid
If your business offers a free trial of your product and you're looking to convert users from free to paid, sequential retargeting and segmentation can help.
To do this, you'll need to create a segment that captures all the people that signed up for a free trial. Then target them with a highly targeted message, using ad sequencing through the entire duration of their free trial.
At the very beginning of their free trial, the ads should focus on introductory upgrade messages, followed by features of the premium version, and then a reminder that their trial is expiring soon to create a sense of urgency for them to take action.
Email And Retargeting Makes A Powerful Duo
Layering B2B retargeting on top of your email marketing can be very powerful. The execution is very simple. It only consists of placing a code snippet in each email sent to cookie each user.
By doing so, you can add these users to specific segments based on the topic of the emails and retarget them across the web with relevant ad messaging. This is essential, especially for lead nurturing campaigns, to ensure you're getting the most relevant message in front of your leads.
Final Word
Retargeting, especially for businesses trying to reach other businesses, is not an effort to be taken lightly without research, strategy, and ongoing modification.
In fact, businesses that see the highest percentages of success are likely those who have a sound plan in place and that, by testing, measurement, and optimization, best understand the needs of their target prospects.
Effective B2B retargeting needs good data. OneMoreLead offers a database of over 40 million verified B2B prospects to search from. Get started with OneMoreLead today!