The key to successful email marketing is having a responsive and engaged email database. It is also one of the most difficult challenges for many businesses. So how do grow your email database consistently?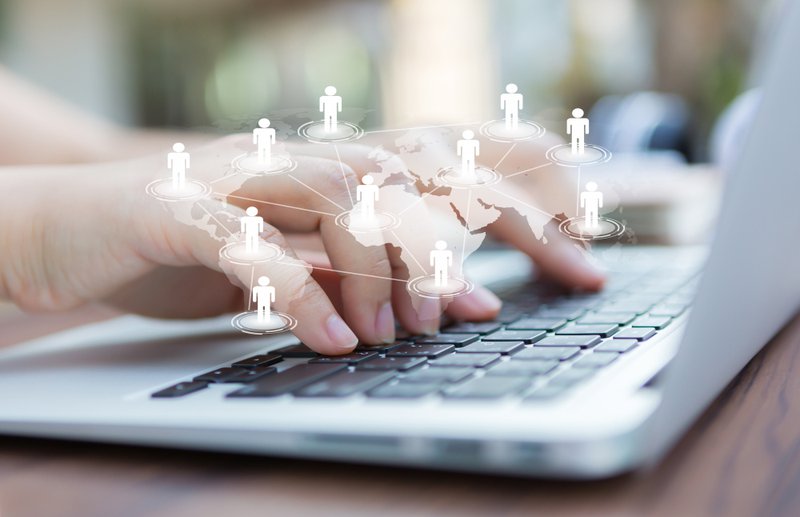 While you definitely have something exciting to offer customers, how do you tempt them to enter their email addresses and sign up? Spend a little time growing your email database correctly, rather than renting, buying, or sharing lists, and you will reap long-term rewards.
In this article, we will discuss several strategies that will help you build and grow an engaged email database.
Table of Contents
What Is An Email Database?
An email database is a list of names and email addresses of people who granted permission for you to contact them with updates and promotions about your company. Simply put, they are the list of people who wish to hear from you.
As the marketing quote goes, "The money is in the list". Thus, the size and quality of your email list will determine your revenue. You can earn big bucks by having an active and engaged email database.
Why Is Growing Your Email Database Important?
Your main goal when building an email database is to increase the number of potential leads on your website. By doing so, you can convert them into loyal customers down the road.
Keeping an email database allows you to stay in contact with customers and prospects directly. All in All, growing your email database could lead to higher revenue.
Growing your email database can result in,
Increased open rates.
Increased click-through rate.
Improved conversion rates.
Lower unsubscribe rates.
Enhanced loyalty.
A strong email database can give your business a competitive edge and generate profits for your company. You can deliver significant ROI with an email list regardless of whether you are a B2C or B2B company.
What Do You Need To Know Before Growing an Email Database?
To build a strong email list, a few main things are required:
Attracting your target audience to your site (traffic).
Convincing them to sign up (conversion).
Creating the right offers at the right time (targeting).
Following up to ensure their satisfaction and engagement.
Generating Traffic to Build An Email Database
We will start with the basics. It is crucial to know who your intended audience is before you plan any way of getting them to your site.
Make sure your content fits the customer journey and the buyers' decision points.
Can an infographic help them understand the solution you have to offer? Would a video showcasing customer testimonials be helpful? Is a how-to guide needed to ensure that they understand how to use your product? A wide variety of options are available.
Social media is one of the most popular methods for brands to highlight their products and values. It can also be a powerful tool to draw attention to other aspects of your marketing plan, such as the email database.
There are many ways to get in touch with your brand supporters via social media, making it a valuable place to let them know about how they can stay connected.
Identifying The Best Conversion Tactics
You can convince a consumer to provide you with their email address in several ways. The popups, however, provide your visitors with an easy way to sign up to your mailing list.
Studies showed that the highest-performing pop-ups had an average conversion rate of 9.28%. As for conversion rate, that is the number of people who saw a pop-up and took action.
You should clearly articulate what you want from your visitors and what they will receive in return. That's why popup campaigns, flyouts, and spin to win campaigns can be the best methods of converting visitors into subscribers.
Pro tip: When creating a popup, it is important to make it relevant and valuable for your potential customer, so as to increase engagement and enhance their experience on your site.
Segmenting Your Audience
A segmentation strategy is a process of dividing email lists based on preferences. Make it easier for visitors to opt into your email list by targeting them according to where they are coming from and what they are searching for.
Recent research shows that segmented emails are 18 times more effective at driving revenue than general emails.
Based on the information the users provided in their profiles, you can segment their emails. Below are some criteria for segmenting email lists:
Demographics of users - geographic location, gender, age, and more.
Preferences of user email updates - events, discounts, newsletters.
Purchasing history.
Establishing Relationships With Customers
Can you still reach your audience if Instagram goes away tomorrow? We believe so. That is why it is crucial for you to grow your email database.
Whenever you start building your email list, keep in mind - it's all about building relationships. People have a tendency to forget that email marketing is about people when they approach their email marketing.
You should make sure that people on your email list feel that they are the most valuable members of your business. Send a welcome email to your brand new subscribers as soon as they subscribe, telling them who you are, what your company is all about, and what they can expect.
Pro tip: Being in your customers' inbox is a great honour. Be careful not to abuse this, and refrain from spamming.
7 Ways To Grow Your Email Database Quickly
1. Add Pop-ups or Overlays
Pop-up forms can be effective. You can schedule them to appear at certain times or for specific events, and they are a very effective way to attract leads.
But you can't just randomly display a popup and hope it converts. What you offer and what you design is important.
Here are different types of pop-ups that you can use to build an effective email database:
Welcome pop-ups
Usually, visitors are greeted with a welcome pop-up within 15 seconds of landing on the site. An effective call-to-action is critical to ensuring a welcome pop-up doesn't get ignored as disruptive.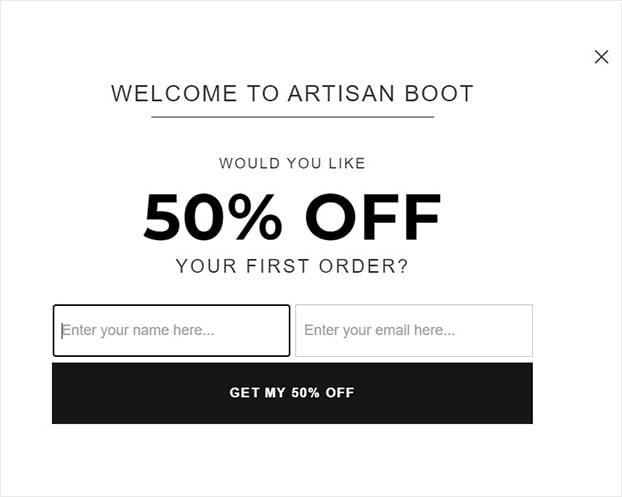 If you want to get the visitor's email address, something as simple as giving a discount, a sales notification, or informing them about your USPs is ideal as a value exchange.
Keep your pop-ups as simple as possible to reduce disruption. You can provide users with a single field for entering their email addresses. It is less likely for people to convert if you have complicated pop-up forms with multiple fields and weak copies
Exit-intent pop-ups
Exit-intent technology is used to serve these pop-ups. It looks at the mouse movements of visitors to a website and detects when they are about to leave without leaving any contact information or making a purchase.
Pop-up exit-intent messages aim to reduce bounce rates and exit rates by catching visitors' attention and giving them a reason to stay or submit their details.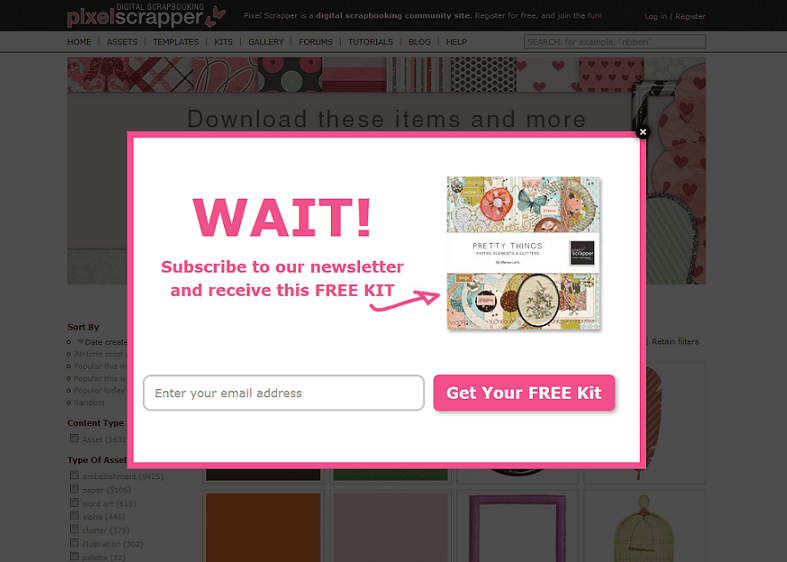 You can use different types of exit intent pop-ups based on the landing page and the message you use. Using this type of pop-up to build an email list is a great idea.
An exit intent pop up with a personalised discount in exchange for an email address may seem like a great deal to someone browsing a product page, or has a lot of items in their basket.
Promotional pop-ups
Offers exclusive discounts as promotional pop-ups throughout a customer's journey. A pop-up can appear when visitors arrive at your website.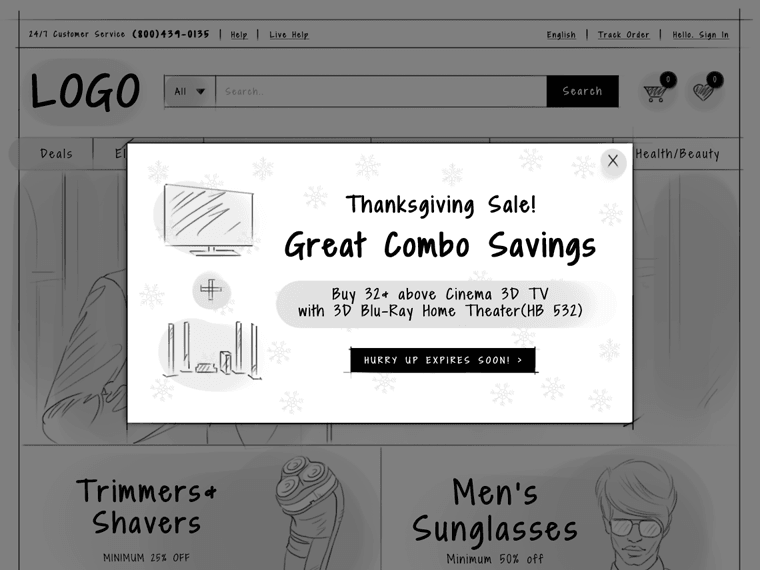 A promotional pop-up is great for:
Getting your visitors on your mailing list
Offering a discount or sale
Posting a new blog or announcing a new product
Providing visitors with the option of choosing between two languages on your website
2. Host Giveaways and Email Sign-up Contests
Giveaways are effective tools for growing your email database. You can use it to extend your gratitude to your current subscribers for their loyalty. As a bonus, it is a great way to attract new subscribers.
Promote a free giveaway on social media in exchange for contact information. Invite contestants to sign up using their email addresses on your website.
To ensure you consistently receive new subscribers, you can even use this strategy once a month to keep your list looking fresh. Don't hesitate to give things away! The benefits will far outweigh the cost.
3. Use Marketing Campaigns to Offer Discounts
A quick discount or freebie in exchange for your users' email addresses is one of the easiest and most effective ways to grow your email database.
By offering users a free sample, you increase their chances of purchasing your product. It also allows you to target them again to reignite their interest.
For instance, you can set up a pop-up that offers visitors a small discount if they sign up for an account or enter their email address.
4. Send Personalized Emails
You will both gain the appreciation of loyal and potential customers alike if you send them personalized emails.
Your emailing list should be organized based on customer requirements and preferences. The recipients benefit from this since they get emails related to their needs and are not bombarded with "spammy" emails.
You want to use "Hey Steve" instead of saying "Hey guys" or "Hey there". Making them feel noticed, remembered, and special is easy when you give them their name. Therefore, when a member opts into your mailing list, you will need to acquire their first name.
5. Optimize and Utilize Your Landing Page
As important as it is to invest in a successful email marketing campaign, it is also important to ensure your business' landing page is optimized well.
A majority of businesses lose high-value customers due to poorly designed or optimized websites (high-value messaging, offers, loading time). A good business website must be optimized and designed properly to encourage more return visits (as well as referrals from customers).
Make sure that your website is straightforward and easy to navigate. It is more likely for visitors to visit a website that is easy to use, informative, and aesthetically pleasing than an inactive one.
6. Provide Opt-in Fields at Checkout
Online shoppers are accustomed to receiving personal information at checkout. As buyers, we feel more secure when we are informed of the status of our orders via web, text, or email. We also feel assured that the business will keep us updated on the order's status.
In addition to allowing shoppers to enter their details in a secure environment at checkout, offering an option to subscribe to an email list encourages mailing list updates without imposing extra steps on the shopper.
You can also include opt-in form fields on your landing pages to get users on your mailing list. By doing so, you give customers who already engage with your product visibility and value.
7. Make Sure You Have a Compelling Call-to-Action (CTA)
Your entire website should contain clear Call-to-action (CTAs) that concisely and easily explain where and how to take action.
The call-to-action should be eye-catching and should persuade the customer that she must take part in the offer. You can create a sense of urgency for your customers by using phrases like 'last chance to grab the offer' or 'only 24 hours left'.
The Bottom Line
Regardless of the kind of business you run, the kind of websites you have, or the industry you are in, your email database is a vital part of your business.
OneMoreLead can help you generate emails for your business with its database of over 40 Million verified B2B prospects. With OneMoreLead, you can find users and businesses according to their location and download only the emails that matter to you.
So what are you waiting for? Sign up today for free and find the perfect prospect for your business!