Obtaining a lead is frequently the first step a company must do before closing a deal. Leads assist businesses in gaining clients, increasing revenue, and maintaining profitability. Creating and converting leads may also assist businesses in gaining a market share. It can lead to them becoming well-known or recognized in their field.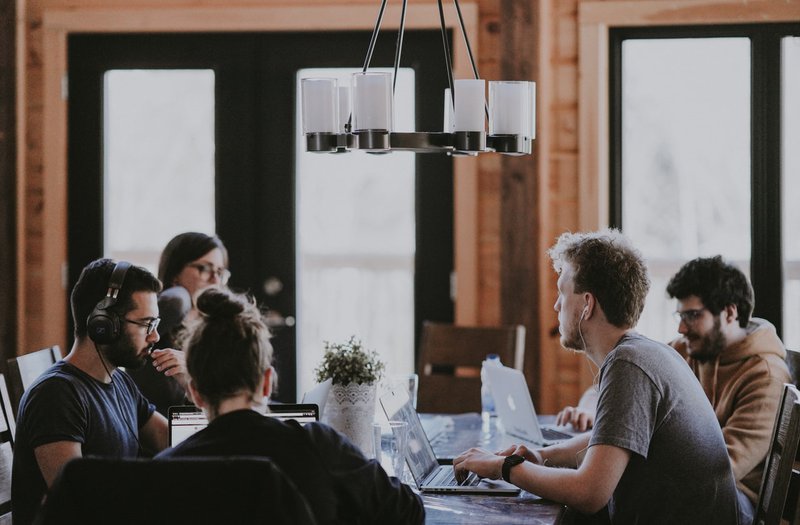 In this article, we will show you why lead generation is so important and how it may help you expand your business.
What Is Lead Generation?
A lead refers to a person or a group of people. They express(es) interest in your company's services or goods and is/are considering making a purchase. The process of recruiting potential clients and converting them into someone who is interested in your organization or product is known as lead generation.
In their joint lead-generating operations, modern companies and marketers employ a variety of tactics.
Email Marketing - While some people believe that email newsletters and their kind are obsolete, email marketing still has an edge over social media marketing.
Social Media Marketing - Many businesses have discovered that social media marketing may help them increase sales over time. Social media marketing is also critical for brand awareness.
Blogging - Blogging is still a very efficient way to get leads. Blogging is a terrific tool since it shows potential consumers that you have a strong knowledge foundation in your chosen industry. When it comes to keywords and Google rankings, blogging is also beneficial.
Networking — While networking isn't the be-all and end-all of lead generating, it is beneficial from a variety of perspectives, not only lead generation. The plain truth is that most positions are filled by networking.
Giveaways & Coupons - People enjoy getting free items, so giving them away is a terrific method to get new leads. Coupons are also a good strategy to attract new clients to your business.
Webinars and Live Events — A little elaboration of the last point, you'd be organizing events, performing live webinars, or maybe creating instructional videos for YouTube in this role. This will help you build brand recognition and client trust in the future.
What Is B2B Lead Generation?
The process of catching the attention of leads rich in purpose so that they may be contacted and cultivated for sales is known as B2B lead generation. It all starts with marketing efforts that assist build interest from a certain group of potential customers, who then convert into "leads" who are qualified based on predetermined criteria.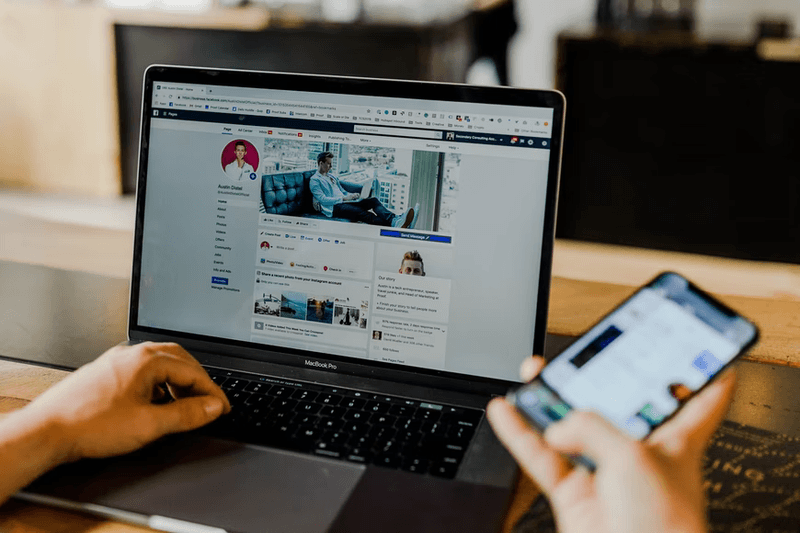 Lead creation aids in the materialization of demand by filling the top of the client acquisition funnel. These leads are potential clients and sales pipeline closure prospects. Because your results are dependent on the effectiveness of your lead generation activities, B2B lead creation is a critical initial step in the sales process.
Marketing qualified leads (MQLs) and sales qualified leads (SQLs) are two types of leads created through B2B lead creation methods (SQLs). Let's take a closer look at what they are.
Marketing Qualified Leads
Marketing qualified leads are those who meet your buyer profile based on their interaction with your marketing activity. A low-touch qualifying process filters target audiences and visitors on marketing assets, transforming them into MQLs.
Marketing teams in charge of generating and qualifying leads are frequently in charge of MQLs. The following are examples of MQL qualifying criteria -
Downloads and clicks on a book or a case study
Attendance at a webinar with a high level of engagement
Multiple product pages visited with moderate-to-long session times
Enrollment rates for a free product trial
Sales Qualified Leads
Sales qualified leads (SQLs) are MQLs that have been qualified by sales teams as having a high level of buying intent. SQLs are created so that the sales team may prioritize and concentrate on the most likely to convert prospects. This strategy is beneficial, especially for items with longer sales cycles, because nurturing the incorrect leads might severely affect conversion rates.
SQLs, like MQLs, are qualified and scored based on predetermined criteria, but each SQL must be vetted by the sales team. Frameworks like BANT, MEDDIC, CHAMP, and others can be used to qualify SQLs.
Differences Between B2C & B2B Lead Generation
A customer is defined as someone who is not linked with a certain business or brand. B2C stands for business to customer. Amazon and eBay are examples of firms whose only aim is to sell things to customers.
In general, B2B clients are more concerned with conserving money because their primary goal is to create money, but B2C consumers are more willing to spend bigger sums of money. B2B models also offer the benefit of generating greater money with fewer consumers. In B2B deals, this also indicates that your sales cycle is longer.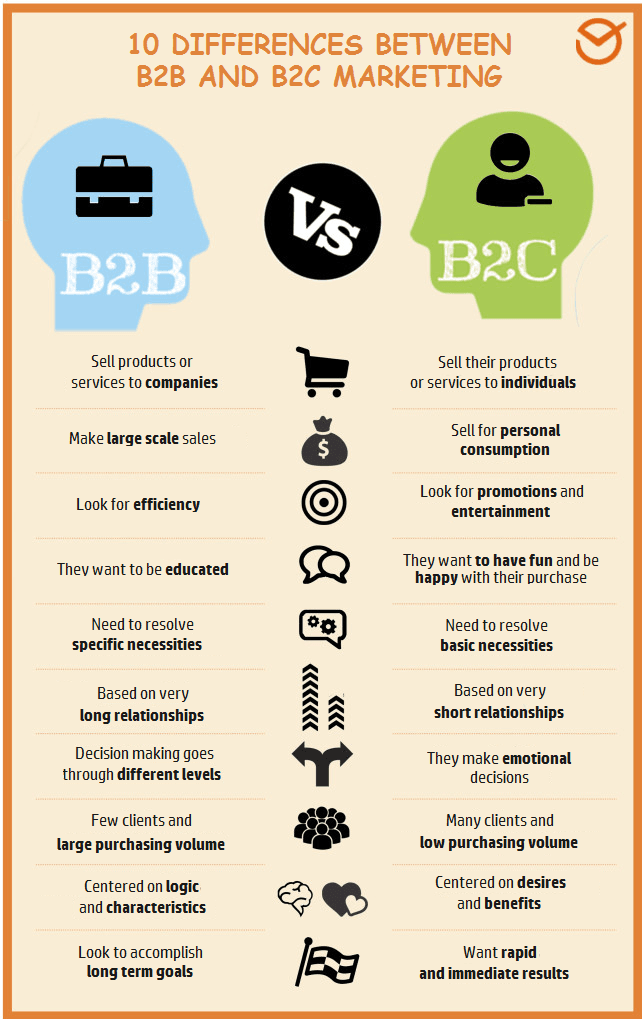 Another significant distinction between the B2C and B2B sectors is that, in general, product presentation is a more important purchase criterion in the B2C market. Before presenting a product or package, most B2B organizations would consider the pricing and usefulness of the product or service. However, in the B2C sector, one of the most important purchase determinants is product packaging and presentation.
Some businesses have exclusively B2B business models, while others have A B2C business models. Today, hybrid B2B and B2C business models are common, especially among bigger B2C businesses with distinct divisions for B2B operations.
There are some slight distinctions in the way marketing practitioners will need to take when it comes to lead creation. Many of these factors are stylistic considerations or decisions based on prior knowledge of your 'target audience' or 'Perfect Customers.'
When comparing B2C and B2B lead generation, another area where there is a significant difference is the utilization of social media. In contrast to B2B lead creation, where the only true platform that has any purpose is Linkedin, many B2C leads are created for organizations' B2C initiatives.
Why B2B Lead Generation Is Important?
Marketing
The following are some of the advantages of B2B lead creation for marketing departments -
Customer Insight - B2B leads can assist you in gaining a better understanding of client profiles. This exercise can show you where they spend their time and how they spend it.
Helps with Content Creation - Customer profiles may help you develop good content by assisting with content production. The information you gather about your targets might help you create content that is tailored to their requirements.
Increasing brand awareness - Using what you know about your target audience to customize your adverts will help you reach a larger audience.
Developing predictable marketing systems - The B2B lead generation process enables you to track and assess marketing activities. When it comes to choosing a campaign, this method might help you stay on track.
Sales
The following are some of the advantages of B2B lead creation for a sales department -
Identifying your market - B2B lead generation can aid in the identification of market interest. This exercise might assist you in determining the ideal way to pitch your product or service.
Obtaining correct contact information - B2B leads gather up-to-date contact information that can assist you in contacting the appropriate personnel at each organization.
Increasing conversion rates - The B2B lead generation process may assist you in determining which businesses are most likely to purchase from you. This information can assist you in increasing your conversions.
Developing a robust sales pipeline - Using B2B lead generation may assist you in developing a predictable sales pipeline, which may result in a greater proportion of closed agreements.
B2B Lead Generation Pipeline
Learning how to generate leads is only a portion of the equation. If you're serious about growing your business, you'll need a robust lead-generating strategy. Processes bring marketing and sales teams together and provide salespeople with a tried-and-true structure to follow.
Find Your B2B Leads - Finding the contact information of potential buyers is the first step in creating B2B leads. Contact information is frequently developed in-house, purchased from a lead database, or generated by a third-party organization.
Reach Out To Leads - Reps contact leads via cold outreach, social media, or answering queries after compiling a list of (ideally) high-quality leads.
Qualify & Examine High-Quality Leads - Reps assess how probable leads are to buy when communicating with them. They'll do it by determining where leads are in the purchase process. These stages are as follows -
Customer awareness and research - The customer is aware of a solution they require or an issue they are experiencing, and they are beginning to learn more about it. They will consume material such as blogs, whitepapers, and case studies during the awareness stage.
Consideration - The lead is aware of the precise service/product required. They'll outline their precise requirements before conducting research and "opening up" to providers.
Purchase - After narrowing down suppliers that best match their criteria, the buyer will have many meetings and check-ins with other decision-makers in order to finalize a purchase.
Reps will start nurturing campaigns or focus on getting the prospect to schedule a call or demo depending on where they are in the sales cycle.
Close Leads - The prospect chooses you after many meetings with various vendors, and the sale is closed. For onboarding, they'll be transferred to customer success.
Different Types Of B2B Lead Generation Leads
We will now look at the three different forms of B2B leads. Every lead is an opportunity to get a new loyal customer, but not all leads are the same.
Cold Leads
A cold lead is a firm that has been judged a suitable fit for your brand, either as a result of a third-party lead purchased from a lead-generating provider or as a result of a lead developed in-house. In general, they have a lower conversion rate than other B2B lead generation strategies, owing to the fact that the potential lead has no prior awareness of the brand. With cold leads, the basic goal is to throw a wide net because this strategy does not foster many prospects.
Warm Leads
Warm leads are businesses that have previously connected with your business by filling out an email form, visiting a website several times, or watching or downloading free information you have available online.
These activities suggest that the potential lead is interested in your business, thus they are more likely to interact with your website and make a transaction.
Hot Leads
A hot lead, also known as a qualified lead, is a firm that has demonstrated a strong desire to make a transaction and is already interested in your company or brand. They may have found their way to your website as a result of targeted advertising or as a consequence of a warm lead being followed up on, but hot leads are ready to buy.
Different Types Of B2B Lead Generation
Eight primary categories exist when it comes to lead generating tactics, they are as follows -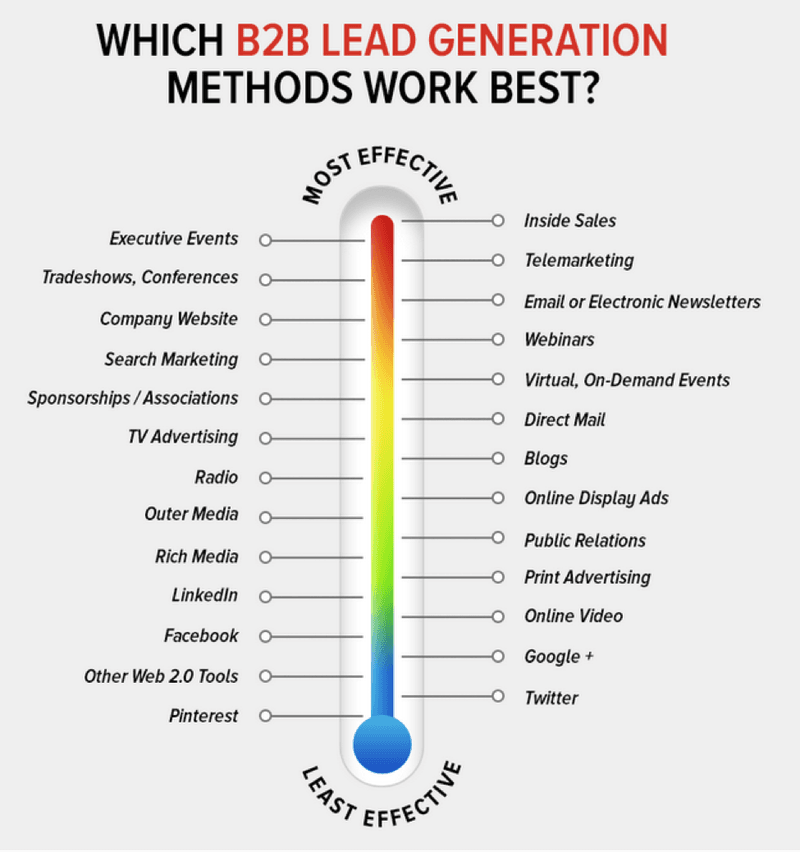 Outbound - You'll use prospecting tools and databases, outbound emails, phone prospecting, and lead nurturing in your outbound activities. The objective is to convert cold leads into warm and hot ones.
Online - Content production and distribution, web design, lead capture, social media marketing, email marketing, webinars, and PPC advertising activities are all included in this area. This category encompasses a substantial portion of B2B lead generating. Content development takes time, therefore you'll have to outsource some portions of the business to individuals who are experts in that field.
Paid – this category includes all leads generated by third-party lead creation firms.
Events - This category includes attending trade events, participating in internet webinars, and other types of B2B networking.
Branding and Advertising - Increasing brand recognition through sponsorships or advertising in general.
Direct Mail - Direct mail isn't a popular choice for B2C firms, but for B2B organizations, it's a terrific approach to get your brand in front of customers.
Referrals - This category includes referrals from prior satisfied customers as well as general "word of mouth" circumstances. It's critical to ensure that your consumers have a positive experience on your website or in your store if you want referrals.
PR - Doing press releases, appearing on the news, or getting any form of media exposure that you didn't 'paid for' is the final method of lead creation. A good example would be organizing a charity auction and having the local news show up to cover the event.
Final Takeaways
B2B lead generation is an important aspect of your company's success since it allows you to interact with your target market. You can convert potential leads into loyal customers and increase your earnings with this access to your target demographic.
To get ahead of the competition, consider OneMoreLead. OneMoreLead has a database of over 55+ Million verified B2B prospects to search from, & allows you to find your ideal prospects to build your list within minutes. This has enabled OneMoreLead to partner with companies such as Google, Shopify, Microsoft, and many more.