From being a necessity for only small businesses, B2B Lead Generation has quickly earned its place in the top priorities of large, well-established ones, as well. Today B2B Lead Generation Software is simply one of the fastest-growing industries in the realm of digital marketing. In fact, studies show that the Lead Generation Software industry is likely to grow by five folds within the next seven years.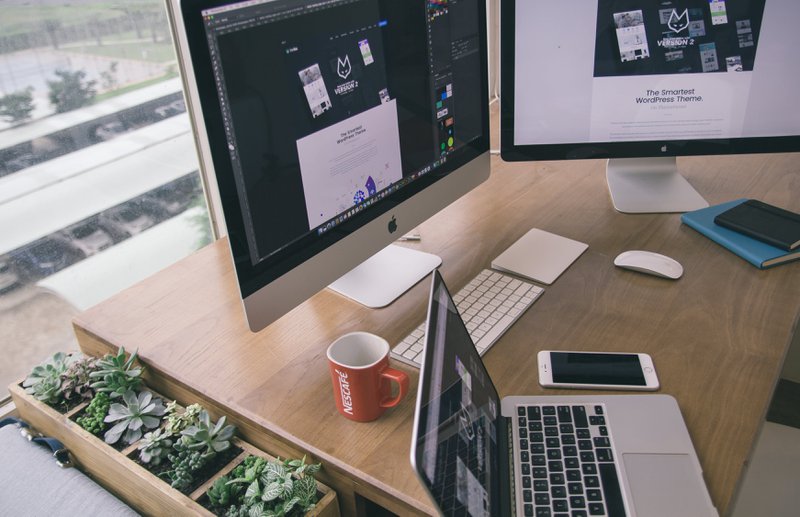 Why is B2B Lead Generation so in the talks right now? What does it do, and how does it benefit one's company? And more importantly, if you were to choose a B2B software today, which one should you be going for and why? Well, not to worry because we have you covered.
So dive right in as we answer all of your frequent queries regarding the B2B Lead Generation Software.
Table of Content
TLDR
Lead Generation Tools are a necessity for B2B businesses to grow and increase their sales funnel.
B2B Lead Generation Software helps businesses attract Leads to their website and send their collected information to the sales and marketing team.
With the emerging popularity of these tools, there are many options that you can choose from depending on your Lead Generation Strategy.
What Is A B2B Lead Generation Software?
But before we start discussing B2B Lead Generation Software, let's ask ourselves if we all understand what we mean by B2B Leads. As to give you a brief, B2B Leads is the term assigned to people who are considered the potential customers for your business. So, these are the potential candidates to generate value using your products or services.
And B2B Lead Generation Tools are programs that automate the process of finding prospective leads from different channels and assist the sales and marketing teams in converting them into customers. Simply put, Lead Generation Tools help capture the attention of more and more sales leads. So instead of manually inserting data to generate interest from your potential buyers, you can focus on developing campaigns and allow the tools to help materialize the demand.
How Does B2B Lead Generation Software Work?
Lead Generation is the process through which you nurture your potential customers to the point that they want to share information with your business. And B2B Lead Generation Tools are optimized to help your sales and marketing teams find these qualified sales leads. So, the more sales lead that enter the top of your sales funnel, the more the revenues for your company.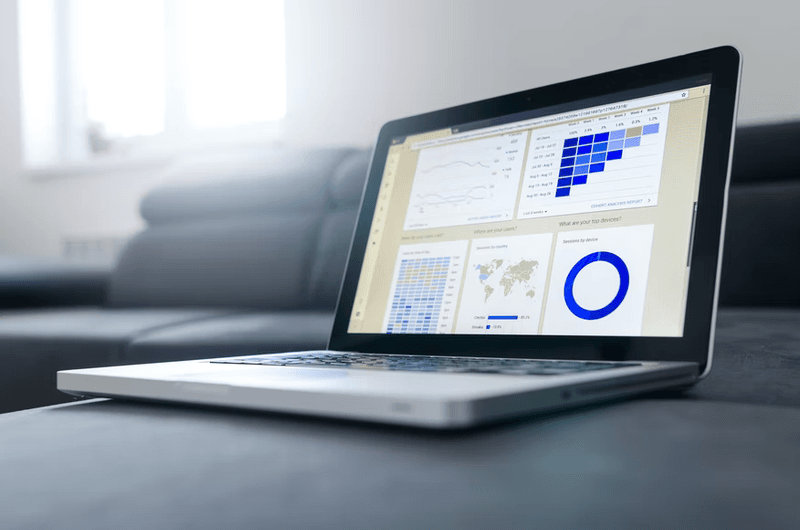 So how does it do it? Imagine this, you see a post on a social media page and go to their website with the link provided. Once you get interested in their product or service on their website and click the CTA button, it will immediately show you an offer in exchange for information. Information such as your email address. And the minute you fill out the form and accept the offer, you will get considered as a lead on their website.
Furthermore, the Lead Generation Software will send the data to the sales team. That said, the amount of access to data that your sales and marketing team has and their strategy will determine the success rate of the B2B Software.
Why You Should Use B2B Lead Generation Software
In the olden days, B2B was conducted manually by the sales and the marketing team. Advertisements on the television or radio or sending out emails, and many more were the process through which they used to attract prospective customers. However, times have changed.
Nowadays, companies have leveraged their Lead Generation through technology. Not only does B2B Lead Generation Software attract prospective customers to your website, but they help you manage the Leads better as well. And more importantly, it will help you grow your sales pipelines by filling out the top funnel of your customer acquisition.
Since it helps you grow your sales pipelines, it means that your entire sales process gets accelerated by filling up your sales funnel quicker. On top of that, the Software maintains your Leads information better and assesses the data to generate better Leads in the future.
The success of your company depends on multiple factors. So, the more you can focus on designing campaigns and other crucial elements by leveraging the generation of B2B Leads through technology, the better. Your company could be saving both time and energy by optimizing B2B Lead through Software instead of manual data entry.
The Key Features To Look For In A Lead Generation Software
Different solutions fit different purposes. That said, there are multiple aspects to consider while choosing the right fit for you.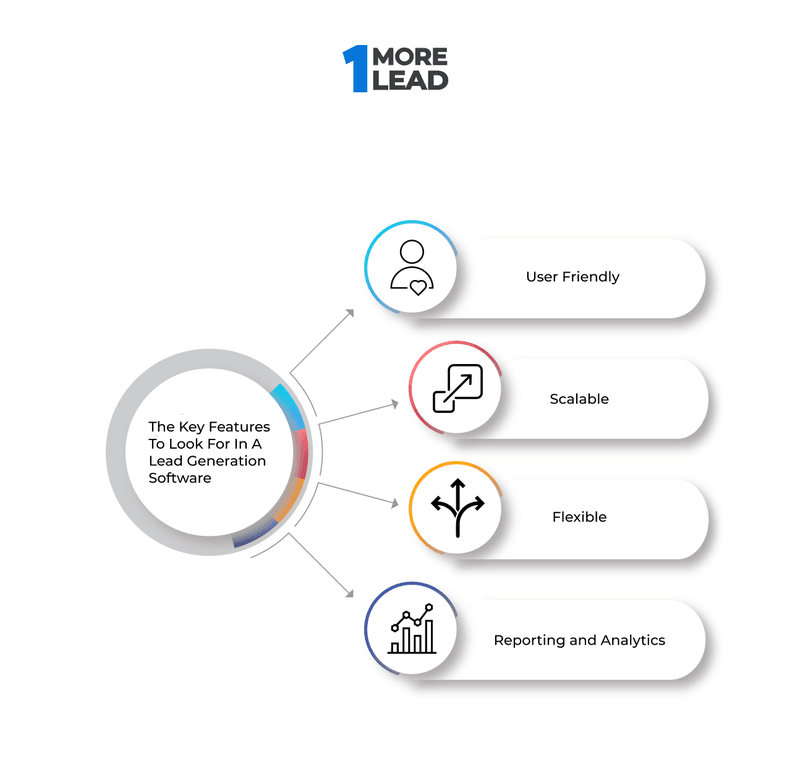 User Friendly
If your team has issues using the Software, it is not the right fit for your company. Your Software needs to be easy-to-use and accessible enough so people do not get intimidated by it and can use it even if they do not have any prior experience.
Scalable
One of the key features you need to look out for is scalability. If the Software is willing to adapt to changes made along the way and how much it will charge you with every change.
Flexible
The success of your Lead Generation strategy will depend a lot on how flexible your Software is and how malleable it can be to incorporate with your already existing CRM solutions and third-party technologies.
Reporting and Analytics
Data reporting and analytics are some of the most crucial parts of the Lead Generation process because it helps your team strategize and come up with better solutions. So, you need to assess how easily your Software can calculate your Return On Investment and gather the data to analyze the issues and what steps need to be taken by the team to solve them.
Top 6 B2B Lead Generation Tools
Your Lead Generation Software can only do so much for the success of your Lead Generation Strategy. However, that does not mean that you can choose whatever tool, and it will work the same for your business. Because when it comes to Lead Generation Software, there is no one-size-fits-all rule.
For your convenience, we have listed down the seven best tools to opt for while choosing the Lead Generation Software for your company.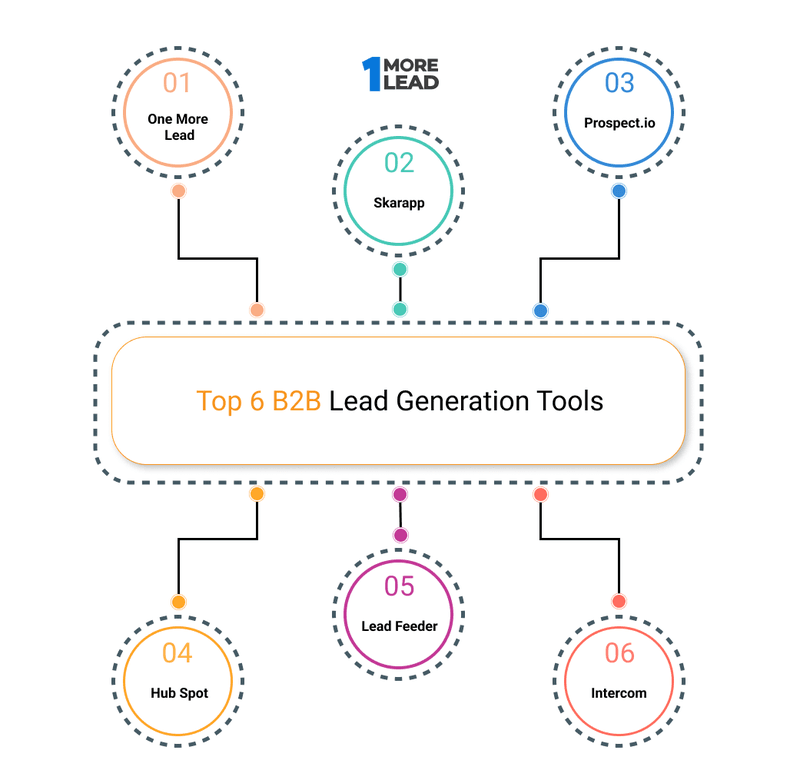 1. OneMoreLead
Let's start with one of the best in the industry, OneMoreLead. Now, I may sound biased, but the features provided by this Software speak for themselves. Over 3000+ brands incorporating OneMoreLead with their business is proof on itself that how seamlessly the Software nurtures client relationships.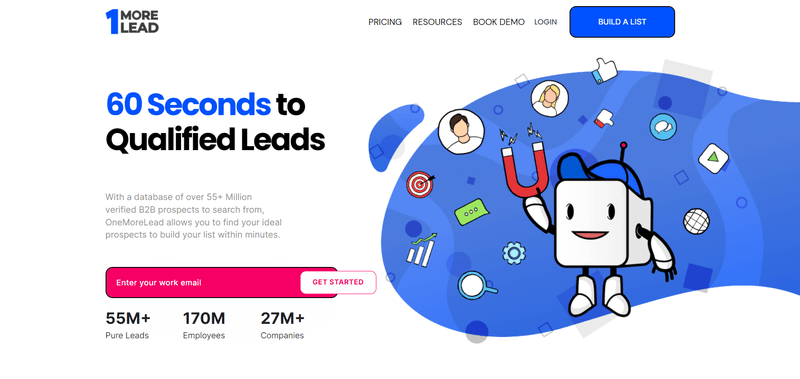 OneMoreLead is a Lead Generation Software that allows you the Ultimate Lead Generation experience by finding Leads within only 60 seconds with its over 40 million B2B database. Each Lead is verified and comes with a guaranteed Credit Back, a piece of information that you can further save in its dashboard for future seamless Lead generation.
With its automated email feature and client-based data analytics, you can attract more people to your site and convert them into verified sales Leads for your business. Furthermore, its hyper-focused database and real-time verification enable you to find the perfect potential customers and facilitate a better first impression of them. And if all of this was not enough to sail your ship, it offers three different pricing solutions so you can incorporate OneMoreLead regardless of the size of your business.
2. Skrapp
Skrapp is a Chrome Extension that basically finds out the LinkedIn emails of your prospects. Once you incorporate Skrapp with your LinkedIn profile or Sales navigator, it assesses the information and delivers you a list of qualified B2B Leads, including their email and contact information.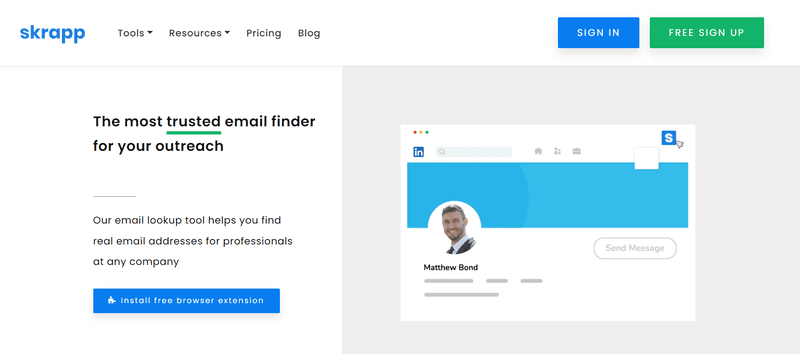 With the help of up to 150 contact details provided every month by Skrapp, you can quickly grow your sales funnel by building a relationship with your Lead prospects. All you need to do is go to each person's LinkedIn profile name and click "Find Email," and the software will generate it for you. And if all of that was not enough, it starts its paid plan from $49 per month only.
3. Prospect.io
Prospect is one of those sales automation software that you will find mentioned in almost every article. It is a modern-day email prospecting tool, fully integrated with tools like Salesforce, HubSpot, Pipedrive, and Close.io.
Prospect.io helps you quickly fill out the sales funnel by analyzing Leads based on website activity. Once you integrate this software as your Google Chrome Extension, it finds suitable prospects and automatically generates a list of all the ideal Leads. From there onwards, you can send customized emails directly to your Leads and track the performance all with one click. That said, its monthly plan starts from as low as $35, which makes it even more accessible to a larger audience.
4. HubSpot
From generating Leads from the marketing emails to categorizing them according to the target audience and tracking down the performance of emails sent to the Leads, HubSpot does it all.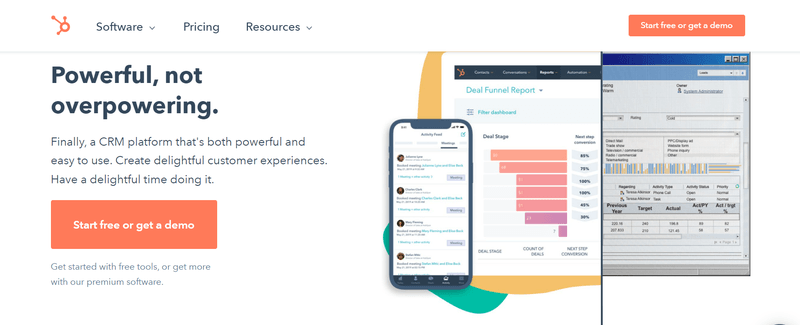 HubSpot is fit for landing pages, SEO optimization, social media, analytics, and ticks almost all of the boxes of the needed features within a Lead generation Software. Its email extension feature lets you send emails in bulk and decide on which emails to track.
The software that starts with a monthly paid plan of $50 lets you attract people to your website and further nurture them into valuable Leads. So, not only is this app generating Leads to increase traffic on your site, but analyzing the results for you to close the deal quickly.
5. LeadFeeder
LeadFeeder is another useful B2B Software that alerts you of everyone that visits your website, even if they do not fill out any forms. It uses Google Analytics to connect to your account and help you find better Leads for your sales pipelines by analyzing the website traffic. Once the Software finds potential Leads, it sends the data directly to the CRM for further analysis.

Signing up to LeadFeeder will allow you an insight into your company's employee count, industry details, contact details, and many more. They offer a 14-day trial period, so you can try it out and see if it's the right fit for your company. Once you find it helpful, you can start with its Premium monthly plan starting at $63.
6. Intercom
If you want to incorporate live chat on your site, Intercom is the way to go. Starting at a $49 per month plan, this software allows you to attract more people to your site and then keep them engaged with the live messaging.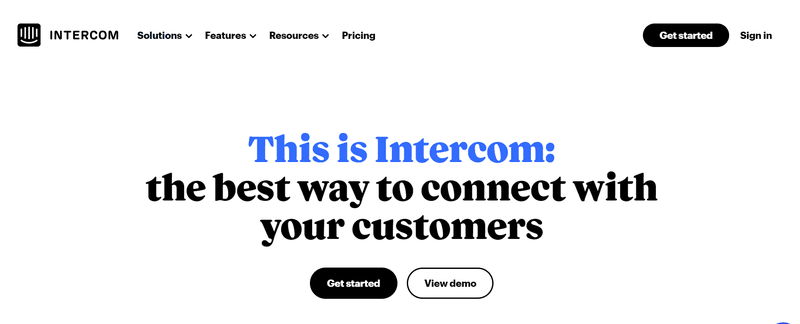 With Intercom, you can send emails to your ideal prospects, manage automated conversations on-site, and, in return, keep them engaged with demo videos and much more. Thus, the traffic and engagement increase on your website.
How to Choose the Right B2B Lead Generation Tool?
Considering the number of Lead Generation Tools that are available in the market currently, the process of choosing Lead Generation Software for your company can simply become daunting.
So start by making a list of all the features you need to incorporate with your Lead Generation Strategy. You should consider factors such as the size of your business, your industry, your competitors, and your end goal with your Software. If you want something that will better the user experience for your customers by answering questions on-site, go for Software that features bots. However, if you are looking for something that will fill out the sales funnel quicker by generating potential customers, go for Software as such.
Remember to prioritize the decision of your sales and marketing team and try to go for something that they are comfortable using.
Final Words
Regardless of your take on Lead Generation Software, your business could be wasting both its time, energy, and resources by manually inserting Lead data.
Lead Generation Tools not only allow you to attract prospects to your website but to convert them into loyal customers as well. It rids you of the added inconveniences of manually inserting data for sale Leads and allows you to focus on other components of your business campaign.
Looking for a B2B lead generation software that can be the best fit for your business? You can give OneMoreLead a shot.
Book a demo today, and find your leads from a database of over 40 Million verified B2B prospects.