If you've ever generated leads, you know that it's time-consuming and not fun. You can literally spend a day building an email list. The right sales prospecting AI-based software make it a lot easier.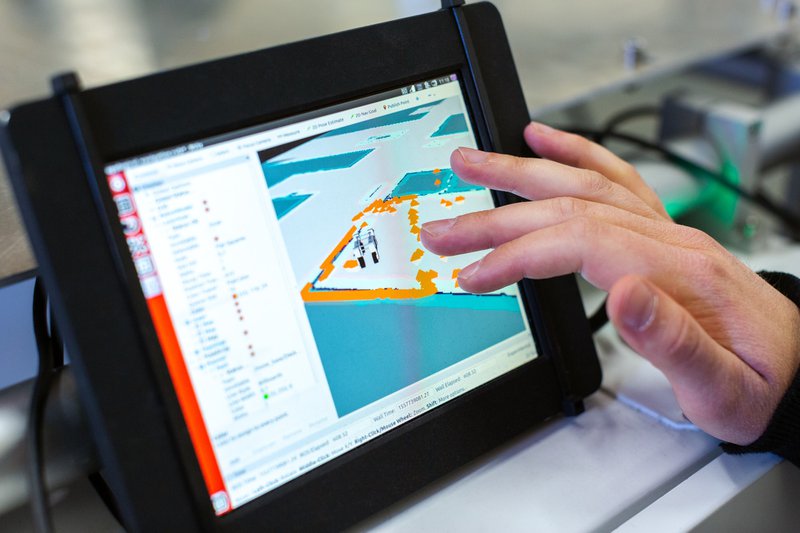 Out of five, every four marketing leads do not convert to sales. As the Lead generation is one of the most challenging tasks to pull off, you must know the best tools to drive leads.
When it comes to Lead Generation, Artificial Intelligence (AI) is the best suited to help. AI allows evaluating tons of behavioral data to identify your clients and prospects quickly and efficiently. AI-driven software can analyze the profitable investment and help you make the right decision for your business.
To help you in your lead generation efforts, we will dive into the world of AI lead generation software. This article provides you with a comprehensive list of some of the market's best AI lead generation software.
Table of Contents
TL;DR
Lead Generation is one of the most crucial aspects of any B2B business.
Lead generation software is a tool that assists you in automatically generating and collecting leads from specific channels and also routing the collected information to sales or marketing teams for conversion.
Artificial intelligence is now a part of our day-to-day lives, and it's an ideal opportunity to utilize the numerous AI lead generation software in your business. It can extract insights about leads from your marketing and sales data. Some AI-powered tools use that information to inform you more about your prospects and customers. Others use it to find new opportunities or recommend which existing leads to pursue next.
What Is Lead Generation Software?
Lead generation entails more quickly analyzing visitors to your website. It's also about gathering their information so you can drive communication and convert casual visitors into loyal customers.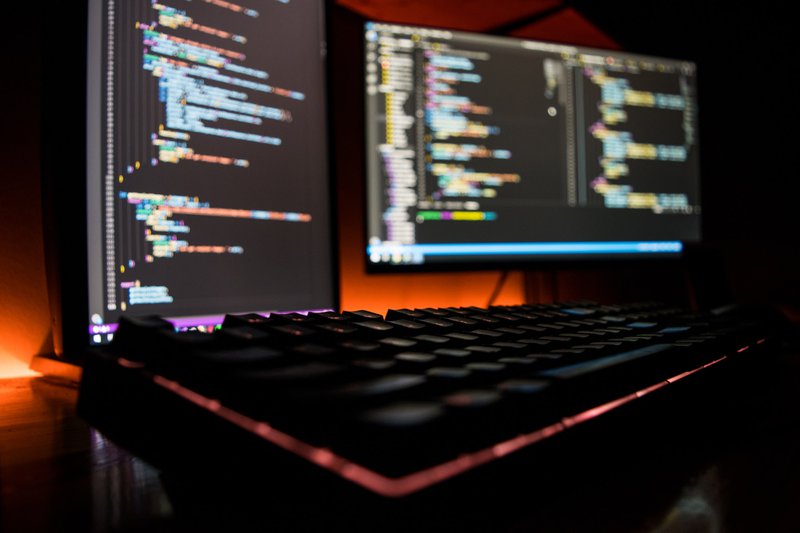 Lead generation software is a tool that automates the process of enticing leads online and collecting information about them so you can stay in touch with them. These leads can then be used to nurture them and convert them into customers.
Each software works differently and has its own set of features depending on the channels used to generate leads.
How To Use AI-Based Software For Generating Leads?
B2B marketing and sales professionals have been slow to embrace Artificial Intelligence. The reason can be the nature of selling or limited access to the behavioral data that drives machine learning. However, things are changing now quite rapidly.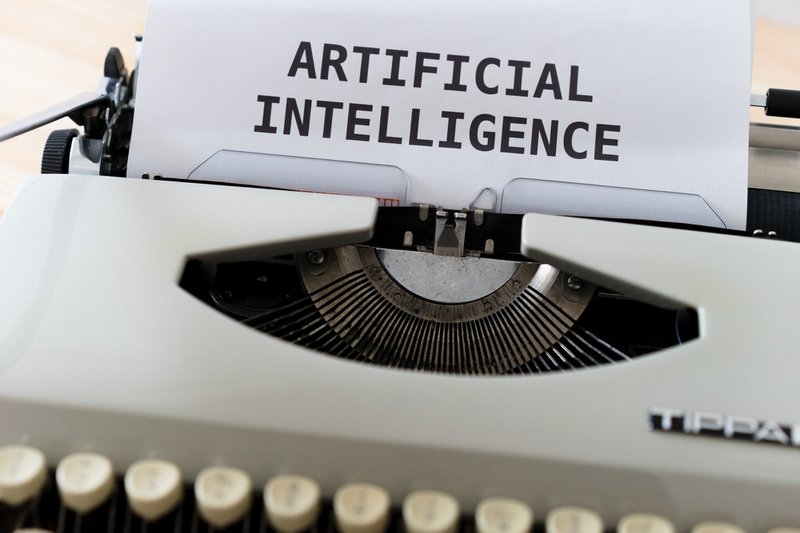 AI has been proven effective for extracting lead insights from collected data using its learning and predictive analytics. AI can also identify new prospects and recommend which leads are worth pursuing.
Here are the ways you can use AI for generating leads:
Scoring
AI can learn from lead conversion data and assist you in developing more innovative lead scoring that is based on math rather than your team's instincts. This makes it easier to generate the correct type of leads and convert them more effectively.
Validating
AI can do a quick analysis of customers' data, evaluate them and sort them into sales leads or non-sales leads.
Generating
AI can find new leads for you based on the characteristics of your existing leads.
Nurturing
AI can build relationships with your prospects with its chatbot. AI intelligently automates lead outreach.
What Are The Benefits Of AI Lead Generation Software?
Here are some benefits of AI Lead Generation Software:
Identify your quality leads
Simplify prospect's account selection process
Reduce Manual Labor
Personalize conversions
Enhance customer's experience
Top 15 AI-based Software To Generate Leads
What is the top AI-based Software to generate leads in the digital market? Let's find out.
OneMoreLead
OneMoreLead helps you convert potential prospects into guaranteed leads through automated emails and client-specific data analytics. You can search and filter within the database to find the right leads for your business.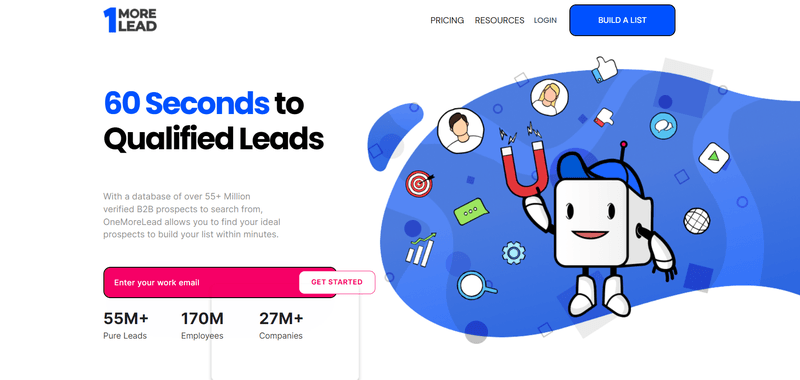 Every Lead comes with important complementary data making it easier for you to communicate with the lead.  Also, each Lead is verified and comes with a Credit Back Guarantee. Apart from this, OneMoreLead offers verification services as well. Verification is done in real-time. With its hyper-focused data analytics, marketers and businesses can find their ideal prospects from a pool of options. This tool offers a database of over 40 Million verified B2B prospects so that you can search through all prospect leads to grow your business.
Drift
Drift utilizes an AI-specialized chatbot to assist businesses in using products from their purchasing process. It uses an AI chatbot, email, video, and intelligent automation based on some triggers.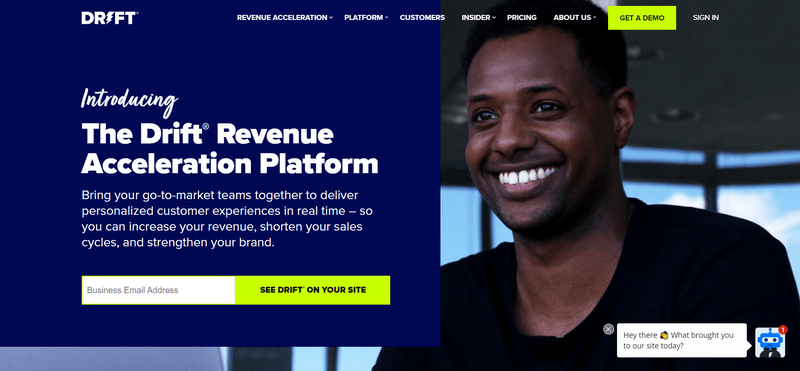 These bots use artificial intelligence to learn from on-site conversations between customers and your representatives. This data enables the bot to respond to questions, understand what constitutes a good lead, and generate leads from visits at dimension.
Signum
Signum is an AI-powered tool that can help you in generating quality leads. This software detects your visitors, categorizes them into different segments.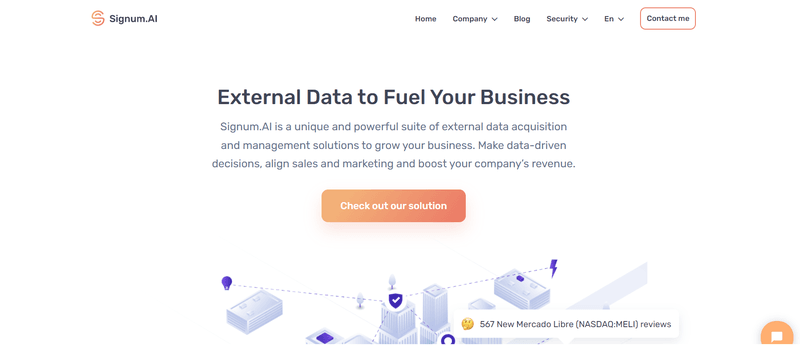 They can also create high-quality content that can attract your targeted audiences. Signum employs an entity-embedded method for prospect selection based on the content they prefer.
Conversica
Conversica is a marketing and sales software that generates leads. It will offer you an AI digital assistant that works 24/7 for qualifying leads on your site.
This digital assistant can engage in real-time conversations with your prospects. The AI algorithm can detect which possibilities can be turned into customers.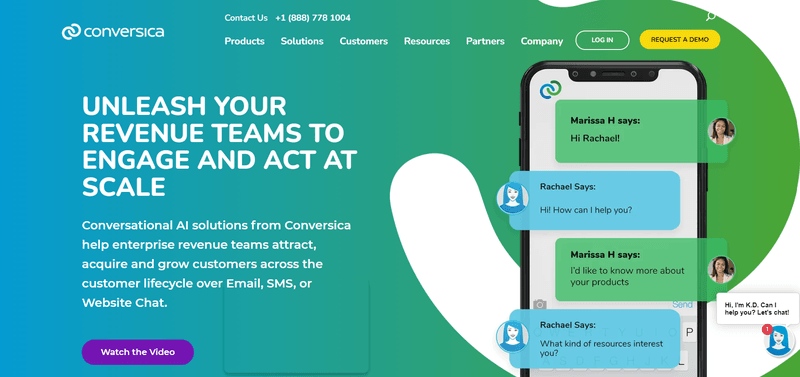 Companies frequently allow leads to falling through the cracks because they lack the resources to follow up with and qualify each one.
Conversica, on the other hand, allows you to clone every sales representative and sales agent to ensure that every lead has a one-on-one conversation allowing true sales automation. The assistant is trained to notify a live sal and estimate and successfully close the deal based on some triggers.
Albert
If you use Albert, none of your leads can be left behind. It predicts the characteristics and behavioral patterns that led to a sale using existing successful sales data. With this information, algorithms target the audience most likely to buy.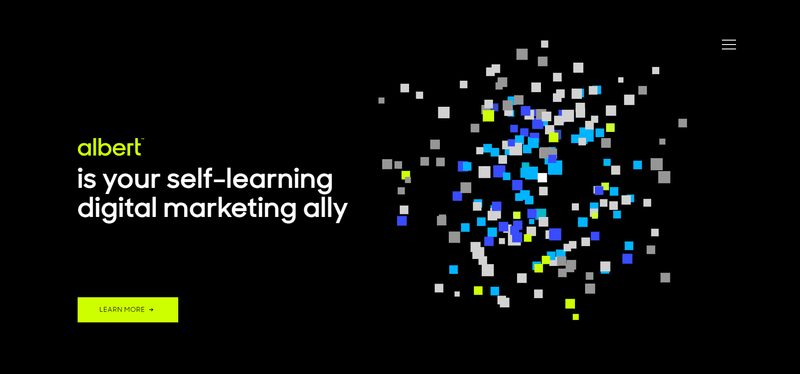 Besides that, it works across multiple platforms, including Facebook, Google, Instagram, and YouTube, to determine what works best for you and maximize your performance across these channels.
Albert used the existing customer data to extract the behavior and characteristics of previous successful sales and used it to target customers who mirrored the previous narrative.
Exceed.ai
Exceed.ai is intelligent software for sales automation that includes a digital assistant. The assistant can engage in real-time conversations with your SMS, etc., and collect with this AI-powered software the necessary information.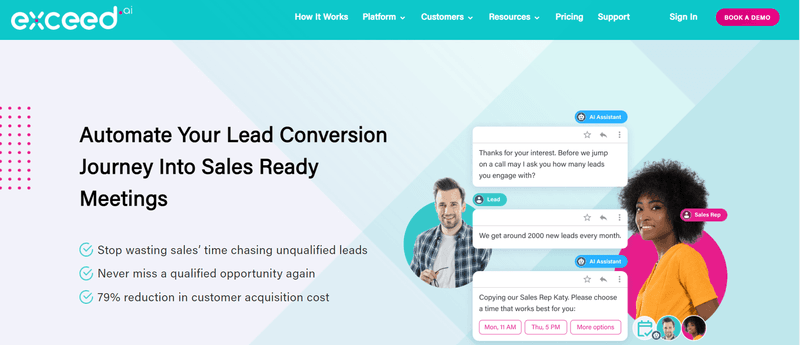 After collecting contacts, it qualifies them based on specific triggers and levels of engagement to determine whether they are willing to buy or not and estimate the related group of certainty.
Finally, when qualified leads are ready to speak with sales, it contacts sales and schedules a meeting or a preview based on your preferred outcome.
Growthbot
Hubspot's GrowthBot is a lead generation software that incorporates artificial intelligence into Customer Relationship Management systems.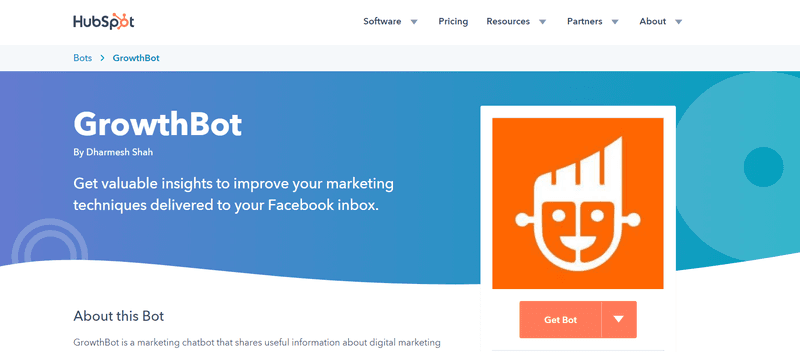 The GrowthBot connects machine learning processes to modern businesses' popular messaging apps, such as Slack, SMS systems, and Facebook Messenger.
These messaging apps are embedded with the chatbot, allowing businesses to ask specific questions and receive answers to any queries related to driving leads to their company.
Prospex
Prospex finds your potential customers with minimal effort. The great thing about it is that it lines up sales and marketing efforts, delivering specially tailored leads that meet your targets and providing leads to your sales representatives that have a greater chance of closing.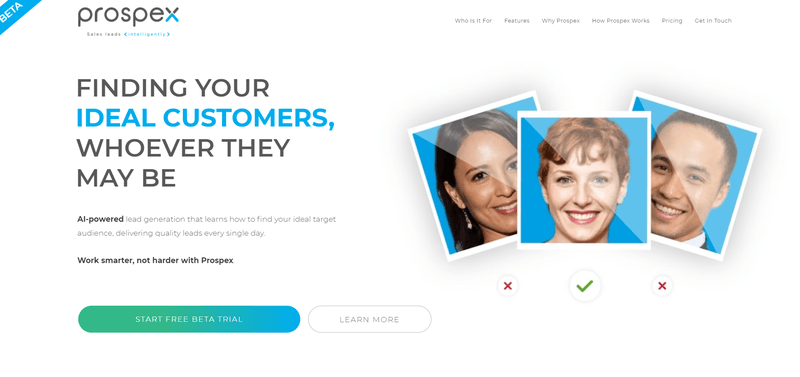 The algorithm is pretty simple. You have to provide the data; AI creates your ideal customer profile (or DNA), searches for clients who match your client DNA.
Moreover, the more you use it with this AI-powered software, the better it gets over time.
Lusha
Lusha is undeniably a treasure for B2B businesses. With this software, you can find qualified and several accurate B2B leads who meet criteria intelligently, sorting and reaching out to them via the most convenient channels.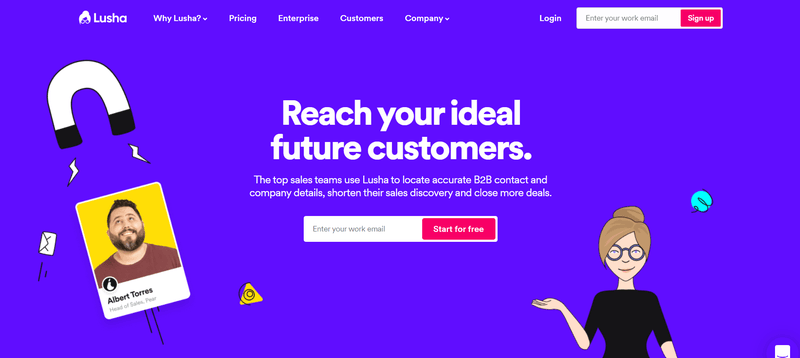 Landbot
Landbot is a lead generation tool that uses an AI-powered chatbot to maintain real-time conversations with your website visitors. This bot employs artificial intelligence to learn from previous interactions between customers and your representatives.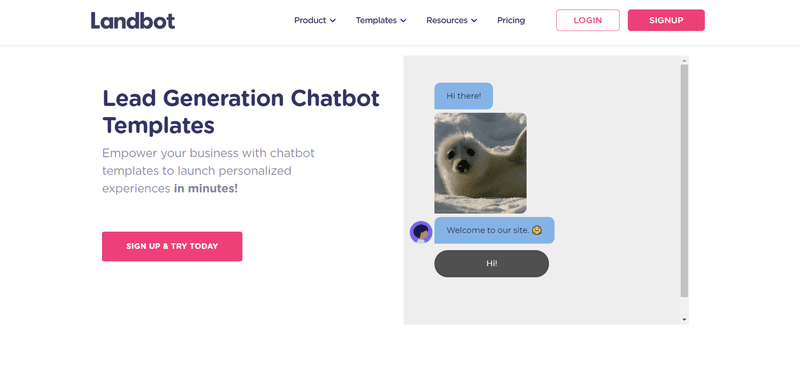 With this knowledge, the bot can answer questions, understand what are the qualified lead, collect data, generate leads, and personalize client conversions.
Growbots
Growbots is software that can quickly identify ideal customer profiles for your market segment. You simply enter your requirements, and AI takes care of the rest. Growbots displays a set of potentials who have a genuine chance of becoming your customers.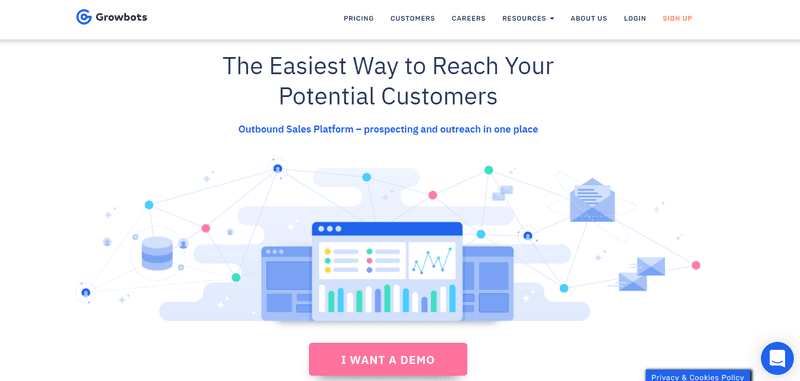 Alexandrabot
Alexandrabot considers a specific visitor to a company's website's information across multiple platforms, then analyzes it for its possibilities to be turned into a pleasant discussion with users.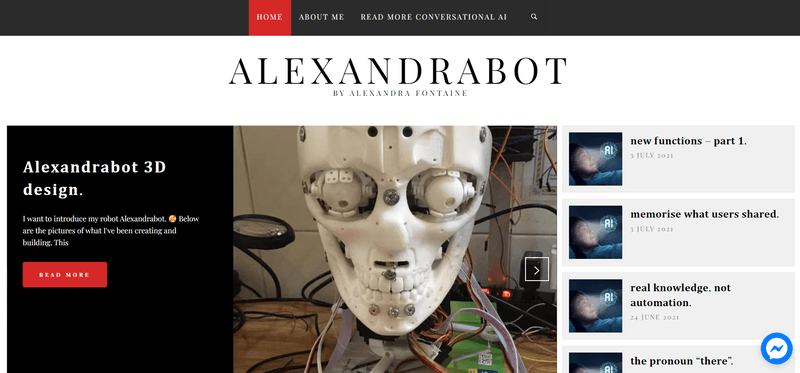 Prospect.io
Prospect.io is an excellent software for generating leads while facilitating the sales process. It accomplishes this by combining a number of AI-based software.
For starters, it makes it easier to find email addresses online. Second, it automatically adds prospects to your lists and segments them using trigger events, allowing you to personalize.
Finally, based on this data, it will help you create automated email sequences that will increase your sales.
Leady
Leady is another AI-powered software that will help you generate more B2B leads. , It accomplishes this by recognizing business visitors who visit your corporate website and reporting them to you with complete businesses and personal profiles.
D&B Hoovers
Hoovers is a powerful B2B sales automation tool capable of locating prospects in any industry niche.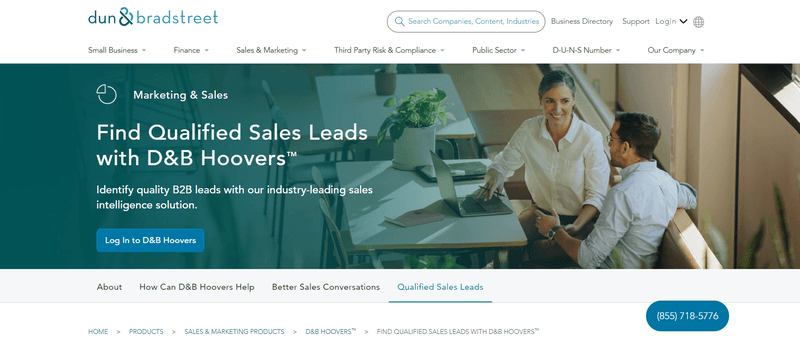 It provides detailed information and updates about any changes 24 hours a day, seven days a week, so you can plan your future communications tactically, develop your selling process, and make adjustments accordingly.
Wrapping Up
By now, you already know how AI-based software can ace your lead generation. But choosing the right software can be challenging. Choosing the right software depends on various factors, including target channels, customers, scope, budget, and flexibility.
Looking for a solution for generating qualified leads? OneMoreLead can help you in finding qualified leads with its customer-focused data analytics.
So, what are you waiting for? Sign Up today and leverage your lead generation.