To be profitable and grow your B2B business, you need a steady flow of qualified, hot leads. However, keeping track of lead generation can be difficult when you are juggling your business and keeping your clients happy at the same time. Having a lead generation agency can assist you with this endeavor.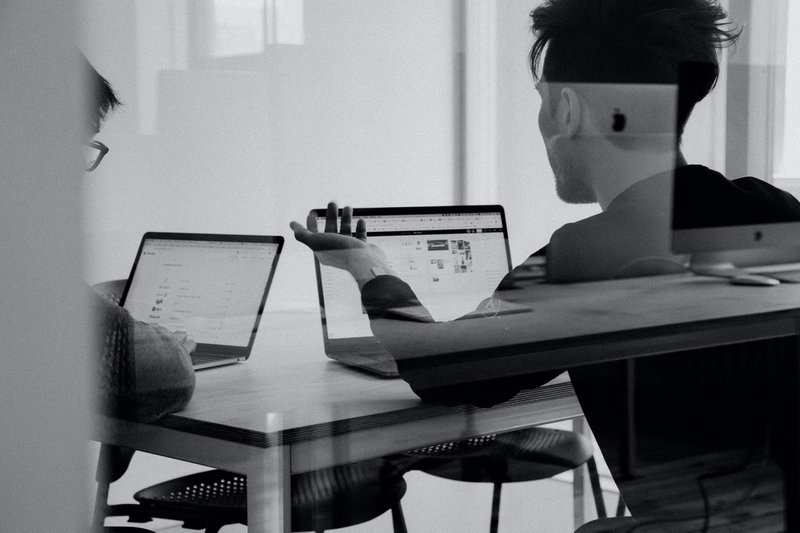 A B2B lead generation agency can help you keep your pipeline full. In addition to outreach, they will utilize a multitude of other tools to help you reach and attract your ideal audience.
The following article contains a list of the top 10 B2B lead generation agencies you should consider and determine whether outsourcing lead generation is right for your company.
Table of Contents
TLDR
Lead generation is a significant aspect of every business.
In order to increase a company's return on investment or revenue, it is necessary to partner with a B2B lead generation agency.
Each one offers a unique set of services to generate leads for their clients.
Choosing the suitable B2B lead generation agency based on your firm's objectives and industry context can help you generate more and more qualified leads, attract new clients, and nurture existing relationships.
What Is A B2B Sales Lead?
In business-to-business (B2B) lead generation, you identify and attract prospective customers for your service or product. Leads are companies or individuals you hope will become paying customers for your products or services.
An effective lead generation program is crucial to B2B sales and marketing.
Why Is B2B Sale Lead Generation Important?
Good lead generation involves more than just lead acquisition; it also promotes loyalty and retention.
The following are the top reasons why B2B sales leads are important:
Your ideal customers can be found by qualifying leads
It allows you to refocus or scale up your customer acquisition programs easily
Assists in creating content
Enhances conversion rates
Ensures relationships and trust are established
Enhances marketing ROI
What Is A B2B Lead Generation Agency?
Companies dealing with B2B lead generation agencies create business opportunities by generating sales leads. Their purpose is to help their clients grow sales funnels. This type of agency specializes in sales development and involves professional teams to generate leads.
What Does A B2B Lead Generation Agency Do?
In order to reduce the hassle and time required to implement lead generation, many businesses today outsource their lead generation to companies that specialize in attracting and converting potential customers into paying customers.
Businesses that provide lead generation services assist their organizations in attracting new clients. At the same time, you can devote your time to other important tasks, such as quality assurance and product development.
Lead generation companies develop websites or partner with websites on which they advertise, promote, and market your goods and services. After discovering the site, the customer fills out the online request form. Their information is then verified and matched to suitable providers.
In order to achieve success, such agencies will analyze your business and everything that impacts B2B marketing and sales, creating detailed buyer persona profiles, and advising you on how to reach your target market.
Each agency has a different way of operating and offering services. You may find some companies will do all of the work to acquire leads, then pass them on to you for the conclusion, while others may offer to close the deal for you.
Top 11 B2B Lead Generation Agencies
Lead generation companies everywhere claim to have the best databases and the most updated information, but how would you know which one will generate quality leads? We have compiled a list of ten top 10 B2B lead generation agencies to help you gain a more thorough understanding. All of the companies listed here provide detailed information about their services, as well as an overview.
OneMoreLead
Lead generation is easier using the right tools, as they help you save time while also making B2B marketing more efficient. A range of marketing tools are available with different features and pricing options.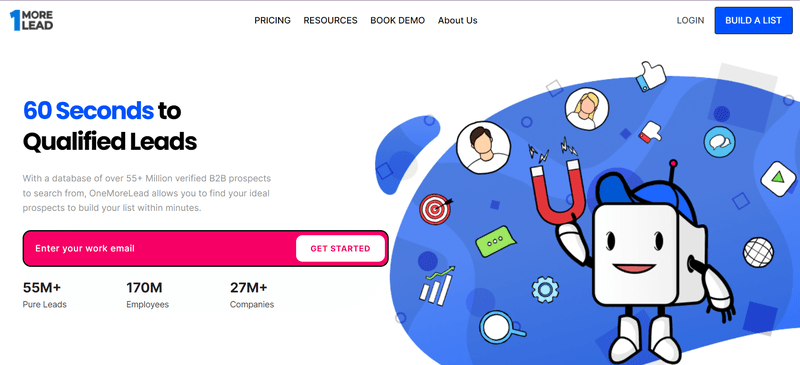 OneMoreLead is the first agency that we recommend for creating B2B leads. Through OneMoreLead, you can access more than 40 million verified B2B prospects. It gives the sales team key metrics so they can create more accurate and qualified lists based on the data.
OneMorelead expedites your lead generation process and ensures results which will be a real treat for your sales team. Your sales representatives won't have to waste time on leads who do not have an interest in what you offer because the traffic and leads they generate are qualified. The sales team can focus on selling your product or service while they handle all the heavy lifting. They will plan, set-up, execute, and analyze the entire lead generation campaign for you. With their help, monthly sales reporting will become a lot less frustrating.
BELKINS
They will help your company reach its full potential by managing all aspects of top-of-the-funnel needs, such as event planning, lead generation, email marketing, LinkedIn influencer marketing, and more, through Folderly, an intelligent email delivery platform.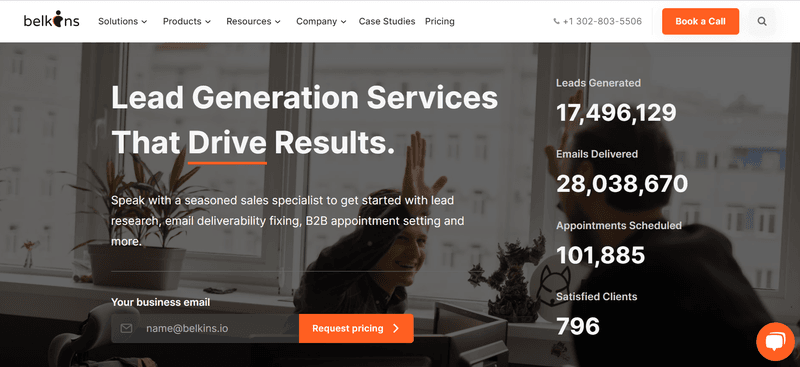 A team of experienced copywriters, marketers, and B2B sales development representatives form this high lead quality agency.
Belkins develops targeted sales lead lists and schedules B2B appointments with qualified prospects, in order to help its clients achieve their revenue goals. Over 790 customers have already been helped by their team of experts who have combined digital solutions with state-of-the-art technology.
Cience
Cience is an outbound sales assistance service that specializes in supply chain and B2B lead generation. It has generated millions of leads for Fortune 500 companies, start-ups in search of their first customers, and every other type of business in between in the last decade.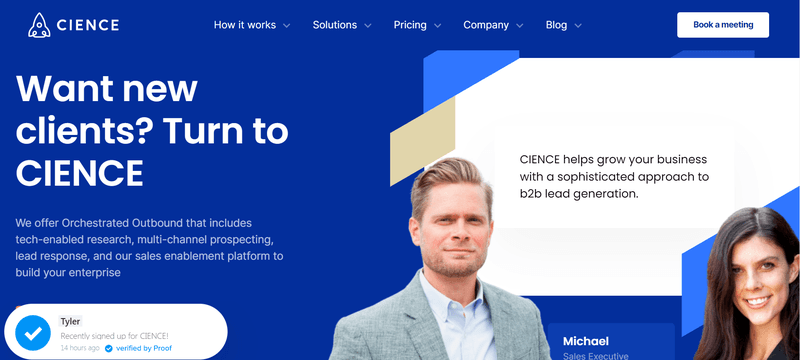 Through People-as-a-Service (PaaS), they assist clients in finding and nurturing leads by leveraging world-class research and state-of-the-art technology. They help clients reach their goals by building targeted audiences, segmenting customers, and collecting data. The customer can choose the services he or she needs, from marketing support to a complete marketing strategy. Using their unique approach, they have consistently provided sales with highly-qualified leads at the top of the funnel.
Citence offers lead generation and appointment setting services individually or in packages. The leads they provide are enriched based on the clients' Ideal Customer Profile (ICP). The Cience team strategizes, designs, and delivers all outreach through a multi-channel strategy. Furthermore, their newest research program called Cience Now is able to search for unique data points that cannot be filtered without human intervention. As one of Hubspot's top partners, the company also works with companies such as Google, Uber, Microsoft, Tuxedo Air, Yamaha, US Bank, and others, including some of the world's largest corporations.
Infographic World
Lead Generation company IGW, also known as Infographic World, also provides Lead Generation Services. Building a consistent flow of leads is no easy feat. Their main goal as a lead generation company is to increase your pipeline activity and boost your sales productivity. Using a blend of sales strategies and tactics, they provide actionable advice and a solid database to your sales force.
In addition to customer profiling, lead generation campaigns, marketing automation, live chat, chatbots, funnel building, SEO services, and LTV calculators, they offer a range of other solutions. They offer a customized process that is designed to meet your business's unique lead generation needs. Moreover, they are experts with all leading generation tools and software, so that their lead generation services are of the highest quality.
LeadGeneration.com
Lead Generation.com targets targeted prospects with the goal of placing them in a sales funnel, qualifying those leads, and then repeating that process.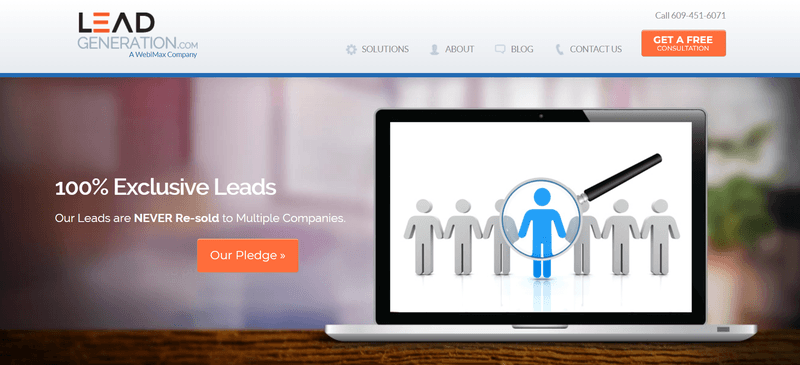 Search engine optimization, paid search marketing, email marketing, website development, content distribution, whitepaper creation, brand awareness, and appointment setting are some of the essential services they provide.
There are a variety of ways through which you can generate leads from this company. These features complement all the features offered by other companies. One of the most valuable services this company provides is the creation of landing pages for informative content.
WebiMax
Lead generation is only one part of WebiMax's offerings; they provide SEO, pay-per-click ads, social media, web design, lead nurturing, and online PR as well.

The company reports that 96% of its customers remain with the company, which evidences the importance of loyalty and effective business strategies by Webimax.
WebiMax solution is an excellent choice for companies that are looking for an all-in-one marketing and sales solution.
Callbox
Leading SMEs and enterprises across the globe rely on Callbox as a lead generation service provider. The company connects B2B companies across a range of industries with high-quality leads and helps them schedule meetings with their top prospects.
With their 3-in-1 service, they take care of account-based marketing, lead generation, and meeting setting.
Globally, Callbox is the largest provider of B2B marketing and sales services. The service compiles a list of potential customers that match your ideal buyer, then generates leads for you through calls, emails, social media, chat, ads, and landing pages. For those looking for software that can help support your sales process, Callbox is the right choice. They provide all the products and services you need.
Leadium
Leadium claims to have produced more than 10 million unique leads. A team of in-house strategists works with clients to find out what makes a good lead and what makes a good customer match.

Customers' data includes detailed psychographic, technical, and other non-demographic details, which are validated by researchers who specialize in that area.
Visitor Queue
Visitor Queue is a marketing agency whose clients utilize its services to generate information about visitors' contact info and social media profiles. With it, you can easily manage leads by utilizing various lead management features, including defining lead classes, hiding leads, exporting leads, archiving leads, and assigning them automatically.

All visitors' contact information is displayed on the page. Similarly, the leads' visits to the website are recorded, such as the length of their stay, which screen they viewed, etc. The website also offers links to the visitor's social media profiles. In addition to managing leads, it provides services for classifying leads, hiding leads, exporting leads, archiving leads, and assigning leads automatically. This application is also compatible with many other applications such as Salesforce, Slack, Zapier, Salesloop, HubSpot, etc.
SalesRoads
SalesRoads provides cold-calling-based lead generation services. They identify SQLs by phone. Your leads are evaluated by lead generation companies to determine customer needs and return those prospects that are a good fit to you so you can close deals quickly.

The company can also schedule appointments on your behalf. By having these initial conversations and asking about follow-up interest, SalesRoads offers the most value to busy companies looking for only SQLs.
Martal Group
Leveraging real-time data, The Martal Group identifies keyword surges for your unique product and reaches out to address them directly. This tool finds companies searching for a product or service in your industry, and enables you to reach out to them directly.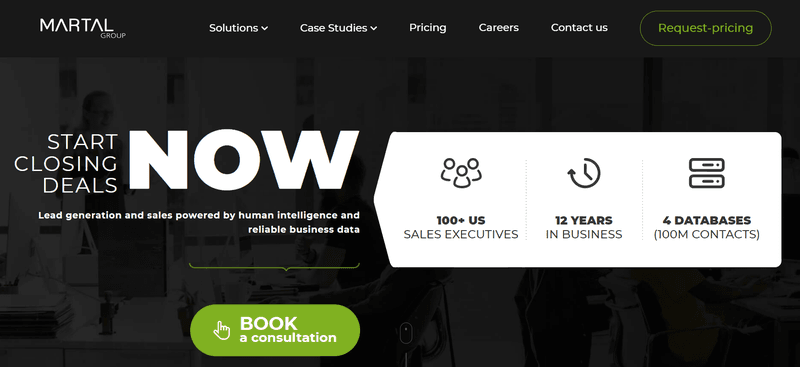 The feature creates custom workflows that drive prospect engagement through multiple personalized sales touchpoints, and sends active prospects to your sales team or works with you to onboard new clients. B2B leads are generated with phone calls, email, and LinkedIn, as well as using account-based marketing.
The Bottom Line
Lead generation can be a challenging process for many businesses, yet it's one of the most important components of growing and developing a business.
Lead generation is one of the toughest and most challenging tasks a brand can perform, so more and more brands are choosing to partner with lead generation companies to handle this task. Hundreds of lead generation companies exist today, and as you can tell from the list above, each offers something exceptional and unique. It is important to have clear business goals and to know your target market before researching the top lead generation companies.
OneMoreLead can help you keep leads who are ready to buy from escaping your business. The data offered by OneMoreLead can help companies reach the right people and sell more than their competitors. Using OneMoreLead, your sales team will be able to close deals up to 147% faster.
So, what are you waiting for? Sign up today and boost your lead generation rate today!